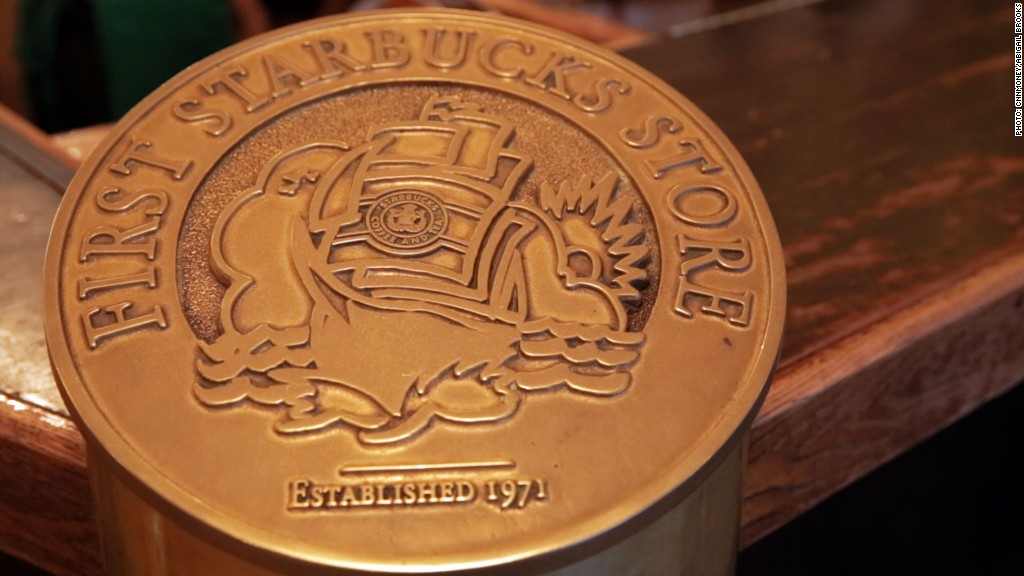 Starbucks customers may be growing tired of chestnut praline chai tea, peppermint mochas and gingerbread lattes.
Shares of Starbucks (SBUX) fell nearly 6% on Friday after sales missed Wall Street's forecasts. Earnings did top estimates, but that didn't impress investors.
What's more, sales at stores open at least a year rose just 2% in the United States, also below analysts' expectations.
One of the reasons for the disappointing numbers: Sales of Starbucks' limited-time holiday offerings were lackluster, CEO Kevin Johnson told analysts during a conference call Thursday.
Holiday beverages, gift cards and other merchandise "did not resonate with our customers as planned," Johnson said. It will be interesting to see whether Starbucks pulls back on the gimmicky drinks next year or just rolls out new ones.
Another problem: Starbucks doesn't seem to be attracting new customers. All its same-store sales growth in the United States came from customers spending more. But the number of actual transactions was flat.
The slow death of shopping malls is hurting Starbucks, too. Only 6% of Starbucks stores are in a mall, but sales at those stores fell during the quarter.
So investors have reason to be concerned. Johnson took over as CEO for the legendary Howard Schultz last April. And Starbucks stock has barely budged since then. (A flat white may be a good thing for Starbucks. A flat stock price isn't.)
Related: Why Wall Street runs on Dunkin' instead of Starbucks
Meanwhile, the S&P 500 is up more than 20%, while Starbucks' rival Dunkin' Brands (DNKN) has gained nearly 25% and the resurgent McDonald's (MCD) has soared 35%.
The good news for Starbucks is that China continues to be a bright spot.
Sales in China surged more than 30% in the fourth quarter and same-store sales rose 6%. Johnson said during the analyst call that the new high-end Starbucks Roastery in Shanghai is now "the highest-grossing Starbucks store in the world."
Some analysts think investors should be giving Starbucks more credit for its strength in China, South Korea and other international markets and worry less about the slowdown in America.
"Momentum continues despite recent hiccups, and we think huge upside potential remains for Starbucks globally," Wells Fargo Securities analyst Bonnie Herzog wrote in a report Thursday.
But many investors clearly seem nervous about the trouble Starbucks is having in its home market.
Instinet's Mark Kalinowski said Friday that Wall Street "will be focused -- and rightly so" on the sluggish U.S. growth. He added he's keeping his "buy" rating on Starbucks for now, but "we hold our noses at yet another bitter quarterly same-store sales brew."
Related: Schultz says he's 'emotionally prepared' to let go at Starbucks
There's much to like about Starbucks' domestic strategy. The company has embraced technology in the past few years and is expected to keep it up now that Johnson, the former CEO of Juniper Networks (JNPR) and a veteran of Microsoft (MSFT) and IBM (IBM), is in charge.
Digital sales have grown rapidly thanks to the Starbucks mobile app. Johnson said it's so popular the company is considering trying some "cashless stores" in the United States.
Schultz also hinted that Starbucks "is in a unique position to take advantage" of the rise of blockchain technology and cryptocurrencies as a legitimate form of payment.
But GlobalRetail managing director Neil Saunders said in a report Thursday that Starbucks should be doing even more to embrace traditional technology, particularly in stores.
Related: Can Kevin Johnson escape the shadow of Howard Schultz?
People still have to wait a long time to order and get their drinks. Some have suggested that kiosks in stores could help.
"During peak times, some shops are busy, and service is painfully slow," Saunders wrote. "Although Starbucks uses technology well, we think it needs to look again at how it can use digital solutions ordering in store to cut wait times."
Of course, having too many people waiting in line is a better problem than empty stores.
So it's probably too early for investors to be worried about whether Starbucks is losing steam under Johnson and new chief operating officer Rosalind Brewer, formerly the head of Walmart's (WMT) Sam's Club.
But investors are growing impatient with the new management team and want better results from U.S. stores.
Schultz has already made one comeback -- he stepped down as CEO in 2000 and returned in 2008. If things don't turn around, investors might start clamoring for another encore.