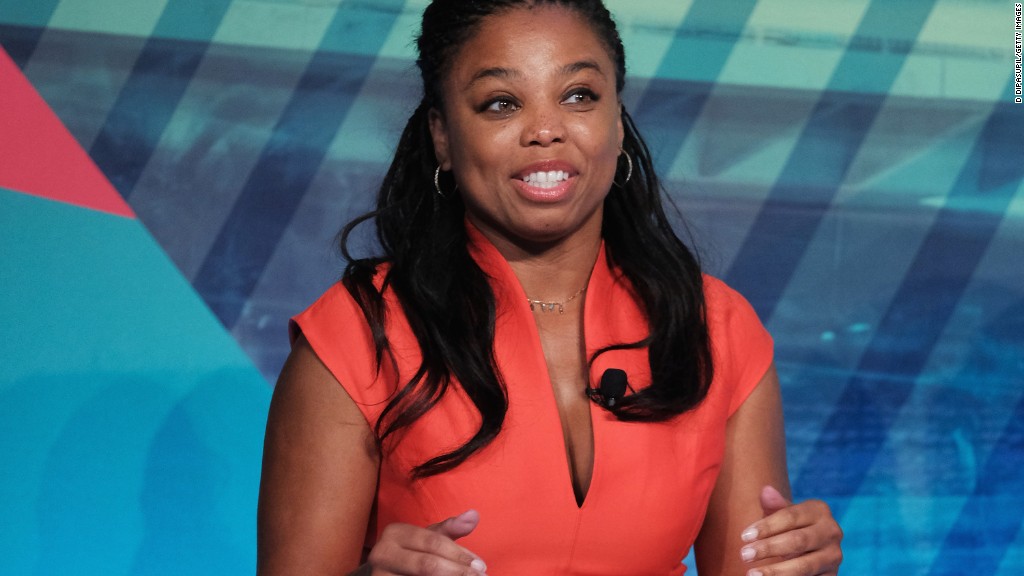 Anchor Jemele Hill is leaving SportsCenter to head to The Undefeated, ESPN's site about the intersection of sports, race and culture.
A source familiar with the issue confirmed the change to CNNMoney. The move to The Undefeated was her choice, according to the source.
Hill began anchoring the 6:00 pm showing of SportsCenter in February alongside co-host Michael Smith. He will continue to anchor the show, but it's unclear whether he will host solo or if ESPN will fill Hill's spot. Her last show will be next Friday.
"There is an old adage that says, the heart wants what it wants," Hill said in a statement. "I started at ESPN 11 years ago as a columnist and while I have worn many hats in the time since, my true love always has been writing, reporting and commentary."
She said that "deep down" she knew her role at SportsCenter wasn't her "calling."
Hill will write columns, interview big-name athletes and host events and initiatives for The Undefeated. She'll also do longform pieces for ESPN and provide commentary on various ESPN TV shows, radio programs and podcasts.
Related: CNN boss Jeff Zucker may be in mix for ESPN job
Hill made news in September for tweets she posted about President Donald Trump, calling him a "white supremacist."
She apologized for the tweets and said she regretted that her comments "painted ESPN in an unfair light."
ESPN released a followup statement, saying that "Jemele has a right to her personal opinions, but not to publicly share them on a platform that implies that she was in any way speaking on behalf of ESPN."
The network said it had accepted Hill's apology.
After a second violation of ESPN's social media policies in October, Hill was suspended for two weeks.
The shakeup to SportsCenter comes as ESPN is also looking for a replacement for John Skipper, who resigned from his role as president in December. Skipper, who promoted the Hill-Smith pairing and the SportsCenter show, left the network citing a substance addiction.