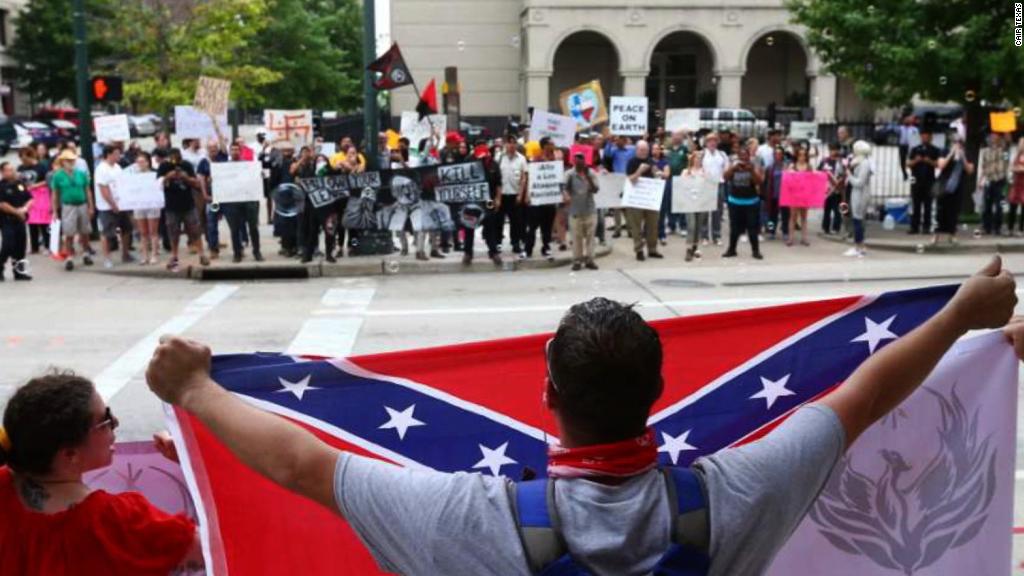 Posing as American activists, Russian government-linked trolls created 129 Facebook events between 2015 and 2017.
On multiple occasions, the events prompted real Americans to take to the streets.
In a written statement Facebook gave to the Senate Intelligence Committee released on Thursday, the social media network said that the events created by one Kremlin-linked troll group were seen by more than 300,000 Facebook users. About 62,500 users marked that they would attend the event, and an additional 25,800 expressed an interest in attending.
Facebook told Congress it does "not have data about the realization of these events," but CNN has previously found evidence that the Russian group successfully convinced Americans to attend the demonstrations.
The events were organized on a range of divisive issues and were designed to pit Americans against each other.
In one case, the troll group organized and promoted two opposing events on the same day at the same location in Houston, Texas.
"Heart of Texas," a page that posed as a pro-Texas secession organization, promoted a "Stop Islamization of Texas" protest at the opening of a library at an Islamic Center on May 21, 2016. The same troll group used another page, "United Muslims of America," to promote a "Save Islamic Knowledge" event at the same time.
The Russian group spent $200 promoting the events on Facebook, the company told Congress last fall.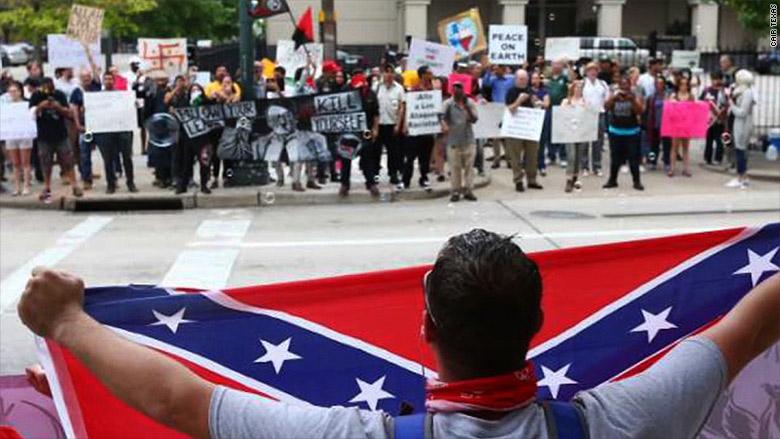 Executive director of the American-Islamic Relations in Texas, Mustafaa Carroll, told CNN that his organization had contacted the FBI about comments posted on the "Heart of Texas" page before the protest. One of them read: "Need to blow this place up. We don't need this shit in Texas."
Both of the Russian-created events took place and local news footage shows a few dozen people from opposing groups taking part in the demonstrations.
The protests were also discussed by Houston City Council three days after it took place.
In July 2016, just a day after the shooting of Philando Castile by police in a suburb of Saint Paul, Minnesota, a Russian-run page designed to look like an organization run by American Black Lives Matter activists, promoted a protest outside the police department where Jeronimo Yanez, the officer who shot Castile, worked.
The protest was publicized on a Facebook page called "Don't Shoot Us," and had more than 250,000 followers as of September 2016.
Local activists were confused when they saw the event, as they had organized a protest outside the Minnesota Governor's Mansion.
When an activist group with ties to a local union reached out to the page, someone with "Don't Shoot Us" replied and explained that they were not in Minnesota but planned to open a "chapter" in the state in the following months.
The local group became more suspicious. After investigating further, they posted on their website to say that "Don't Shoot Us" was a "total troll job."
Eventually, the "Don't Shoot Us" demonstration went ahead, facilitated by local activists, who intervened to help ensure the event was held safely.
Local activists were not aware of Don't Shoot Us' Russian ties until CNN uncovered it in October.
More than 120 million Americans saw content from the Russian troll group, known as the Internet Research Agency (IRA), Facebook told Congress last fall.
In its answers to the Senate Intelligence Committee released on Thursday, Facebook said it does not believe it is in a position to "substantiate or disprove allegations of possible collusion" between the Trump campaign and Russian operatives.
Collusion?
Facebook said it found "what appears to be insignificant overlap" between the targeting of its content by the Internet Research Agency and the Trump campaign. Trump has repeatedly denied allegations that there was any collusion between his campaign and Russian authorities to influence the 2016 election results.
"The targeting for the IRA ads that we have identified and provided to the Committee was relatively rudimentary, targeting broad locations and interests," Facebook said in the written statement it provided to the committee.
"[W]e have seen only what appears to be insignificant overlap between the targeting and content used by the IRA and that used by the Trump campaign (including its third-party vendors)," Facebook said in its written statement.
Kaspersky
The company also told Congress it had removed Kaspersky Lab from a list of free anti-virus offerings it provides users. It was previously used when Facebook detected who is accessing their platform from devices that are potentially infected with malware.
Facebook said it doesn't know how many of its users downloaded the anti-virus software as a result of the company's offering. Kaspersky Lab did not immediately respond to CNN's request for comment.
"We are unable to easily reconstruct how many Facebook users downloaded Kaspersky software," Facebook said in its written answers to the Senate Intelligence Committee.
When reached for comment, Kaspersky Lab issued a statement saying they offer "the best protection to consumers against ransomware, phishing, malware, spam as well as online fraud, and this decision impacts users' opportunity to choose from all of the best solutions available to them."
In September, the U.S. Department of Homeland Security ordered government agencies to remove any products from Kaspersky Lab due to security concerns.
Homeland Security said in a statement that it was "concerned about the ties between certain Kaspersky officials and Russian intelligence and other government agencies."
At the time, Kaspersky said it doesn't have "unethical ties or affiliations with any government, including Russia" and "has never helped, nor will help, any government in the world with its cyberespionage or offensive cyber efforts."