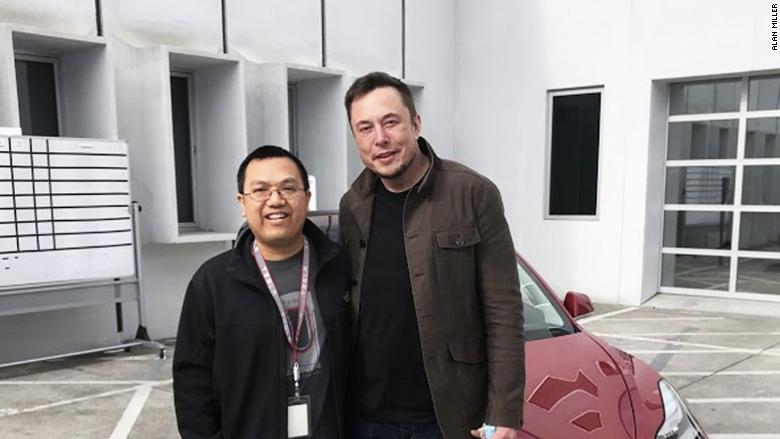 Self-described Tesla superfan Matthew Chan always wanted to meet some of the key people behind the electric car maker.
And when the cancer patient's wish came true this week with a visit to the company's factory in California, he got even more than he bargained for.
Not only did he go on a tour and meet Tesla's top car designer, he also came face-to-face with CEO and co-founder Elon Musk.
It all started when Chan's close friend Alan Miller shared a post on a couple of Tesla (TSLA) forums earlier this month.
"My best friend from medical school, Matthew Chan, is a 39 year old radiologist in Sacramento with 3 kids who was just diagnosed with stage 4 colon cancer," he wrote.
Related: 2018 will be the year of the electric car
The post added that Chan, who owns two Teslas, dreamed of meeting JB Straubel, the company's chief technology officer, and Franz von Holzhausen, its lead designer.
"Of course, I wanted to meet Elon, but I was interested in also talking to the guys who Elon goes to and says, 'I need this done,'" Chan told CNNMoney in a phone interview Thursday.
"I can relate to people who are in that second-level role and are trusted to execute the boss's vision," Chan said, adding that he's in a similar position in his job.
His friend's post sparked an outpouring of support as other Tesla fanatics conspired to help make the meeting happen.
And when Chan -- along with his sister, brother-and-law and Miller -- arrived at Tesla's factory in Fremont, California, on Wednesday, their visit turned out to be even more memorable than they were expecting.
It kicked off with a "VIP" factory tour and then an hour-long sit-down with von Holzhausen.
"He told us, 'I want to design cars that people will fall in love with, but don't know why,'" Chan said.
Chan said that's exactly how Tesla vehicles -- with their sleek, futuristic details and classic shape -- appear to him: inexplicably beautiful objects.
Straubel had to cancel last minute, Miller said. But as the group headed out to test drive the latest Tesla model, Musk showed up.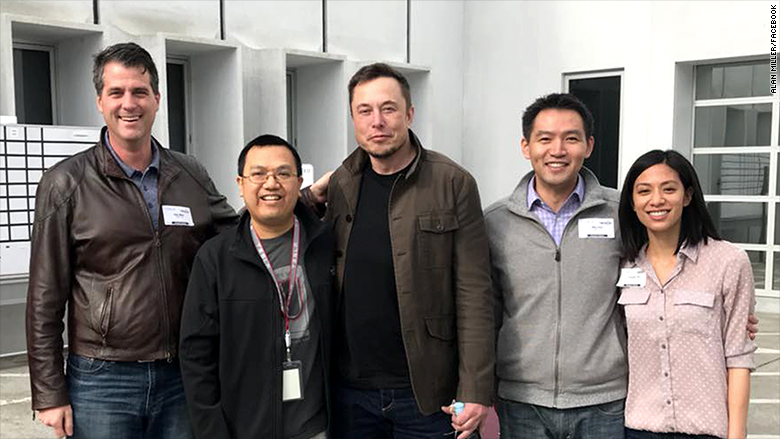 Chan said he was star struck and doesn't remember much about the encounter.
"I was a stuttering fool, but I just thanked him for his vision and what he's done for the community," he said. "I have huge respect for the company."
Inspired by the 2006 documentary "Who Killed the Electric Car?," Chan has long been an advocate for electric vehicles. He even manages the social media accounts for the Electric Auto Association.
Chan described the day as a welcome reprieve from the stress of his recent diagnosis. As a physician, he said, he can view his condition clinically.
"It's not a death sentence by any means," he said, rattling off survival statistics for stage 4 cancer patients.
But the diagnosis set him on "an emotional roller coaster," he admitted. He started chemotherapy on Jan. 1.