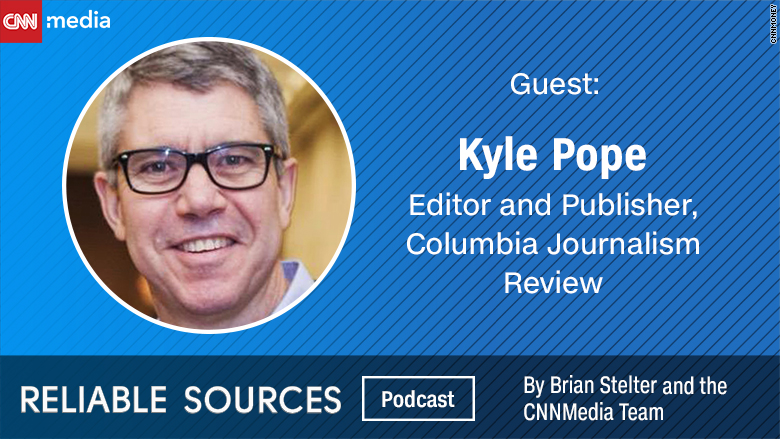 For Kyle Pope, editor and publisher of the Columbia Journalism Review, the one-year mark of Donald Trump's presidency represents a new challenge to journalists -- "rethink how we cover Trump."
Current coverage, he says, relies on a "call-and-response" method framed around Trump's tweets and White House statements. "Trump says 'this.' We get outraged. Trump spokesman lies about what was said or wasn't said. Trump responds again. We report that. And it's a kind of 'follow the bouncy ball.' That to me is clearly not the answer."
The challenge for covering Trump in 2018, he writes for CJR, is two-fold: "How do we retake the agenda from this man who so hungers for attention, and how do we tell stories in a way that reflects the scale and sweep of the moment we're in?"
Pope sat down in New York with CNN's Brian Stelter to discuss and debate alternative media strategies in the Trump age on this week's Reliable Sources podcast.
In Pope's mind, "readers and viewers aren't getting what they're hungering for" with existing coverage. When spending an afternoon at a Manhattan hotel with about two dozen people gathered for an informal salon, Pope concluded that the group wanted different news; they had become, he writes, "convinced that what they were reading and watching was no longer helping them make sense of where the country was headed, or how they should think about it."
Meeting with the group inspired Pope to look more closely at reader-media dynamics. "It sort of forced me to reflect on my own take on how I feel as a person," he told Stelter. "Forget my CJR hat, but just as a consumer of news, and do I feel that... somebody is helping me navigate through the world as it feels to me now."
In his column, Pope advocates for different type of story formulas he would like to see more of -- "more first-person pieces by reporters on the trail, some oral histories, some theoretical what-ifs." Pope mentioned to Stelter that the news that Trump wanted to fire Robert Mueller last June, for example, would be a good candidate for a "what-if" story.
"What I want to know is what does this mean for the dynamics of how Mueller views this?" he asked. "Is this a piece of ammunition that he is going to use against Trump? I mean, Mueller already knew about it, so does that change the game at all?"
It's a type of story he said he "didn't read" and "didn't see" in Friday morning coverage -- "a story that sort of grapples with everything that must be going through readers' minds."
Some of this, Stelter responded, could be due to "the daily paper constraints, the constraints of print, even the artificial constraints on the web."
But, he later brought up, "there hasn't been as much innovation or experimentation as you might have thought... might have started after Election Day."
"The, I think, challenge in a lot of newsrooms is to produce more for that casual consumer, that bewildered consumer who wants to know how to make sense of all these headlines," Stelter elaborated further in the podcast. "There's days where there's six or seven stories about drama inside the FBI, tensions at the White House, new inquiries from Mueller. And it's a struggle to figure out how all those link, how those connect. That's where there's an opening, I think, for either new products or new websites or new newsletters, whatever, whatever form it takes."
"This is good challenge for listeners," he posited.
"We'll throw it down," Pope responded. "Somebody will come up with something."