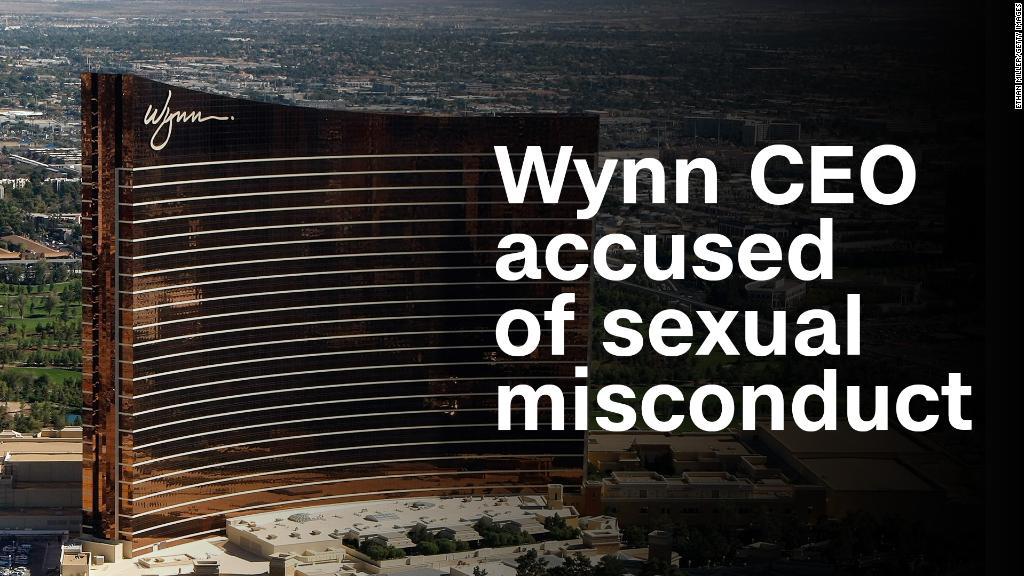 Steve Wynn has been called the "unofficial king of Las Vegas." But these days, his business empire draws most of its riches from China.
The billionaire gaming magnate developed towering resorts such as the Bellagio, Treasure Island and Mirage, changing the face of the fabled Las Vegas Strip. In the most recent financial quarter, though, his company's businesses in the city generated less than a quarter of its total revenue.
The vast majority came from Macau, a tiny former Portuguese colony that's currently the only place in China where gambling is legal.
Wynn, the 76-year-old founder and CEO of Wynn Resorts (WYNN), now stands accused of sexual misconduct in a detailed investigation by the Wall Street Journal. The board of directors of his company has formed a special committee to investigate the allegations, which Wynn has denied.
For decades, the mogul has been a major figure in the world of gambling.
"Wynn was the first one [to build casinos where] when you walked in you had restaurants there. You had all kinds of shows," said Richard McGowan, a Boston College professor who studies the gambling industry. "He's the one who really turned it into total entertainment."
Related: Wynn Resorts board launches investigation
Chinese high rollers
After reshaping Las Vegas in the 1990s, Wynn set his sights on the even bigger prize of the massive wealth being created by China's rapid economic rise.
Macau's gambling revenues overtook those of Las Vegas more than a decade ago. And Wynn made sure he was along for the ride.
"I was involved at the inception here," he said in an interview with CNNMoney in Macau in 2016.
His company managed to secure one of the handful of casino licenses in the Chinese territory, opening its first resort there in 2006. An even bigger one, Wynn Palace, followed in 2016. Together they hold more than 700,000 square feet of casino space -- and the company is planning to expand that further.
Wynn Resorts latest earnings show how much it now relies on Chinese gamblers. Of the company's $1.7 billion in revenue in the last quarter of 2017, more than $1.3 billion came from Macau. While Wynn's business in Las Vegas declined slightly from a year earlier, in Macau it surged more than 40%.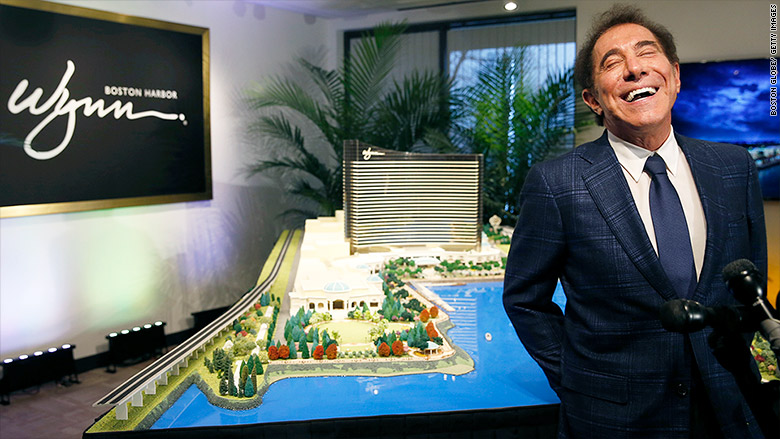 It's not yet clear how the allegations against Wynn could affect his company's Asian business. The Hong Kong-listed shares of Wynn Macau (WYNMF), most of which are owned by Wynn Resorts, sank 6.5% on Monday. That followed a 10% plunge in the parent company's shares on Friday in the United States.
Wendy Wong, a spokeswoman for Macau's Gaming Inspection and Coordination Bureau, told CNNMoney on Monday that it has no plans to revoke Wynn Macau's license, which expires in 2022. But she said it hasn't decided yet whether to conduct an investigation into the allegations against Wynn.
Wynn Macau declined to comment beyond referring CNNMoney to statements on the matter by Wynn Resorts and Wynn himself, who is chairman and CEO of the Macau unit.
With Macau dominating its business, Wynn Resorts no longer controls many of the iconic properties the mogul developed in Las Vegas. It sold Mirage Resorts, which owned the Bellagio, Treasure Island and Mirage, to MGM Grand in 2000. Wynn Resorts still owns and operates Wynn Las Vegas and Encore in the city.
The company is also developing Wynn Boston Harbor in Everett, Massachusetts. The $2.1 billion project is scheduled to open in 2019, but following the allegations against Wynn, the state gaming regulator has said it is reviewing the license it issued.
Related: Steve Wynn allegations: Here's his response
From bingo to the Bellagio
Wynn's empire building has made him an extraordinarily rich man.
He's now worth $3.5 billion, according to Forbes. Wynn Resorts went public in 2002, and now has a market cap of more than $17 billion. Wynn has an 11.8% stake, according to the company's most recent SEC filings.
The tycoon is also handsomely paid for his work as CEO. His total compensation for 2016 came to $28.2 million. And over the past five years of reported income, his total compensation came to $111.6 million.
Wynn first entered the world of gambling when he took over his father's bingo parlors in Maryland. He moved to Las Vegas in 1967 with a stake in the Frontier Hotel, followed by a short stint as the owner of a wine and liquor distributor, Wynn said in a 2014 interview with the Hoover Institution's Peter Robinson.
Things picked up when Wynn scored a lucrative land deal via business mogul Howard Hughes. He parlayed that money into an investment in the Golden Nugget Casino.
Wynn's success in transforming the Golden Nugget into an elegant destination led to a string of new projects, each one increasingly opulent.
"Wynn is known for setting a standard -- very luxurious facilities that really set the bar for the industry very high," said Clyde Barrow, a professor at the University of Texas, Rio Grande Valley, who specializes in gambling policy.
The Mirage, Wynn's first major casino on the Vegas Strip, opened in 1989. He then opened Treasure Island in 1993, and the Bellagio in 1998.
"Before the 1990s, what we now think of as the Strip basically didn't exist," Barrow said.
Wynn brought Siegfried and Roy's magic act to the Mirage and installed fine art and a famous fountain show at the Bellagio.
Related: After allegations, Wynn's Boston casino draws regulatory scrutiny
Succession plan?
In its current form, the company remains centered around its founder.
"He's the one that's innovative," McGowan said.
Hong Kong-based gambling analysts at investment firm Bernstein said they think Wynn's leadership "would be extraordinarily difficult to replace if he were to step down."
"There does not seem to be any clear succession plan at the company," they wrote in a research note Monday. "And without Mr. Wynn's guiding hand, the ability to ... limit the collateral damage from infighting that may evolve out of any Steve Wynn departure is very difficult to predict."
-- Sherisse Pham, Chris Isidore and Qiaoqiao Yu contributed to this report.