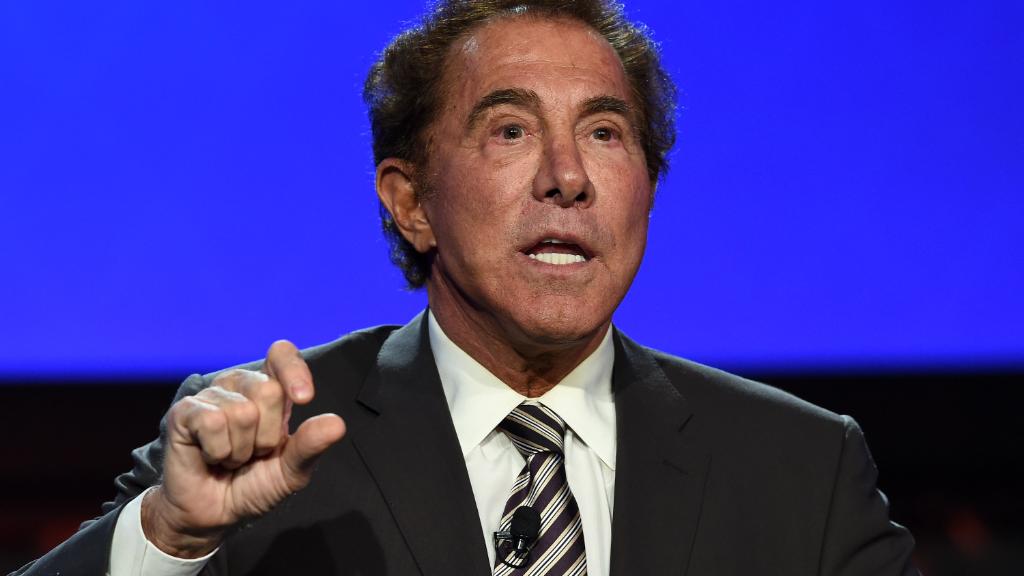 The sexual misconduct allegations against Wynn Resorts CEO and founder Steve Wynn have already cost the billionaire hundreds of millions of dollars.
After the Wall Street Journal published allegations Friday of a pattern of sexual misconduct by Wynn over many years, shares in the company's stock plunged 10%. They closed down another 9% in trading Monday. Wynn has denied the allegations, calling them "preposterous."
According to the most recent filings, Steven Wynn owns 12.1 million shares of Wynn Resorts stock through a family trust he controls. That's 11.8% of the shares outstanding. So when the stock fell 10% on Friday on this report, his estimated net worth dropped by $246 million, or roughly a quarter-billion dollars. Monday's drop in share price added $204 million to his paper losses, bringing the total decline in his net worth to $450 million.
Related: Steve Wynn accused of sexual misconduct in WSJ
Of course those losses are only theoretical and won't actually cost him any money at all unless he sells his shares at a depressed level. And even with the recent plunge, Wynn's stake in the company is still worth nearly $2 billion. Forbes estimates his overall net worth at $3.5 billion.
Before Friday's decline, the company's stock had gained 132% since the start of 2017 through Thursday's close. Even with the recent plunge, shares of Wynn Resorts have nearly doubled since the start of 2017, climbing 89%.
The company's strong financial performance has been driving the stock. Revenue for last year jumped 41%, to $6.3 billion. Profits tripled to $747 million.
The company has yet to disclose Wynn's 2017 pay package. But his total compensation for 2016 came to $28.2 million, and over the last five years of reported income his total compensation came to $111.6 million. Company filings say that he is under contract through October 2022, the year he turns 80.
Related: Wynn Resorts board launches investigation
Wynn Resorts' board says it has launched an investigation into the allegations made against its CEO, saying it is "committed to operating with the highest ethical standards and maintaining a safe and respectful culture." But the company had previously issued a statement criticizing the Journal report. And the company made no comment about suspending Wynn while the investigation is conducted.
If he is terminated by Wynn Resorts "without cause" he would be owed "three times the salary and bonus that would be payable during the remaining term of the contract," according to company filings. That should come to about $247 million.
Other executives who have lost jobs due to allegations of sexual harassment and left their companies "without cause" and collected large severance packages. For example, former Fox News President Roger Ailes received $47 million in severance when he left 21st Century Fox (FOX) in the wake of sexual harassment allegations, according to court filings.