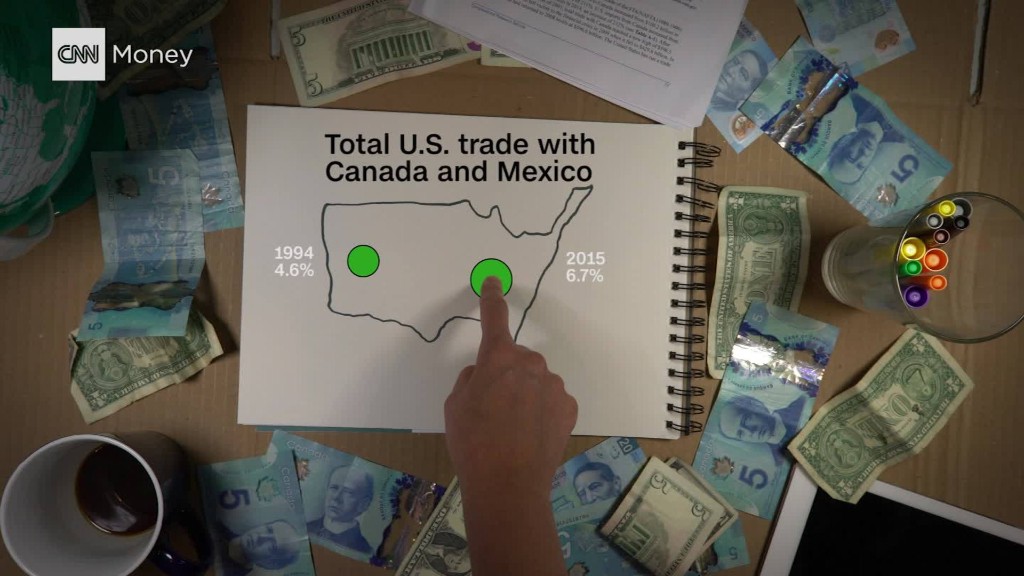 Negotiators from the United States, Canada and Mexico are making progress on modernizing their trade agreement. Very. Slowly.
Round 6 of NAFTA talks concluded Monday in Montreal. All three sides agree on some issues, such as digital trade or telecommunications, which weren't in the original agreement that became law in 1994.
But on the divisive issues, including auto manufacturing, there is no sign of compromise.
"This round was a step forward but we are progressing very slowly," U.S. Trade Representative Robert Lighthizer said at a press conference in Montreal. It was the first round of talks in two months after negotiations hit a standstill last fall.
Lighthizer on Monday lambasted Canada's top counter-proposal regarding auto manufacturing in North America.
Currently, about 62% of car parts in a vehicle sold in North America must come from the region. The goal is to maintain some car production -- and jobs -- in North America.
The Trump administration proposed raising that threshold to 85% from 62%. Of the parts sourced from within North America, half would have to come from the United States, according to the U.S. proposal. The U.S.-specific rule appears to be the biggest deal breaker for Canada and Mexico.
Related: No, Mr. President, Chrysler isn't leaving Mexico
America's top trade official had no interest in Canada's proposal on these so-called rules of origin for auto manufacturing. The details of the counter offer were not immediately available.
"We find that the automobile rule of origin idea that was presented, when analyzed, may actually lead to less regional content than we have now -- fewer jobs," Lightizer said, standing next to Canadian Foreign Minister Chrystia Freeland. "This is the opposite of what we're trying to do."
American automakers are actually siding with Canadian and Mexican officials. Industry advocates think a major increase in the portion of car parts that must be sourced from within North America, or the United States, will hurt car production.
They argue that the current threshold of 62% is already very high, and anything more would disrupt global supply chains. Translation: Cars would become more expensive.
Related: Justin Trudeau had a really good week
"We believe that the U.S. proposal would have the opposite effect of the administration's goals, and would result in a decrease in sales ... and ultimately a decrease in jobs," said Jennifer Thomas, vice president of the Alliance of Automobile Manufacturers, a group that represents almost all major automakers, including Ford, GM, Toyota and BMW.
Still, cautious optimism surrounded the talks.
"We still have substantial challenges to overcome, yet the progress we made so far puts us on the right track," Mexican Economy Secretary Ildefonso Guajardo, who helped negotiate the original agreement in the early 1990s, said Monday.
Freeland, the top Canadian official, said she hopes for trade pact that's a "win, win, win" for all three countries and that she was pleased with progress made. But she called the U.S. proposals "unprecedented."
Officials said they finished a new chapter of NAFTA on corruption laws. The next round will be in February in Mexico City, though exact dates were not immediately clear.