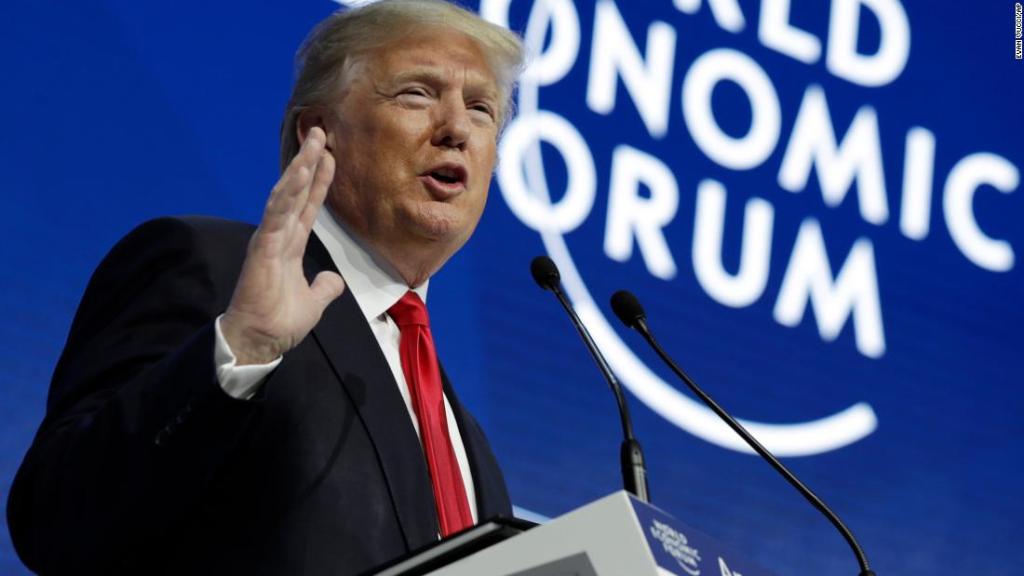 President Trump has warned that the U.S. administration may soon address "very unfair" trade with the European Union.
"I've had a lot of problems with the European Union, and it may morph into something very big from ... a trade standpoint," Trump said in an interview with British broadcaster ITV on Sunday.
"It's a very unfair situation," he added. "We cannot get our product in. It's very, very tough, and yet they send their product to us -- no taxes, very little taxes."
Trump has on several occasions criticized the EU over trade, singling out export powerhouse Germany for running a big trade deficit with the United States.
The rhetoric has not yet translated into substantial action, but the Trump administration's efforts to crack down on what it perceives as unfair trade now appear to be gaining momentum.
Last week, the U.S. slapped new tariffs on imported residential washing machines and solar panels, a move that is expected to hurt China and South Korea, a key ally and trading partner.
Trump must soon decide whether to apply tariffs on imports of steel and aluminum. He has also threatened to withdraw from NAFTA if he's unhappy with the outcome of talks about revising the pact with Canada and Mexico.
And Commerce Sec. Wilbur Ross signaled last week that the administration could soon go after China on trade in technology.
Related: Trump says 'predatory behaviors' are distorting global markets
In targeting the EU, Trump risks undermining a trading relationship that covers 800 million people and more than half the world's economic output.
Goods and services trade between the U.S. and the EU totaled nearly $1.1 trillion in 2016, according to the Office of the U.S. Trade Representative. EU countries are the top market for the U.S., accounting for nearly 19% of goods exports last year.
According to the U.S. Department of Commerce, trade with the EU supported 2.6 million American jobs in 2015.
Trade and investment also flows in huge volumes from Europe to the U.S.. The EU ranked as the second largest supplier of U.S. imports in 2016, and it invests eight times more in the U.S. than it does in China and India combined.
The EU said Monday that trade policy is "not about winners and losers."
"The European Union stands ready to act swiftly and appropriately in case our exports are affected by any restrictive trade measures from the United States," said European Commission spokesman Margaritis Schinas.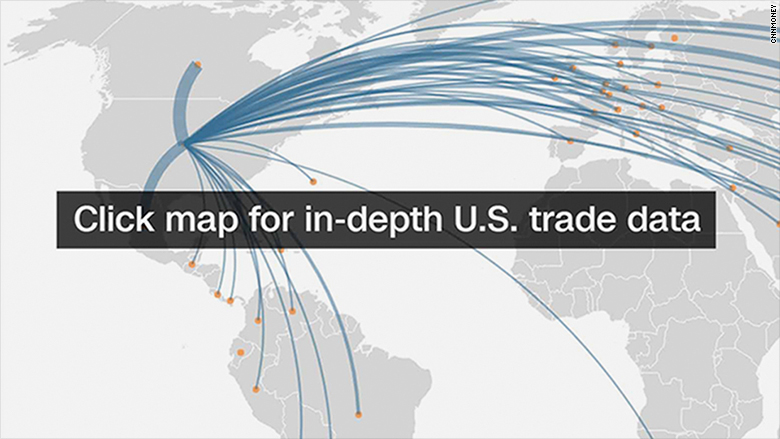 Tariffs between the U.S. and EU are already low, averaging less than 3% according to the EU.
Both sides were working on a trade agreement -- the Trans-Atlantic Trade and Investment Partnership (TTIP) -- that would have reduced barriers further, but those talks stalled before Trump was elected.
Many in Europe were worried the TTIP would lead to a watering down of regulations on food safety and environmental protection, which are often a lot stricter than in the U.S.
Related: Jack Ma says trade shouldn't be used as a weapon
Speaking last week at the World Economic Forum in Davos, Trump said that "predatory" trade behaviors were "distorting the global markets, and harming business and workers."
He promised to enforce U.S. trade laws and "restore integrity to our trading system."
Trump's comments Sunday suggest that the EU may be climbing the target list.
"The European Union has been very, very unfair to the United States, and I think it'll turn out to be very much to their detriment," he told ITV.