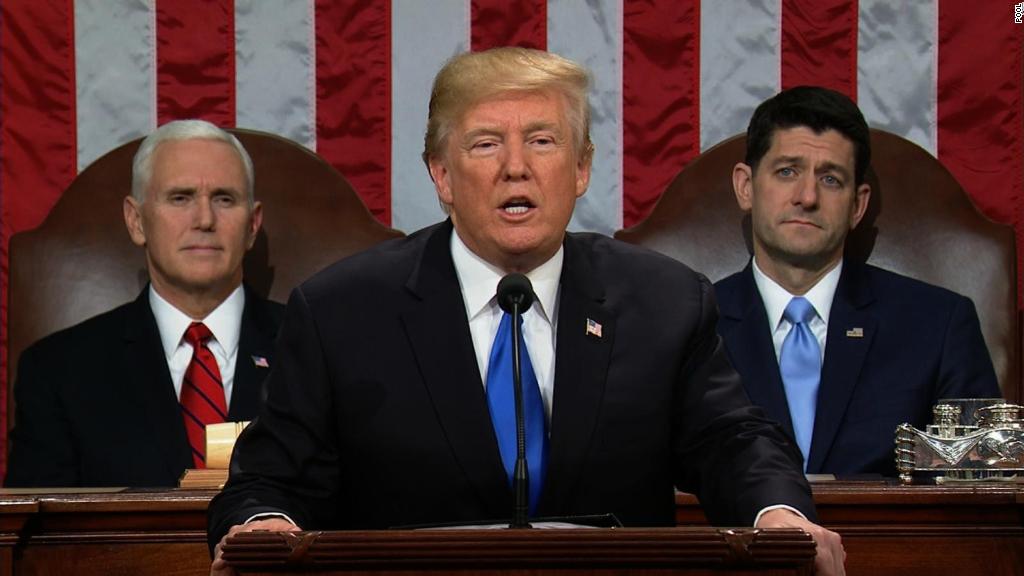 President Trump is taking credit for bonuses given to 3 million American workers because of the new tax law.
That's only part of the story.
Many companies have cited the tax law as they announced bonuses, pay raises and sweeter 401(k)s. Those benefits are putting money in workers' pockets.
The White House on Tuesday cited several companies that passed on tax benefits to their workers, including American Airlines (AAL), which handed out $1,000 bonuses to employees at a total cost of almost $130 million, as well as Disney (DIS) and AT&T (T). (The Trump administration is suing to block AT&T's acquisition of Time Warner, which owns CNN.)
But they represent a small fraction of the billions of dollars that companies will save because of a sharp cut in their tax rates.
Wall Street analysts expect that public companies will spend a much bigger share of that cash buying back their own stock and increasing shareholder dividends. That's a big reason the stock market has taken off.
Also, with unemployment at a historically low 4.1%, many companies are having trouble hiring. The job market is so tight that many companies increasingly will be forced to raise pay and offer better benefits to entice job candidates and keep current workers from leaving.
Walmart, for example, said on January 11 that it would raise its minimum wage to $11 an hour and give employees a one-time bonus of up to $1,000. In all, the initiatives cost $700 million, the company said.
Later in the month, Walmart announced that it was buying back $4 billion in company debt. A Walmart spokesman said tax reform was "not the incentive" behind the buyback.
Related: Some of the companies giving out raises and bonuses because of tax reform
Wells Fargo raised its minimum wage to $15 an hour, from $13.50.
"We believe tax reform is good for our U.S. economy and are pleased to take these immediate steps to invest in our team members, communities, small businesses, and homeowners," CEO Tim Sloan said in a statement.
Wells Fargo is expected to be one of the biggest winners from tax reform. Banks pay relatively high taxes, so the company will get a boost now that the corporate rate is down from 35% to 21%. Wells Fargo makes most of its money in the United States.
The tax law is a $3.4 billion windfall for the company, mostly based on money it owes the government in the future, or what's known as a deferred tax liability.
American Airlines, one of the companies singled out by the White House for giving $1,000 bonuses, wasn't paying federal income tax before the new law. That's because years of losses had left it with no tax liability.
American and other major airlines have been raising wages in recent years, thanks to a turnaround in the industry that produced strong earnings.
American even announced in 2014, 2016 and 2017 that it would give workers a bigger raise than was required under union contracts. So the $1,000 bonus it announced this year was in line with recent pay actions.
-- CNNMoney's Matt Egan and Chris Isidore contributed to this report.