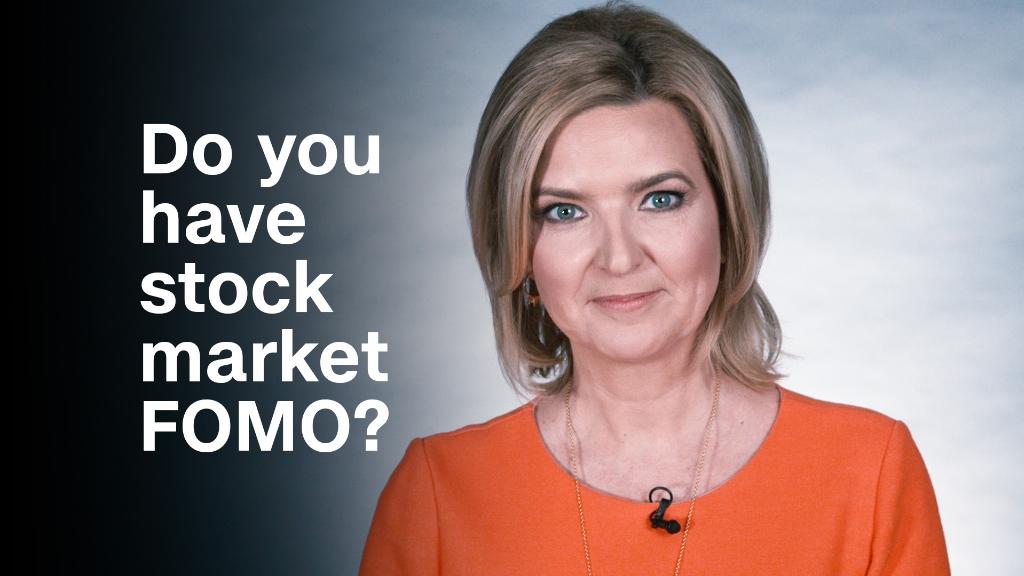 Turbulence is making a comeback on Wall Street.
The Dow opened with a 261-point leap on Wednesday, then gave up all those gains and more, then bounced back into the green to finish up 73.
Earlier this week, the Dow lost 540 points over two days, its worst back-to-back percentage drop since September 2016.
Both the Dow and the S&P 500 finished higher for the 10th month in a row, the longest streak since 1959. But the gyrations this week are notable because Wall Street's months-long powerhouse rally has been so calm.
Now investors are wondering whether the quiet is over. The VIX (VIX), which measures volatility in the market, has spiked 30% this week to a five-month high. And the S&P 500 broke a record streak without consecutive drops of 0.5%.
"It felt like an avalanche because we got accustomed to not seeing drops," said Andres Garcia-Amaya, CEO of wealth management firm Zoe Financial.
"I welcome some down days to shake out players who assume the market will go up forever," he said. "It doesn't."
It's hard to blame people for thinking that, though. By notching another month of gains in January, the Dow and S&P 500 are on track to extend their win streaks to 10. That hasn't happened since 1959.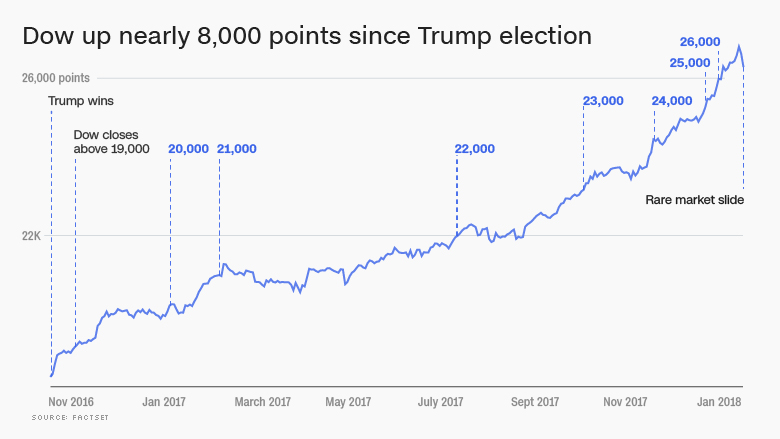 Related: Wall Street's 'euphoric cabaret' can't last forever
One potential catalyst for the market reversal on Wednesday is that the bond market is showing signs of stress. The 10-year Treasury yield, which moves opposite the price, briefly climbed to 2.75% for the first time in nearly four years before retreating.
Higher bond yields over the past few weeks have unnerved investors, raising concern that the era of extremely low interest rates may soon be over. Significantly higher bond rates would act as a brake on the economy by increasing the cost of borrowing. They would also make risky stocks look less attractive compared with relatively safer bonds offering greater returns than they have been.
The bond selloff occurred after the Federal Reserve said it will "carefully monitor" inflation, which it expects to "move up this year." That could set the stage for the Fed to speed up its plans to raise rates. That decision will be left up to Jerome Powell, who is replacing Janet Yellen when she steps down as Fed chair this week. As expected, the Fed decided on Wednesday to keep interest rates steady.
For his part, Alan Greenspan, the longtime former Federal Reserve chair, said Wednesday that he thinks both the stock market and the bond market are in bubbles -- and that the bond bubble might be more dangerous.
If they wanted to feel better, investors were reminded that Corporate America is minting money. Boeing (BA), easily the best Dow stock since the start of 2017, soared 5% after reporting record annual profits. The aerospace giant is optimistic about 2018 thanks to hefty demand for jetliners.
The economic backdrop continues to look positive. ADP said the United States created a better-than-expected 234,000 private-sector jobs in January. That could be a good sign ahead of Friday's more closely watched government jobs report.
Investors may be relieved at the measured tone Trump struck during the State of the Union address on Tuesday night. The president cheered the economic gains of the past year and called on Congress to produce a bill that generates at least $1.5 trillion for infrastructure investment.
On the other hand, Wall Street didn't love Trump's repeated vow to bring down drug prices. Drug stocks such as Eli Lilly (LLY) and Merck (MRK) slumped on Wednesday, while the iShares NASDAQ Biotechnology ETF (IBB)retreated 2%.
Despite the drama in the market this week, Wall Street has enjoyed a robust start to 2018. The Dow's 6% jump in January would be its best month since March 2016. The Nasdaq is up 7%, its strongest month since October 2015.