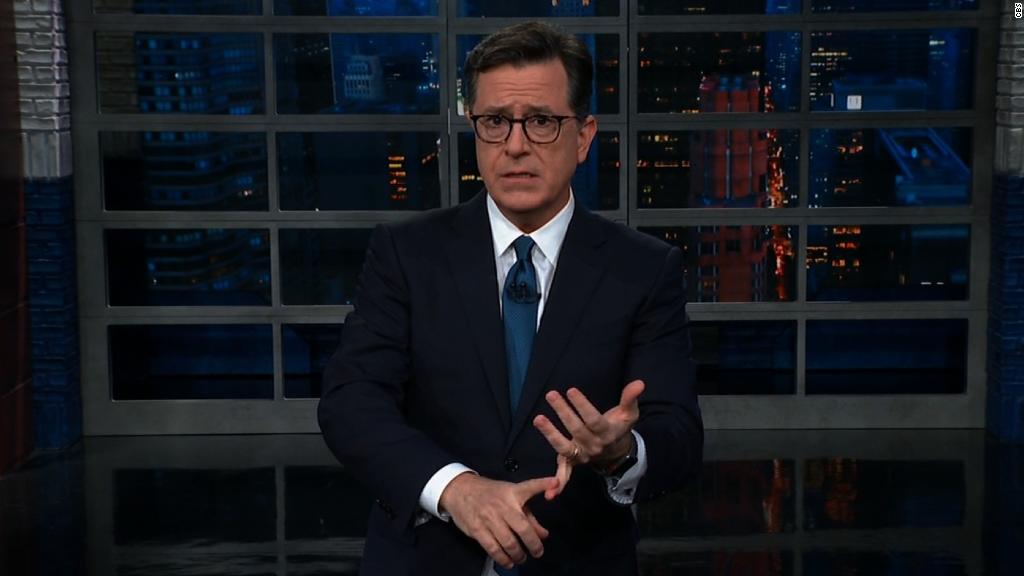 President Donald Trump spoke to the nation for his first State of the Union on Tuesday night and late night hosts like Stephen Colbert and Trevor Noah were ready to react.
While most late night talk shows taped their broadcasts before Trump's speech, Comedy Central's "The Daily Show" and CBS' "The Late Show" went live following President Trump's State of the Union address.
"The Late Show" opened its live broadcast with "The real State of the Union," which included dubbing Trump's words to have him welcome Vladimir Putin to the speech. The show also dubbed Trump to say that he's going to "drain the swamp" of his own cabinet.
Colbert continued to mock Trump in his opening monologue.
"We are live and barely conscious after a ninety-minute speech," Colbert said.
The host noted that there were a lot of bright spots during the speech tonight, including many inspirational stories.
"Some of the most beautiful and impressive Americans you can imagine," Colbert said. "...And the president was there too."
Colbert mentioned that he learned right before the speech that First Lady Melania Trump took a separate car than her husband to the speech.
"I guess Melania didn't want anything from the Burger King drive-thru," he joked.
Meanwhile on "The Daily Show," Noah commented on some of the speech's attendees. He said many people attended, including U.S. Supreme Court justices, generals and even U.S. Sen. Ted Cruz -- who the show presented as the Phantom of the Opera looking down on the speech from above.
Noah added that he loves Speaker of the House Paul Ryan and U.S. Vice President Mike Pence at the State of the Union because "they always look like the chaperones for the evening."
Noah also spoke about this year's "designated survivor," U.S. Secretary of Agriculture Sonny Perdue.
"What's that person going to do in an attack?" Noah asked. "It's like, 'Secretary, North Korea launched the attack! Bring me the cabbage.'"
Noah also noticed that Trump seemed to be in a good mood.
"He was in such a good mood that he even reached across the aisle, and not just to grope someone, but to try to get things done," he said.
And just because other late night shows like "Full Frontal with Samantha Bee" and "Late Night with Seth Meyers" didn't go live didn't mean they had nothing to say. Both shows live tweeted the speech.
For example, the official account of NBC's "Late Night" tweeted as the speech went on into the night.
"Come on, man, unlike everybody there, we gotta work tomorrow. #SOTU," the account tweeted.