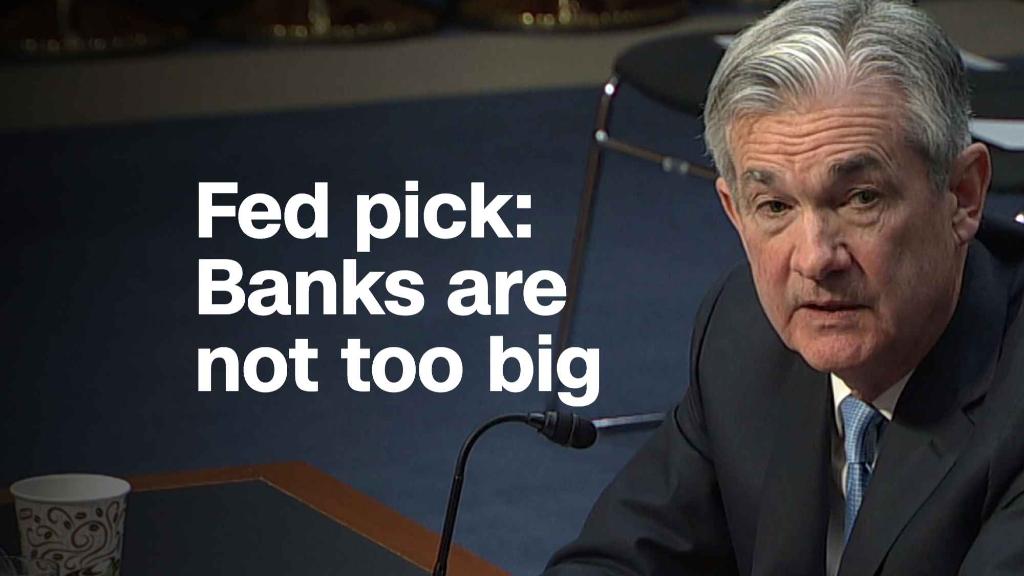 Jerome Powell is about to take the helm of the world's most influential central bank.
Powell, 64, will begin his four-year term as Federal Reserve chairman on Saturday, the Fed announced.
As Janet Yellen departs this week, Powell is inheriting a healthier economy than his predecessor. Growth has remained solid. The stock market keeps setting records. Hiring has boomed. And unemployment is at a 17-year low.
Powell will bring credibility and political stature to his chairmanship, having served as a Fed governor for more than five years. He has helped to shape policy under Yellen and stimulus programs under former Fed Chair Ben Bernanke.
And while Yellen's challenge may have been to jump-start the economy while wrestling with mysteriously low inflation. Powell may face the opposite challenge. He'll have to make sure the Fed acts fast enough.
Related: Jerome Powell confirmed as next Federal Reserve chair
Powell will be sworn in on Monday. He has lauded the central bank's patient approach, led by Yellen, in gradually raising interest rates and slowly unwinding the $4.5 trillion balance sheet that the Fed amassed to support the economy after the crash.
"I think now the economy is strong, unemployment is low, growth is strong -- in fact, it appears to have picked up -- so it is time for us to be normalizing interest rates and the size of the balance sheet," Powell told lawmakers during his confirmation hearing in November.
The Fed announced the official leadership change on Wednesday after its two-day policy meeting, the first of the year and Yellen's last as chair. She will leave after a single term as the first woman to lead the Fed.
Powell spent much of his career in investment banking and private equity before joining the Fed.
A Princeton graduate, he was a lawyer in New York before he joined the investment bank Dillon, Read & Co. in 1984. He stayed there until he joined the Treasury Department in 1990, during the George H.W. Bush administration.
After he left Treasury, he became a partner in 1997 at The Carlyle Group, the private equity and asset management giant. He left Carlyle in 2005.
It's not the first time a former investment banker has taken the helm at the Fed, but Powell would be the first chairman in more than 40 years who is not a formal economist.
Related: As Yellen leaves, Fed will face new challenges
On Wednesday, Fed officials kept interest rates steady as expected, but signaled to Wall Street it expects to gradually raise rates as the economy continues to strengthen this year.
"Gains in employments, household spending, and business fixed investment have been solid, and the unemployment rate has stayed low," policy makers said in their statement.
Markets are already counting on a March rate increase at Powell's first meeting as chairman.
Policy makers said they would continue to "carefully monitor" inflation as the Fed tries to meet its 2% target -- the level it considers healthy for the U.S. economy.
Fed officials said they expect inflation to inch up higher this year as it seeks to meet its target.