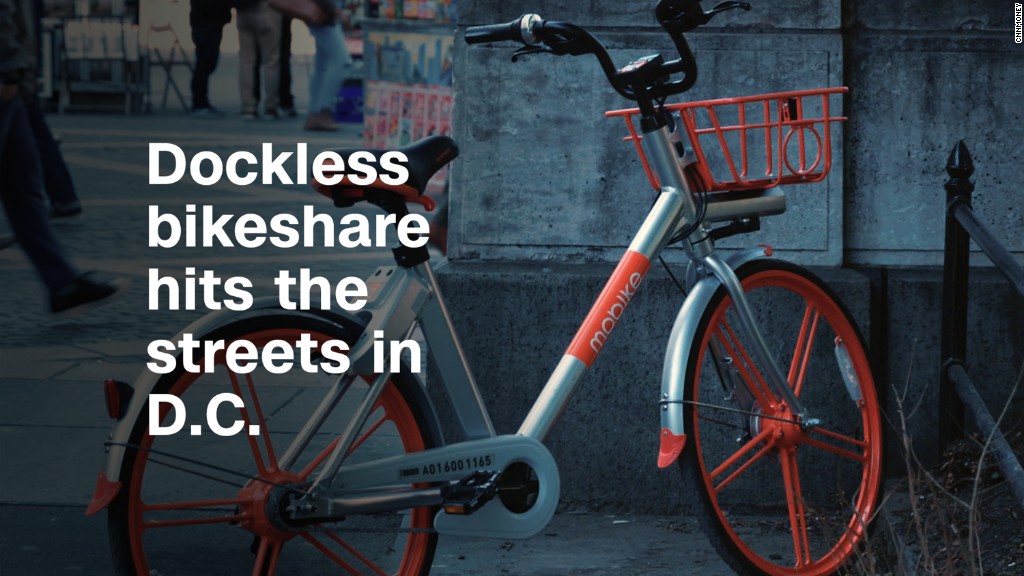 Uber -- a brand synonymous with cars -- is embracing the bicycle.
The ride-hailing giant announced Tuesday it's making electric bicycles available to rent. Uber is rolling out a test program in San Francisco, starting next week.
Uber users in the area can join an online waitlist to reserve bicycles from Jump Bikes, a New York-based bikeshare company. Rides will cost $2 for the first 30 minutes, and $1 for each additional 15 minutes.
Jump's electric bicycles use a pedal assist method, in which electric power is provided to the wheels as a person pedals. Electric bike sales are growing in the U.S. as riders are drawn to their fun factor, health benefits and convenience.
The bikes can be reserved directly within Uber's app. The company considers the move as a way to extend affordable, sustainable transportation to the masses. The bicycles are limited to 20 mph in San Francisco.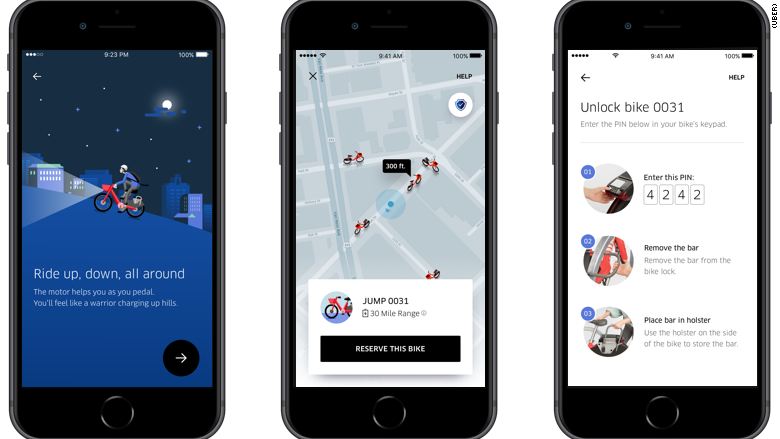 Earlier this month, its partner Jump launched a pilot of 250 shared electric bicycles in San Francisco. It plans to double that amount in nine months.
"It's exciting to expose electric bikeshare to a much bigger audience and making it really, really easy to try," Jump Bikes CEO Ryan Rzepecki told CNN Tech.
The companies have not disclosed the financial terms of the partnership.
Related: Electric bicycles emerge as a hot trend in the U.S.
In many cases, bicycle trips are the fastest way to get around cities. As congestion worsens in popular and growing cities, residents are looking for alternatives. Uber -- which changed its motto in 2016 from "Everyone's private driver" to "Get there" -- appears aware of this.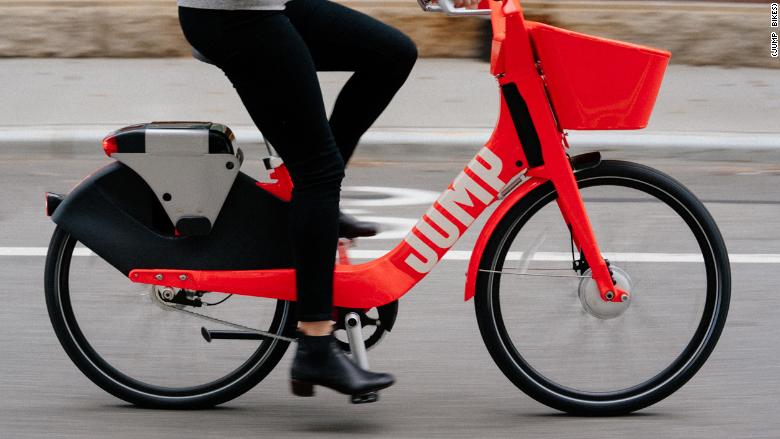 The deal isn't the only case of convergence between ride-hailing and bikeshare networks. Didi, the Chinese ride-hailing giant, has launched its own bikeshare network in China. In addition, Mobike, a dockless bikeshare company operating worldwide, is launching its own ridesharing service.
These companies are also betting on the decline of individual car ownership.
"Our broader goals are aligned with Uber," Rzepecki said. "How do we move away from personal automobile ownership and towards rides on demand?"