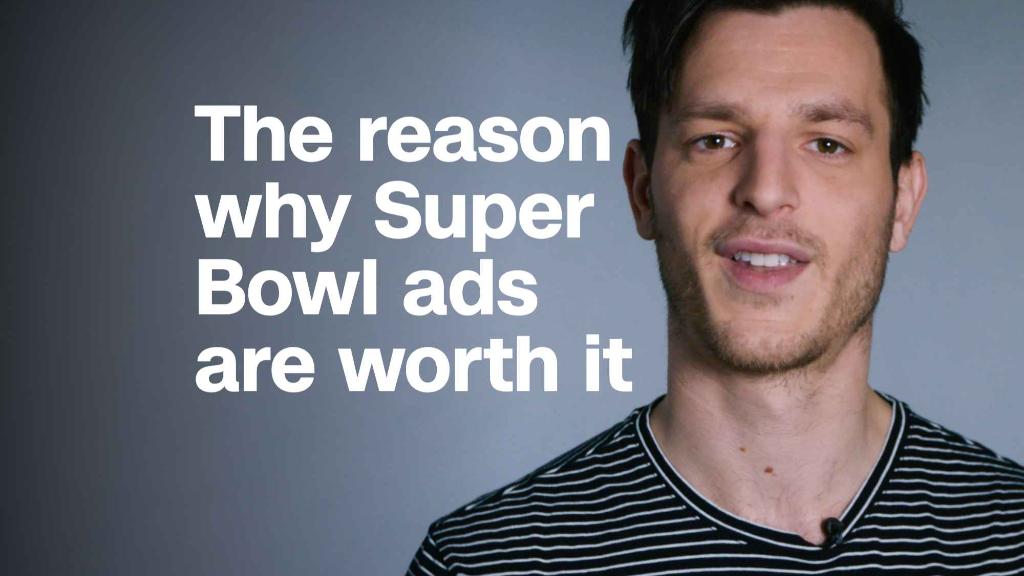 In the age of YouTube, Facebook and Instagram, why are marketers still willing to throw down millions of dollars for a 30-second Super Bowl ad?
It's simple. The NFL's marquee event is TV's biggest game in town, and nothing else even comes close.
"A lot of the trends that we've seen in the media world over the past decade have only made the Super Bowl more important," said Tim Calkins, a marketing professor at Northwestern University's Kellogg School of Management.
Calkins, who has studied Super Bowl commercials for years, said the game bucks advertising trends in an important way. While network TV ratings are struggling, the NFL championship remains the best way to reach as many people as possible at once.
About 112 million people watched last year's matchup between the New England Patriots and the Atlanta Falcons. More than 61 million tuned in for the post-game show, according to Nielsen.
Other NFL playoff games trailed the Super Bowl by tens of millions of viewers. The only non-football telecast to crack the top five most-watched events was the Academy Awards, which was watched by a comparatively paltry 34 million people.
Related: President Trump opts out of Super Bowl interview
The Super Bowl is also just as much about the commercials as it is about the game itself.
"There's a symbolic nature of Super Bowl advertising that just isn't the same as other platforms," Calkins said. "A Super Bowl ad used to be a Super Bowl ad, but over the past decade, it's really become a two-week extravaganza."
M&M's is teasing this year's ad with a 15-second YouTube spot featuring actor Danny DeVito swimming in a pool of chocolate.
Calkins said another common tactic is for a company to release its ad ahead of time on YouTube. It might seem counterintuitive to give away the surprise before you have a captive audience, but Calkins said a good spot can generate welcome buzz.
If someone watches the ad on YouTube and enjoys it, he said, there's a chance that person will talk it up to friends at a Super Bowl party before it even hits the air.
A prime example of that phenomenon: Volkswagen's successful Passat commercial in 2011. The ad, titled "The Force," featured a child in a Star Wars costume attempting to use the franchise's special powers on his dog, a laundry machine and eventually, his parents' new car.
The minute-long YouTube version was a hit, and the kid even gave several interviews after it went viral -- including to an anchor on CNN. Time magazine called it "the ad that changed Super Bowl commercials forever."
"That got much more mileage than maybe you would have anticipated," Calkins said.
Related: Wendy's mocks McDonald's in Super Bowl spot
Although Super Bowl marketing can boost a brand's popularity, advertisers still have plenty of reasons to be skeptical about the event.
Player protests during the National Anthem have polarized the NFL, its fans and the country, and concussions have become an unavoidable threat to the sport's future.
It's also hard to ignore the regular season ratings. Viewership has been down the entire year, potentially owing to more competitive TV options, boring games and player injuries.
Some companies are also finding ways this year to capitalize on the Super Bowl without spending their money on TV.
Skittles, for example, is opting for a social media gimmick instead. The candy maker is showing its Super Bowl ad to a single teenager in California, and then broadcasting his reaction on the brand's Facebook page.
That kind of alternative marketing could become a trend, predicted Yanhui Zhao, an assistant professor of marketing at the University of Nebraska at Omaha.
"You want to make a commercial more interactive for the consumer," he said. "Marketers really want to win the second screen exposure. If the ad can be interactive, and if there's the motivation for consumers to share the ad on their social media, it can really increase exposure a lot."
Calkins, meanwhile, said the viewership issue on TV hasn't translated to the Super Bowl just yet. And without another way to guarantee that an ad sees that many eyeballs, he said it's hard to believe that advertisers would shy away.
"If it's 100 million people, it is still dramatically bigger than anything else that's out there," he added. "It all goes back to: What's the alternative?"