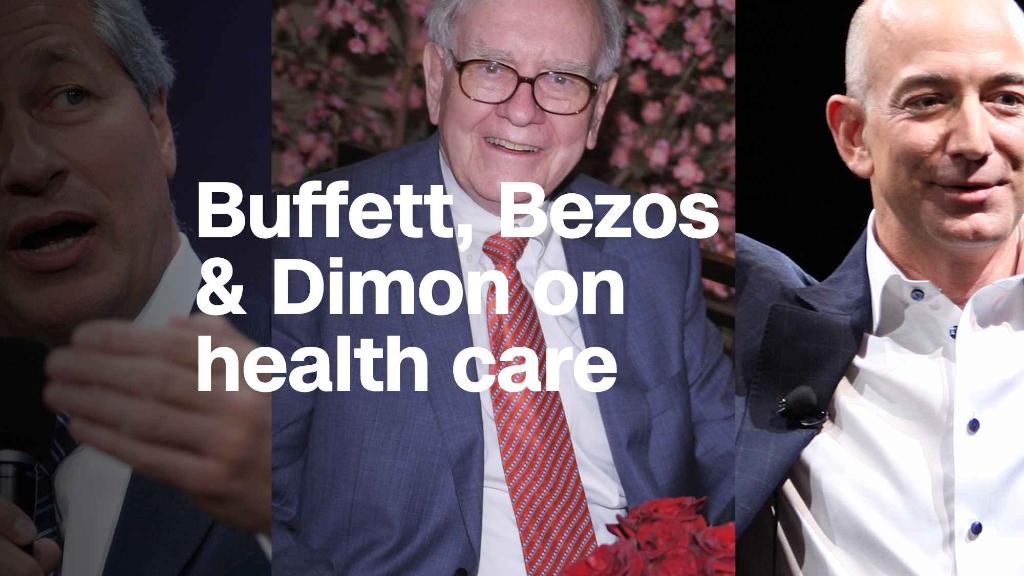 First books. Then groceries. Now health care?
Amazon shook up the health care world on Tuesday, announcing it was partnering with fellow heavy hitters Berkshire Hathaway (BRKA) and JPMorgan Chase (JPM) to address soaring costs.
Amazon (AMZN), which has advanced light years from its origins as an online bookseller, has had a dramatic impact on many of the industries it's touched. When it moved into cloud services and streaming shows, it left rivals scrambling to catch up. Last year, it bought Whole Foods, shaking up the grocery space.
The company is now one of the most valuable in the U.S. and its founder, Jeff Bezos, one of the richest people in the world.
But Bezos and his peers, Warren Buffett and Jamie Dimon, are taking on one of the nation's thorniest challenges. Making health care more affordable has bested savvy business leaders in many industries. The announcement was met with cautious optimism and lots of skepticism.
Related: Jeff Bezos, Warren Buffett and Jamie Dimon want to fix health care
Not much is known about the threesome's venture -- a yet-to-be-named company that will give the firms' U.S. employees and their families a better option on health insurance and will not be motivated by profit. Experts, are betting that the firm will eventually expand its services to other companies if the effort proves successful.
Health care costs have soared for both employers and their workers over the past decade. Premiums have jumped nearly 50% for family coverage since 2008 and more than tripled since 1999. Meanwhile, employees are shouldering more of the cost when they actually get medical care because their deductibles and co-pays are going up.
Amazon, however, is a master at wringing out inefficiencies in the supply chain. This could prove particularly useful in the health care arena, which is known for its bloat.
"One thing we know for sure is there's a lot of overhead costs in health care," said Frederick Isasi, executive director of FamiliesUSA, a health care advocacy group.
While many employers have tried to tackle health insurance costs in the past, they often didn't have the bandwidth or resources to devote to the issue, Isasi said. The new venture, however, will be focused on its mission and will have the financial backing of three strong firms.
Related: Jeff Bezos is the smartest guy in business
Some of the ways Amazon could use its know-how to make a dent in prices: Negotiate rates directly with health care providers and drug manufacturers, use technology to ease consumers' ability to make appointments or consult with doctors outside of the office and improve access to price and quality information about physicians, procedures and prescriptions to allow consumers to shop around, Isasi said.
Amazon could also improve Americans' interaction with their insurance companies and providers, which all-too-often involves ancient technologies such as faxing, said Bob Kocher, a partner who specializes in health care information technology at Venrock, a venture capital firm. After all, Amazon invented one-click ordering on its retail site. It could develop a similar process for paying medical bills, even grouping invoices for doctors, facilities and labs for care that takes place in a hospital, for instance.
Related: How 3 CEOs can fix health care: What the experts say
And Amazon could make it easier for patients and providers to access their medical records, which would also reduce costs. The new venture could store all that information in the cloud, said Michael Pachter, managing director for equity research at Wedbush Securities.
That way "everything is all together in one place," he said.