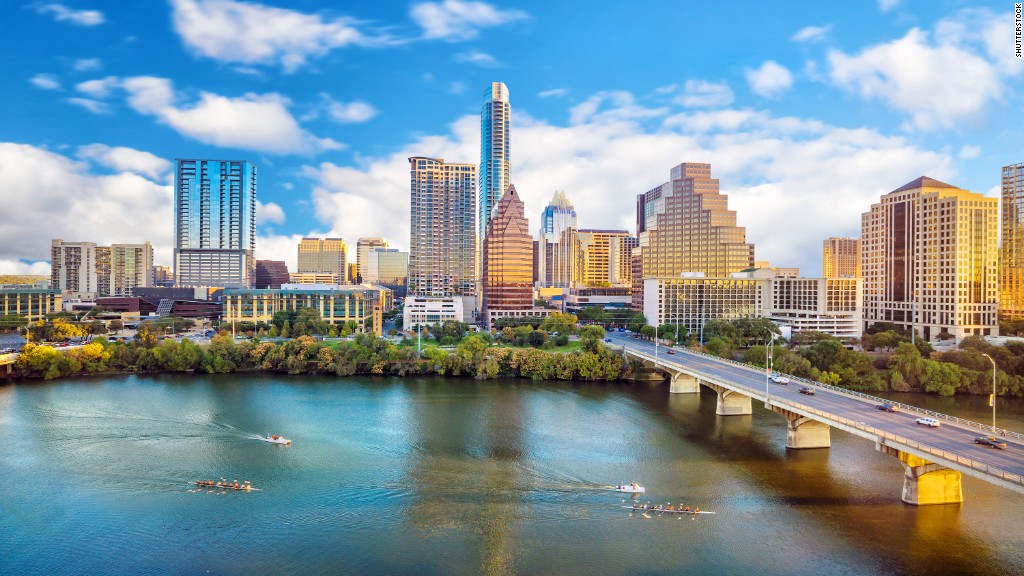 Gay rights advocates are calling on Amazon to choose an LGBT-friendly city for its second headquarters.
As a part of a demonstration on Thursday, a plane with a banner touting the campaign's name -- "No Gay? No Way!" -- is flying near the company's Seattle headquarters. It's timed to the tech giant's fourth quarter earnings release.
The group is urging Amazon to build its second headquarters in a state that protects lesbian, gay, bisexual and transgender people from discrimination,
Last month, Amazon released a list of the 20 metro areas in the running for HQ2, following a request for cities to submit proposals. Nine of those finalists -- Atlanta, Austin, Columbus, Dallas, Indianapolis, Miami, Nashville, Raleigh and Northern Virginia -- are in states that fail to protect LGBT people from employment, housing and public accommodations discrimination, according to the campaign.
Related: What you need to know about Amazon's 20 final cities
The campaign is also running digital ads in Seattle and those nine states, and deploying a traveling mobile billboard around Seattle. The ad says: "Hey, Alexa? Why would Amazon even consider putting HQ2 in a state that discriminates against LGBT people?"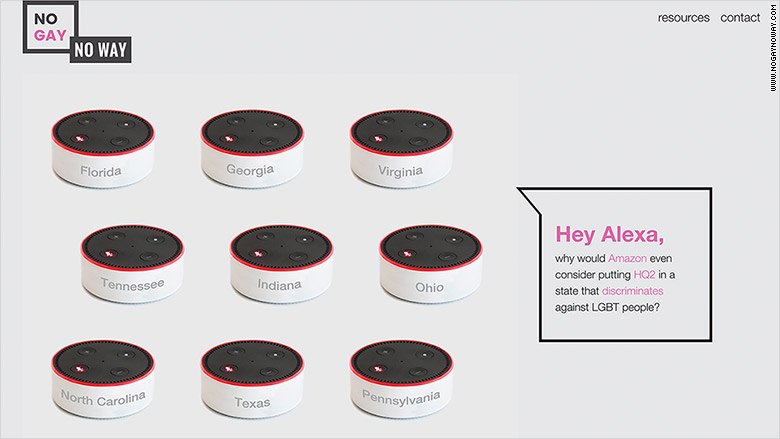 On its website, the campaign called Amazon a "champion" of the LGBT community, citing how it's been vocal on issues such as legislation that discriminates against transgender people in the U.S.
Last year, state officials in Texas considered a "bathroom bill" that would have required people to use bathrooms at schools matching the sex on their birth certificates. Amazon was one of dozens of companies that criticized the bill for discriminating against transgender people.
A top Amazon executive Jeff Wilke signed a letter last May that said such laws are "bad for our employees and bad for business."
Related: The city Amazon picks for its second headquarters will change forever
While many workers would be hired locally for HQ2, current and prospective employees have the opportunity to move to the new site, too. The decision may have implications for Amazon's LGBT workers, who would have to decide whether they'd be willing to relocate for HQ2 to a state with no discrimination protections.
"If you are LGBT and work for Amazon, you shouldn't be asked to move somewhere where you could possibly not lease an apartment and not have full equal rights and civil protections under the law," said Chris Fleming, a spokesman for the "No Gay? No Way" campaign.
This could also impact employees who have LGBT family members or don't agree with such policies ideologically, according to Christy Mallory, the state and local policy director at the Williams Institute at UCLA School of Law.
"It could restrict the talent pool," she said. "People may not want to work in that environment."
Despite being in states that don't protect LGBT rights, some of the cities that have bid for the Amazon facility -- such as Austin and Dallas -- have their own ordinances that prohibit discrimination because of sexual orientation or gender identity.
Stephen Walls, a senior marketing lecturer at The University of Texas at Austin's McCombs School of Business, said Amazon could rationalize its decision by choosing such a location.
"There is a way for them to positively spin a selection of a city like that as a force for good," said Walls, who is gay and lives in Austin.
Amazon could argue that as a major employer in that state it could advocate for LGBT rights inside.
But the "No Gay? No Way" campaign doesn't think this is sufficient.
"You could be living in Columbus, Ohio for instance, and the minute you drive out of that city you lose your civil rights and protections," Fleming said.
Related: The controversy that could hold back some Amazon HQ2 contenders
It's unclear whether the campaign will factor into the company's decision.
Amazon declined to comment.
However, in its request for HQ2 proposals, the tech giant said one of its decision criteria is a diverse population and a place that is a "cultural community fit." That would include considering inclusion policies.
"I wish this kind of protest would have an impact on Amazon's decision," Walls said. "I would love to see companies make more decisions based on the values they claim to hold and assert."
Regardless of whether the campaign sways Amazon's HQ2 pick, it is still drawing attention to LGBT issues.
"It does bring a spotlight and awareness for the LGBT community," Walls said.
CNNMoney's Jill Disis contributed to this report.