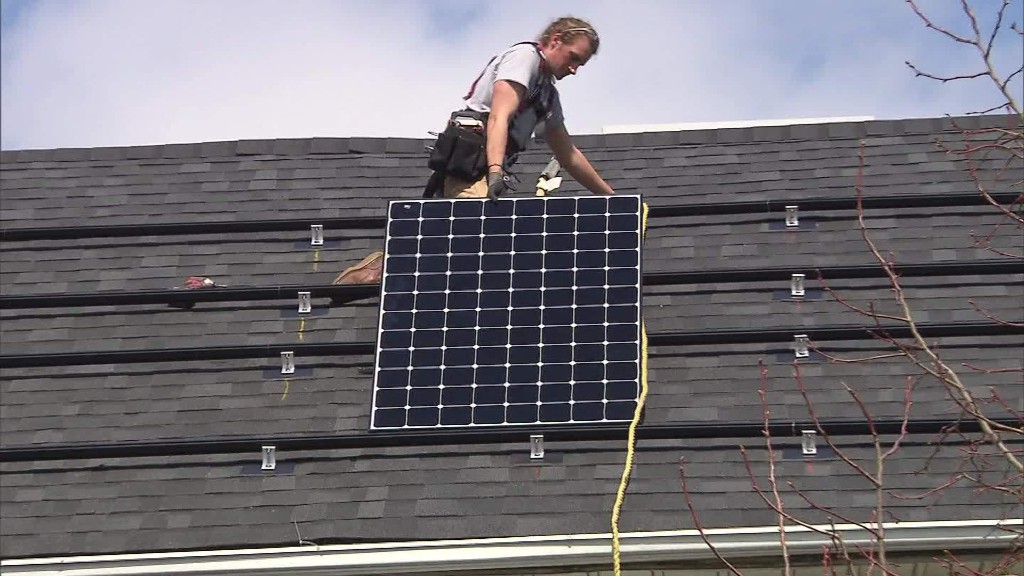 1. Market mayhem: Main Street is feeling good right now -- maybe a little too good if you ask Wall Street.
After years of stagnant wages, American workers finally got a legit raise in January. Wages grew at the fastest pace since 2009 -- a strong signal of a healthy economy and a tight jobs market.
But there was no celebration on Wall Street for the clothing makers, bankers and fast food workers who scored wage gains. On the contrary, Friday's robust jobs report sent shudders through the stock market. Fears of inflation, higher rates and lower corporate profits sent the Dow plummeting 666 points, or 2.5% -- its darkest day since the Brexit turmoil in June 2016.
"We're at an inflection point, one that we haven't seen in quite some time, where good news for Main Street is not necessarily good news for Wall Street," said Peter Kenny, an independent market strategist and founder of Kenny's Commentary.
For years, Wall Street has feasted on a "goldilocks" environment of so-so growth and mysteriously low inflation. This backdrop was perfect for the stock market because it meant the Federal Reserve would keep its foot on the easy-money pedal in a quest to engineer inflation. Corporate profits could boom because they didn't have to pay workers more. And interest rates were ridiculously low, making stocks look like a bargain.
Now there are clues that the scales may be tipping ever so slightly back in the direction of Main Street.
"This is a great story for the average American worker. But it's sending some cautionary signals into the market," said Kenny.
Those signals first emerged in the once-sleepy bond market. The 10-year Treasury yield has rocketed from about 2.4% at the start of the year to a four-year high of 2.85% on Friday. Rising yields, which move opposite price, helped erase nearly $1 trillion of market value from the S&P 500 last week, according to S&P Dow Jones Indices.
"The 10-year has absolutely exploded. It's been on a tear," said Kenny.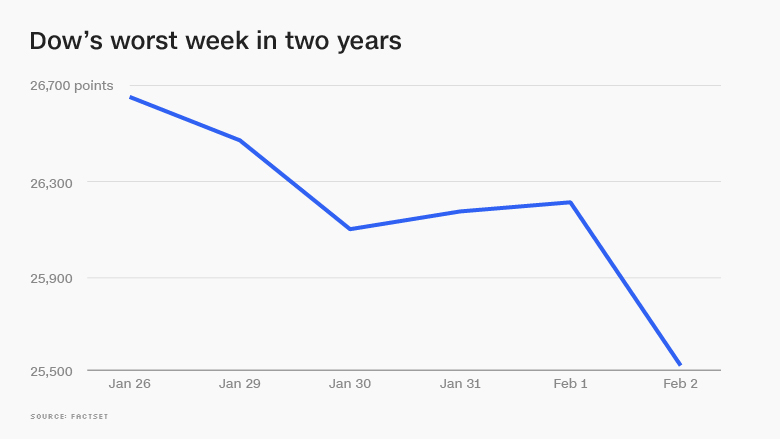 The fear is that bonds, viewed as a boring but safe investment, will steal some of the thunder from stocks. That's because higher yields will make bonds suddenly look a bit more attractive.
The bond market turmoil is also a sign that investors believe inflation, including better wages, is finally emerging. If true, that would force the Fed to remove the punch bowl from the stock market party and raise short-term interest rates more aggressively.
Wall Street doesn't want average wages to rise too quickly because that will dent profitability. Corporate profit margins, a measure of efficiency, has climbed to record highs in part thanks to cheap labor costs.
"Unfortunately, we slipped into the counterintuitive point of the cycle, where great news is viewed as bad for the market," said Art Hogan, chief market strategist at financial firm B. Riley FBR.
2. Powell's swearing in: Jerome Powell takes over as chairman of the Federal Reserve following the departure of Janet Yellen on Friday. Wall Street didn't exactly give him a warm welcome.
Last week was the worst for the Dow in two years. Wages grew in January at the fastest pace in eight years. Investors worry it could be a sign that inflation will heat up.
As the Fed raises rates, borrowing money becomes more expensive, and economic growth can slow.
Related: This is why the Dow is plunging
3. Media earnings: Several big media companies report earnings this week: Disney (DIS) on Tuesday, 21st Century Fox (FOXA) on Wednesday and News Corp (NWS) and Viacom (VIA) on Thursday. In the tech world, Snap (SNAP) reports on Tuesday and Twitter (TWTR) on Thursday.
Disney, which has announced a planned merger with part of 21st Century Fox, may report a boost from "Star Wars: The Last Jedi," which has raked in more than $1 billion globally.
And Viacom (VIA) could face questions about a possible merger with CBS (CBS). The boards of the two companies said on Thursday that they are evaluating "a potential combination."
Comcast (CCZ) already reported its fourth quarter earnings, but it has something to look forward to: The Winter Olympics, which air on NBC, open on Friday.
Related: CBS and Viacom explore a merger
4. ... and other earnings: Other prominent companies report earnings next week, starting with Hess (HES) on Monday. General Motors (GM), Dunkin' Donuts (DNKN) and Chipotle (CMG) both report their financials on Tuesday.
Then come Michael Kors (KORS), Hasbro (HAS) and Tesla (TSLA) on Wednesday. And Kellogg (K), Tyson Foods (TSN), AIG (AIG), Expedia (EXPE), Nvidia (NVDA) and Yum (YUMC) all release earnings on Thursday.
Related: Elon Musk says he has sold out flamethrowers
5. Welcome, HomePod: The HomePod, Apple (AAPL)'s answer to the Amazon (AMZN) Echo, hits stores Friday.
Eager customers have been waiting a long time. The 7-inch-tall speaker was unveiled last June, and was supposed to launch in December. It's the company's first major hardware launch since the Apple Watch in 2015.
Related: Apple's HomePod speaker gets February launch date
6. Coming this week:
Monday -- Powell's swearing in; Hess earnings
Tuesday -- Disney, Snap, General Motors, Dunkin' Donuts, Chipotle earnings
Wednesday -- 21st Century Fox, Michael Kors, Hasbro, Tesla earnings
Thursday -- News Corp, Viacom, Twitter, Kellogg, Tyson Foods, AIG, Expedia, Nvidia, Yum! earnings
Friday -- Olympics start; HomePod hits stores