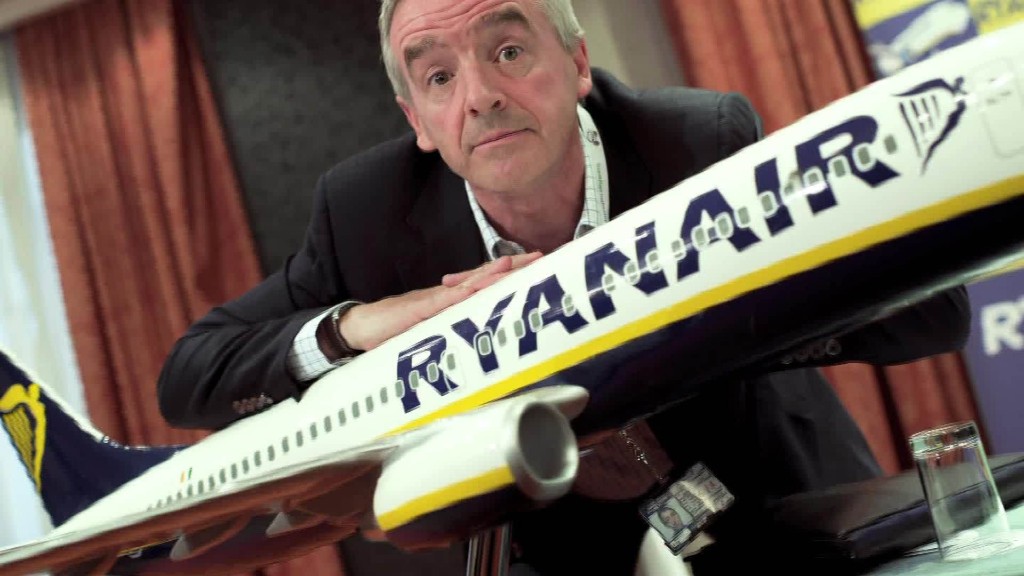 The chief executive of Ryanair says he would rather endure strikes than agree to "laughable demands" from pilot unions.
Michael O'Leary, a brash executive known for his combative language, said Monday that he would fight any proposals that threaten the airline's low-cost business model.
Ryanair reversed decades of policy in December by recognizing unions for the first time in a bid to avert strikes during the critical holiday travel period.
Europe's biggest low-cost carrier is now negotiating pay and working conditions with pilot unions in countries including Spain, Germany, Italy, Ireland, France, Portugal and the U.K.
"We have some jurisdictions where we're getting the kind of laughable demands for [traditional airline] inefficiencies," O'Leary said in a video statement posted on Ryanair's website. "We will never agree."
"If we have to take strikes or disruptions in those jurisdictions, then we will take those strikes and those disruptions," he added.
O'Leary said he expects some of the unions will attempt to disrupt Easter holiday flights.
"Investors should expect some adverse PR and some disruptions. We think it's inevitable," said O'Leary.
Ryanair (RYAAY) did not say what pilots had demanded. A spokesperson for a union representing German pilots said the comments showed that O'Leary "obviously still has not understood the needs and worries of his employees at all."
Other pilot unions did not immediately respond to requests for comment.
The European Cockpit Association -- which represents pilot associations -- called on Ryanair in January not to sideline unions by offering a "non-negotiated pay rise" with many strings attached.
Related: Ryanair growing in the Middle East
Ryanair -- which flies over 100 million passengers annually -- predicts staff costs will go up by €100 million ($124 million) in the next fiscal year as it hires more pilots and pays higher salaries.
O'Leary said that it costs about €5 ($6.20) per passenger per flight to pay Ryanair staff, which he says is significantly lower than many competitors. That is forecast to increase by less than €1 ($1.24) next year.
Shares in Ryanair dropped 3% on Monday as investors reacted to the company's earnings and its outlook.
"Management has struck a cautious tone on the outlook for next year," said Liberum aviation analyst Gerald Khoo.