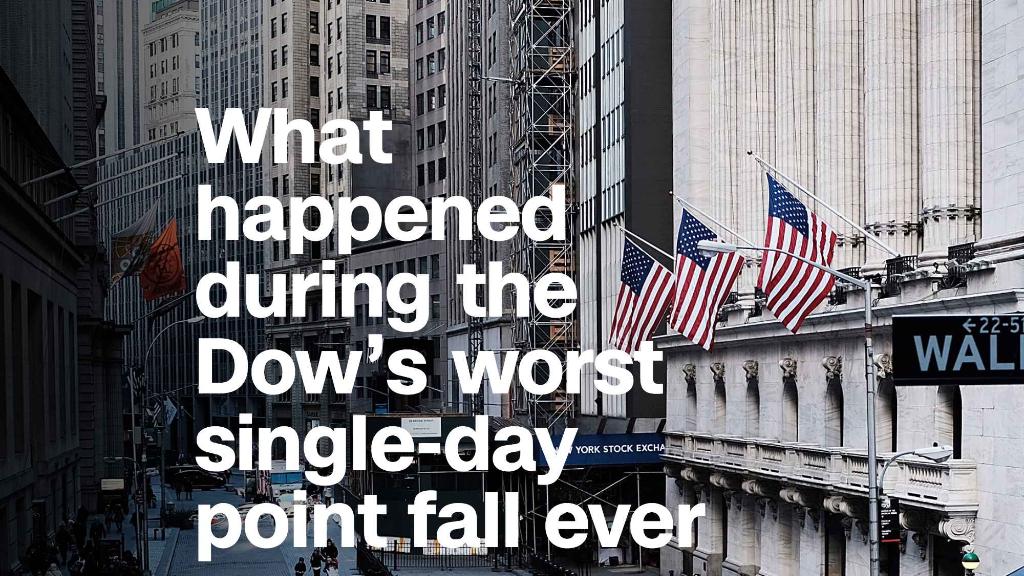 So what should you, the average investor, do about it?
Answer: Probably nothing.
Here are some tips to help you keep calm and carry on:
1. Don't panic
Yes, that's easier said than done. But it's critical to put this one-day drop in a broader perspective and keep your eye on the big picture.
"This is something that is attention getting, but not yet something you should react to," said Certified Financial Planner Ken Moraif from Money Matters in Plano, Texas.
While a 1,000-plus point drop sounds scary, it's actually a smaller percentage of the market than previous one-day drops, thanks to Wall Street's recent run up.
"Put it into perspective," said Bill Van Sant, a certified financial planner and senior vice president at Univest Wealth Management. "Investing is a marathon, not a sprint."
The Nasdaq closed down almost 4% on Monday while the Dow and the S&P 500 both declined more than 4%.
It's not officially considered a "correction" until the market loses more than 10% of its value.
Even if stocks continue to decline over the next few days, market corrections are normal, pointed out Greg McBride, Bankrate.com's chief financial analyst, in a statement Monday afternoon.
He added that recent losses in stocks have only set the market back about two months. The last time the S&P closed lower than its current level was on December 7.
"Just hang in there, maintain a long-term perspective and resist the urge for any knee-jerk reactions."
Related: Dow has worst single-day point fall ever
The stock market has been on an epic run: The Dow zoomed 25% higher last year and continued to rally into the new year. Many investors have gotten used to sneaking a peek at their 401(k)s and seeing sizable growth.
But given Wall Street's performance last year, the drop was expected.
"This is a natural breath in the market," said Jaime Quiros, a CFP at FBB Capital Partners in Bethesda, Maryland. "We were expecting a correction throughout all 2017, we were expecting it to take a breath. How deep it is we just don't know."
2. Play the long game
Average investors should think about their objectives. Are you saving for retirement? A future home purchase?
If those goals are more than 10 years away, you probably don't have much to worry about.
While it's hard to ignore the noise when the market experiences a dark day, it's important to take the emotion out of trading. "You have to stick to the plan," said Van Sant.
On the other hand, if you are very close to retirement or other goals that you'll need the money for, it might be time to reevaluate your stock holdings.
Worried investors could take the time to review their portfolios to make sure their exposure to stocks aligns with their goals, time frame and risk tolerance.
Related: What emotion is driving the market?
3. Don't try to time the market
While experts said it's not a good idea to panic and sell now, Monday's drop could present a buying opportunity for those with more money to invest.
"Let's look at the big picture -- the economy is improving, more people are working, they're seeing more money in their paychecks, and tax reform will boost the bottom line of businesses and households. If the market is falling, that means it's now on sale, " said McBride.
Are you planning to make any changes to your investments? Tell us about it and you could be featured in an upcoming story on CNNMoney.
-CNNMoney's Matt Egan contributed to this report.