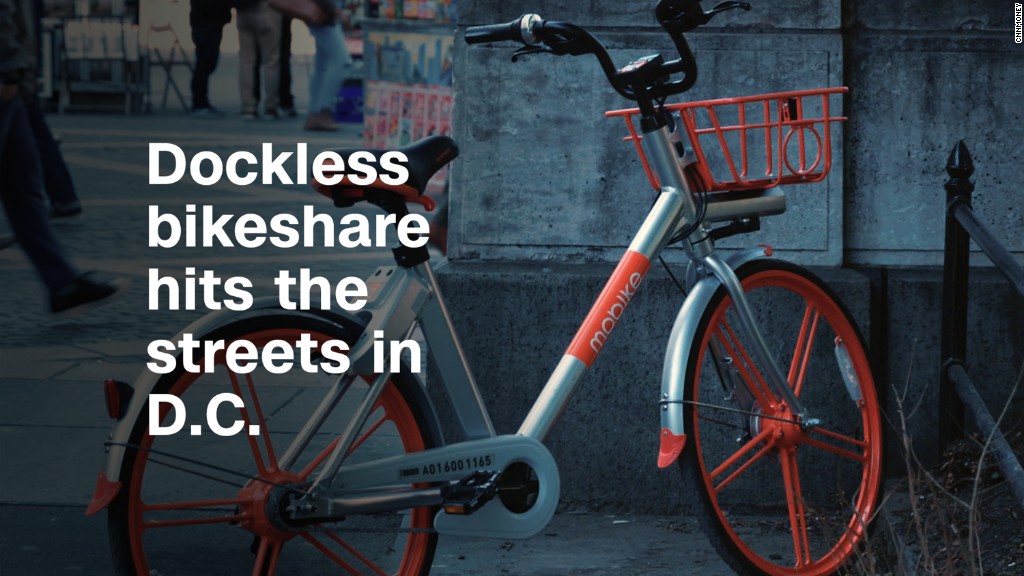 Dallas suddenly has the largest bikeshare network in the United States, but its growth has triggered a backlash in a city with little history of bicycling.
With more than 20,000 bicycles, Dallas's fleet dwarfs those of traditional bike hotspots, such as Portland, Oregon, Minneapolis-Saint Paul, Minnesota, Washington, D.C. and New York.
Dockless bicycles, which don't have to be returned to a station or locked to a bike rack, began appearing on streets in August. The dockless companies won over the local government with a promise to operate without any cost to taxpayers. The number of bikes continued to grow in the fall -- most notably in November, when ofo, a Chinese bikeshare company, also launched in the city.
But now Dallas is planning regulations that will restrict the number of bicycles, and where they can be parked. It's also threatened to start confiscating neglected bikes. Since September, the city has received 800 complaints about the bicycles.
"Some of the bikes are left for days, weeks, or months, in some cases without being moved," Jared White, who manages alternative transportation in the Dallas Department of Transportation, told CNN Tech.
Earlier this year, pranksters sawed one bike in half, and mounted it to a telephone pole. Another bicycle was set on fire. Some have been thrown in lakes and rivers. "Lime Bikes: Dallas version of road kill," one business posted on its sign. One neighborhood banned the bikes altogether.
"It's making people a little bit hostile," said Fran Badgett, owner of Transit Bicycle Company in Dallas. "From my front door you can see about 200 bikes. Not a single one is parked in a way I'd call respectful or helpful."
Many of the bicycles are lying flat on their side. Either riders aren't parking responsibly, or the wind or people are tipping them over. Even bicycle supporters are dismayed at how the technology has rolled out.
"I love bikes and love to see this type of thing, but it was way too much too fast," said Woody Smith, owner of the Dallas' Richardson Bike Mart. "They're littering the community with those things."
Related: It's a make-or-break moment for U.S. bikeshares
Critics of dockless bikeshare point to Dallas as proof that bicycles must be locked to something, such as a bike rack, pole or dock, to encourage good behavior.
"This feels like more of an invasion of a low-quality bike that people don't respect versus a high-quality transit that people can rely on and respect," said Timothy Ericson, CEO of Zagster, a bikeshare company whose bikes must be locked to fixed objects when not in use.
To better tend to its 10,000 bicycles, LimeBike hopes to double its 50 person staff in the city by spring, according to Anthony Fleo, who leads its Dallas operation. It's also released videos to educate a city of bike newbies about how to properly park the bikes.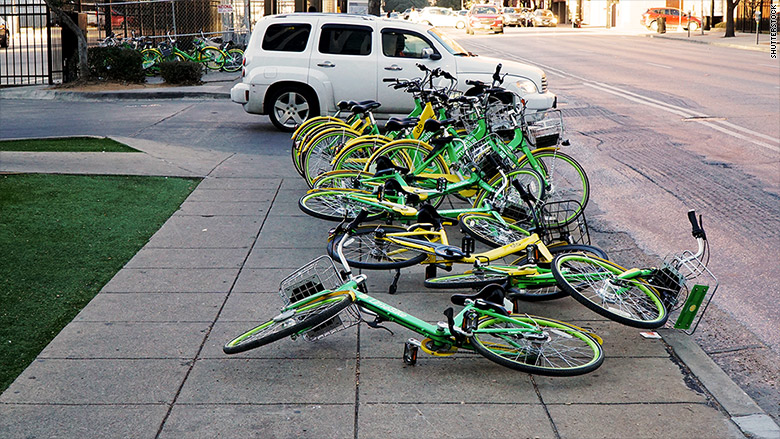 LimeBike and ofo, the two largest bikeshare operators in Dallas, describe vandalism as a minor problem. LimeBike reports that fewer than 1% of bikes have been impacted. Ofo said vandalism in Dallas is comparable to mature markets in the 21 countries it operates in.
Both companies also report that ridership is growing. LimeBike said it set ridership records three weekends in a row. It reached a two-day total of more than 10,000 rides last weekend.
According to Chris Nakutis Taylor, who leads ofo's North America operations, Dallas isn't even close to the number of bicycles that make sense for a city of its size and density. Ofo is opposed to caps on the number of bikes in Dallas.
"For the last 10 years, people have made the case that people should ride bikes more," Nakutis Taylor said. "Imagine where Uber and Lyft and people's ability to move around their city would be if in 2013 cities said there can only be 1,000 rideshaing cars on the street."
Ridesharing services have become popular with customers, but in some places their arrival has been pointed to as increasing traffic congestion.
Related: Ebikes emerge as a hot trend in the United States
Dallas's problem appears to stem in part from any sort of bikeshare regulations. Cities such as Seattle, Washington and San Francisco have required the companies to gradually deploy their bicycles so as not to overwhelm the cities.
"Our idea was let's take a market approach. Let's let it happen," said White, the Dallas government official. "Even though it's been a little messy, it was a good way to do it. We really get to see who all the players are, and what the real issues are."