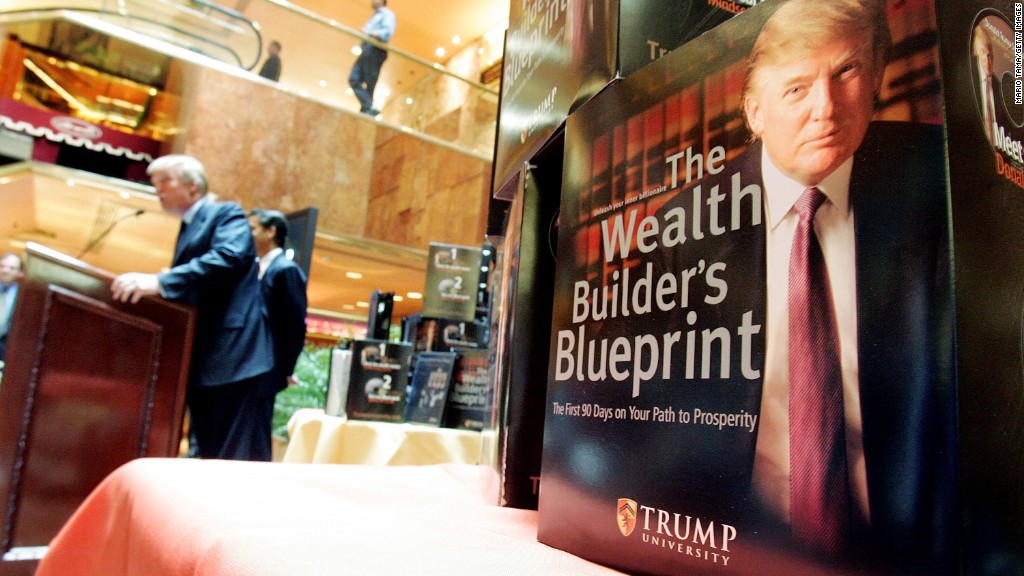 A federal appeals court on Tuesday approved a $25 million settlement to resolve lawsuits brought by former students of Trump University who claimed they were defrauded by the now-defunct school.
In the process, the court denied the appeal of former student Sherri Simpson, who said she wanted to opt-out of the settlement to personally sue President Donald Trump.
Judge Jacqueline Nguyen, along with two other judges in the Ninth Circuit Court of Appeals, upheld a district court's earlier decision. The appeal's panel wrote that the settlement's approval was reasonable and prevented the risk and complexity of suing a sitting president.
"Plaintiffs would have faced significant hurdles had they proceeded to trial, including the difficulty of prevailing in a jury trial against either the President Elect... or the sitting President," Nguyen wrote.
In November 2016, just days after the election, Trump agreed to settle three lawsuits filed against his real estate school that argued the program featured false advertisements and empty promises. Despite its name, Trump University, which ceased operations in 2010, was not a licensed university. Former students are now eligible for a refund of up to 90% of the money they spent on courses.
An attorney for Trump did not respond to CNN's request for comment.
Simpson, a registered Democrat who was featured in an anti-Trump commercial, argued she did not have sufficient opportunity to opt-out of the settlement. Her lawyers said notices sent to Trump University students suggested they would have another chance to do so after any settlement was proposed. She wanted to sue the president for the roughly $19,000 she spent on Trump University courses plus triple that amount in damages.
The appeals court judges disagreed. Judge Nguyen wrote that Simpson was the only person out of 8,000 former students to interpret the notice that way.
New York Attorney General Eric Schneiderman, whose office filed one of the three lawsuits, praised the decision by the appeals court.
"For years, President Trump refused to compensate the victims of his sham university. His reversal in 2016—and the large-scale settlement that resulted—opened the door for student victims to finally obtain the restitution they deserve," Schneiderman said.
Trump repeatedly denied the fraud claims and said that he could have won at trial, but he said that as president he did not have time because he wanted to focus on the country.
Judge Gonzalo Curiel, who Trump said could not be impartial due to his Mexican heritage, approved the settlement in March, but Simpson stalled the payout of that money with her appeal filed in May. At the appeals hearing last November, one of President Trump's attorneys said the president had changed his opinion of Judge Curiel, citing the "textbook example of a district court properly administering a settlement."
Gary Friedman, an attorney for Simpson, said his client does not plan to challenge the judges' decision further. "The facts of this real estate school deserve to see the light of day. We're disappointed that that didn't happen, but we accept this decision," Friedman told CNN.