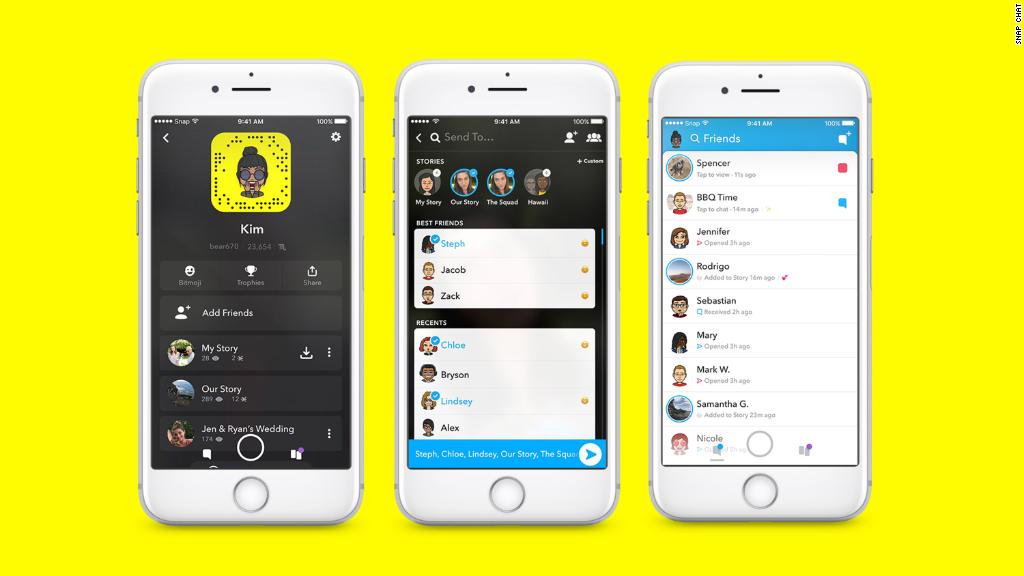 Snapchat has finally made investor concerns disappear.
For the first time since going public in March, Snapchat's parent company posted quarterly sales and user growth that beat Wall Street's estimates.
The stock soared more than 20% in after hours trading Tuesday following the results. If the gains hold, Snap (SNAP)'s stock could top its IPO price of $17 a share for the first time since July.
Snap's sales climbed to $286 million in the fourth quarter, up 72% from the same period a year earlier, as the company transitions to an automated ad sales auction similar to Google (GOOGL) and Facebook (FB).
The company also showed signs of accelerated user growth. It added 8.9 million daily active users in the final three months of the year, more than any other quarter of the year.
It accomplished both feats while losing less money than expected. Snap's executives chalked it up in part to moderating headcount and not buying back employees' shares during the quarter.
Related: Snapchat redesigns confusing app as user growth stalls
"Our business really came together toward the end of last year," Evan Spiegel, the cofounder and CEO of Snap, said on a conference call with analysts Tuesday.
After struggling to grow its audience throughout the year, Snap unveiled a significant redesign in November intended to make its messaging service less confusing for users.
Spiegel said early feedback shows the redesign makes the app easier to user, "especially for older users." That could help Snapchat compete for more of a mainstream audience.
The redesign has been rolled out to about 40 million users so far, according to Spiegel, with plans to expand it to all users by the end of the first quarter.
Daniel Ives, an analyst with GBH Insights, called Snap's earnings results a "breath of fresh air."
"This quarter was a major step in the right direction for the company," Ives wrote in an investor note Tuesday. It "will be a tough pill to swallow for all the naysayers that threw in the white towel over the last few months."
Still, Snap has a long way to go in its turnaround.
The app now has 187 million users, which still puts it far behind rivals like Instagram Stories, a Snapchat clone that now has more than 300 million daily users.
Snap's sales for the year as a whole doubled to $825 million, impressive growth by the standards of most public companies. But heading into the IPO, analysts estimated Snap's sales for 2017 would hit $1 billion.