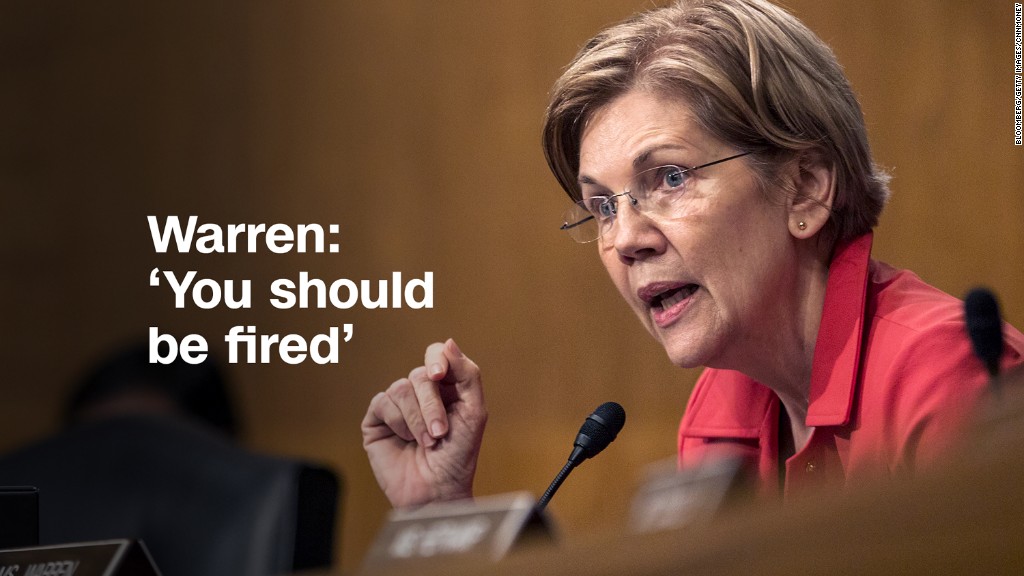 Elizabeth Warren wants to know: How is it that Wells Fargo keeps making mistakes?
In a letter dated Tuesday, the Democratic senator slammed CEO Tim Sloan over the bank's "utterly inept" efforts to compensate customers after a series of scandals.
She demanded that Wells Fargo respond to a series of questions about its processes by the end of the month.
"The bank is providing the customers it harmed with inaccurate information or making them jump through hoops just to get their money back," the letter reads. "This is an inexcusable response."
Wells Fargo (WFC) is working to clean up after the string of blunders that followed the bank's fake accounts scandal. The company said last year that it wrongly charged homebuyers fees to lock in mortgage rates. Wells Fargo also charged hundreds of thousands of customers for auto insurance they didn't need.
But the bank's attempts to square these mistakes with customers haven't been going well.
The Wall Street Journal reported last weekend that Wells Fargo in some instances sent out incorrect information about auto insurance refunds, or sent communications about the process to the wrong people.
Additionally, the bank has yet to reach out to many improperly fined mortgage clients. It plans to ask mortgage customers to agree to a refund by mail in order to receive any money, according to the Journal.
Related: Wells Fargo's 17-month nightmare
"We are focused on making things right for our customers and ensuring this large-scale remediation happens correctly and as quickly as possible," Catherine Pulley, a Wells Fargo spokeswoman, told CNNMoney in a statement in response to the Journal story.
Pulley said in a statement Wednesday that Wells Fargo "will address any questions Senator Warren or her colleagues on Capitol Hill have."
The company is in the middle of issuing auto insurance refunds and expects to be "substantially" done by mid-year, Pulley said.
She said that Wells Fargo has begun to issue refunds to customers who directly reached out to question the mortgage fee, and is working with regulators to get refunds to the remaining people affected.
Problems with the refund procedure come after the Federal Reserve handed down an unprecedented penalty against Wells Fargo earlier this month.
The Fed, lambasting the bank's "widespread consumer abuses," said that Wells Fargo can't get any bigger than it was at the end of last year until it cleans up its act. The bank also agreed to remove three people from its board of directors by April, and a fourth by the end of the year.