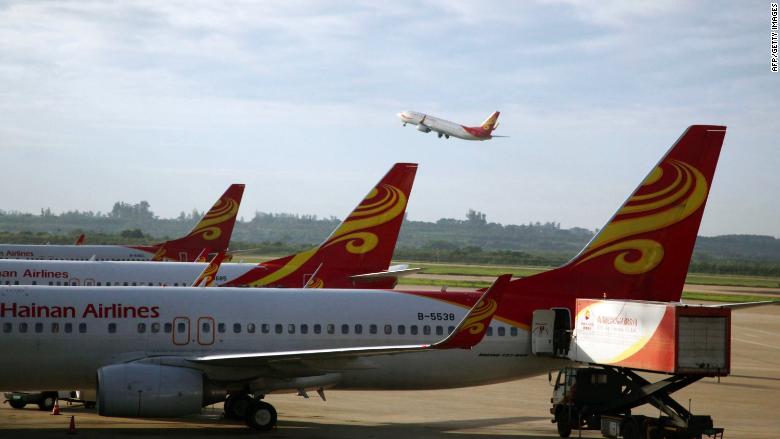 A mysterious Chinese company that borrowed billions to snap up high-profile businesses around the world is now scrambling to sell assets after biting off more than it could chew.
HNA Group, which started out as a regional airline in southern China more than 20 years ago, has been on shopping spree in recent years, buying big chunks of major U.S. and European companies.
Its sprawling empire grew to include the Radisson hotel chain, a big U.S. technology supplier, a large stake in Hilton (HLT) hotels and about 10% of Germany's Deutsche Bank (DB). It has even reached a deal to buy SkyBridge Capital, the New York investment firm founded by former White House communications chief Anthony Scaramucci.
"This is a company that was clearly encouraged in recent years to grow as fast as it could, as far as it could, for as long as it could," said William Kirby, a finance professor at Harvard Business School.
Related: Once China's richest man, Wang Jianlin is selling off his global empire
But it has run into trouble as it struggles with debts estimated at $100 billion or more. Its aggressive deal-making drew attention to its murky ownership structure, raising questions about how it has financed its heavy spending.
Investors have dumped the stocks and bonds of some businesses in HNA's vast web of subsidiaries. Credit ratings agencies have downgraded debt linked to the company.
The pressure has also come from Chinese authorities, which clamped down on heavy overseas spending by big companies last year. Experts say that makes China's big state-owned banks, which helped bankroll HNA's expansion, more reluctant to lend to it.
"The banks will now be very cautious" about what HNA is buying, said David Yu, a finance professor at New York University Shanghai.
Fire sale
As the company has come under increasing financial strain, it has shifted from buyer to seller.
HNA's latest move in its scramble to raise cash came this week when it announced it was selling two prime plots of land in Hong Kong for $2 billion only 15 months after it bought them.
But the money from that deal may just be a drop in the ocean. Research firm Bondcritic estimates HNA is on the hook for an eye-watering $100 billion of debt.
And even though analysts estimate the company's businesses are making money overall, it may not be enough.
Related: China's debt risks are rising
Data compiled by Orient Capital, another research firm, suggests that HNA's profits are barely enough to cover the cost of paying interest on all the money it has borrowed.
HNA declined to provide details about its finances to CNNMoney but insisted it "is currently in a very healthy financial position."
Analysts say the amount HNA owes has ballooned as the company has turned to more exotic types of borrowing. That includes China's murky "shadow banking" system, according to Orient Capital.
HNA declined to give details on where it has borrowed money from.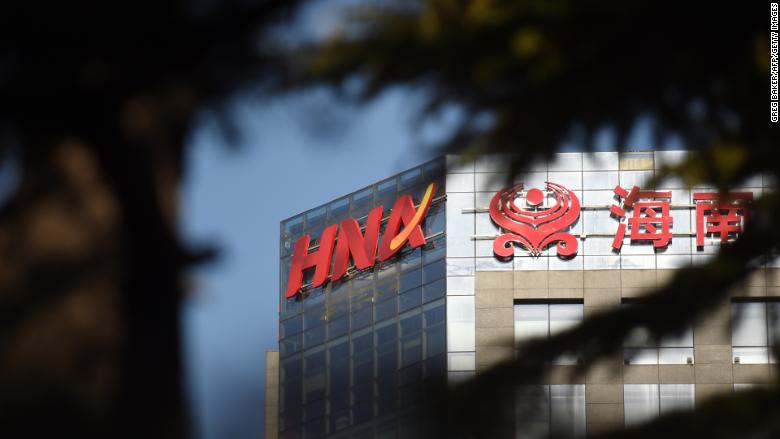 $240 billion in investments
The good news is that HNA has a lot of things to sell if it needs to raise funds.
The group had about $240 billion in assets at the end of last year, the company said in a statement this week.
It has trimmed its stake in Deutsche Bank in recent weeks to closer to 9%. But some experts think it would struggle to quickly offload trophy assets, such as the 25% stake in Hilton that it bought for $6.5 billion in 2016.
"Even if they want to sell the bigger, chunkier businesses, closing a typical M&A deal takes about a year or more," Yu said. "So it wouldn't really help them in the short term."
HNA will instead try to sell parts of its real estate empire that spans Asia, Europe and the U.S., Yu predicted.
Related: China's economy had a pretty great 2017, but 2018 could be tougher
Before this week's sale of the Hong Kong land, the company had suspended trading in the shares of several of its Shanghai-listed subsidiaries while it hunts for buyers for various assets.
The company also has high-profile acquisitions that are still in the works. A planned takeover of SkyBridge Capital by a group of investors led by HNA , is being held up by a review by the U.S. Committee on Foreign Investment.
Ratings agencies have repeatedly voiced concerns about HNA's finances.
Standard & Poor's this week cut its rating on debt linked to the group for the second time since November, moving it deeper into "junk" territory. The rating is "unofficial," S&P says, because the agency doesn't have enough information on HNA's finances.
Orient Capital analyst Andrew Collier said that much of HNA's debt is hidden off the group's balance sheet and therefore isn't reflected in ratings agencies' assessments.
Ownership questions
Investors are also still puzzling over who really owns the company.
In response to mounting questions, HNA announced last year that it is controlled by two little-known charities based out of China and New York. But that hasn't resolved matters.
For example, New Jersey-based firm Ness Technologies in December sued HNA and one of its subsidiaries, saying their attempt to acquire part of Ness' business fell through because they failed to address questions by U.S. authorities over their ownership. HNA has called the lawsuit "baseless and without merit."
Related: China has a new richest man
Despite all the pressure, HNA's leaders are still talking up its prospects.
In a rare interview last month with Reuters, co-chairman Chen Feng admitted the company was facing difficulties but was upbeat about its ability to fix them.
"Our business has become so big that we need to improve efficiency," he said. "The long-term goal remains unchanged, which is to become a world-class enterprise."