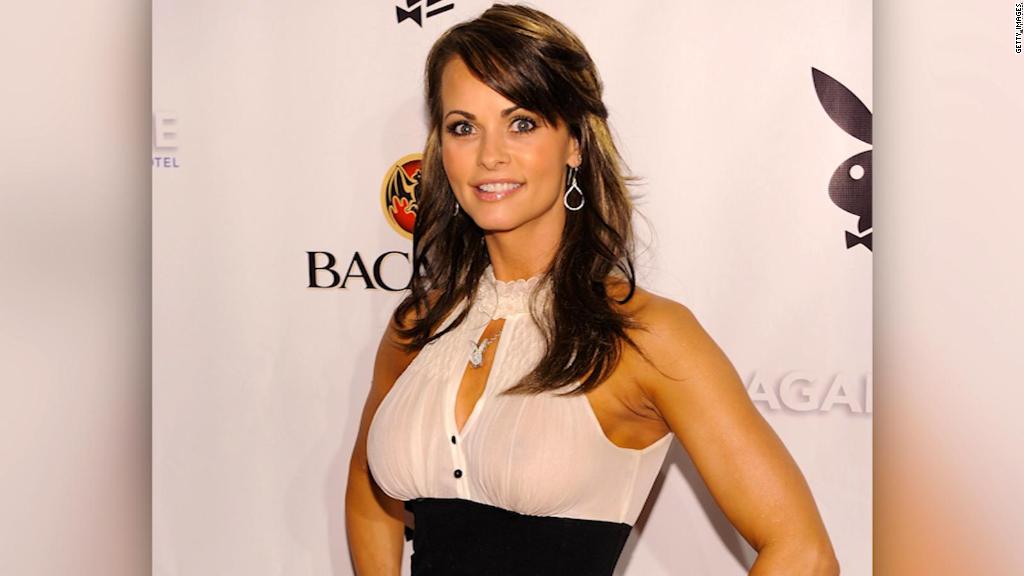 How many other stories has the National Enquirer covered up to help President Trump?
Ronan Farrow's new reporting in The New Yorker forces the question to be asked. But it's a very difficult one to answer because the tabloid is secretive about its practices.
Farrow's report highlights a tactic called "catch and kill" -- where a publication buys the rights to a story and then buries the story as a favor to someone.
The Enquirer allegedly did this to conceal an extramarital affair by Trump, according to Farrow's report.
David Pecker, publisher of the Enquirer's parent company, American Media and chief content officer Dylan Howard did not respond to requests for comment from CNN. In a statement, the company said, "The New Yorker and Ronan Farrow's suggestion that AMI engages in any practice that would allow it to hold influence over the President of the United States is laughable."
Karen McDougal, a former Playboy model, apparently memorialized the nine-month-long affair in a document that was shared with The New Yorker by one of her friends.
McDougal is legally forbidden from speaking out about it. She signed a $150,000 contract, called a "life-story rights agreement," granting the Enquirer's parent company American Media "exclusive ownership of her account of any romantic, personal, or physical relationship she has ever had with any 'then-married man,'" Farrow reported.
The Enquirer never published her account. It was "caught," and then it was "killed."
The context: Trump and Pecker are longtime friends and associates.
"This boils down to friendship. Pecker is taking care of his friends," former American Media spokesman Stu Zakim told CNN.
Zakim indicated that the Enquirer has buried other stories that might have hurt Trump.
"AMI has often paid for stories to take them off the market -- i.e., no one else can print it -- to protect David's friends. Trump is one of his close friends, so take the leap," he said.
Past media reports have described the Enquirer burying stories to help out other Pecker allies, including Arnold Schwarzenegger and Harvey Weinstein.
"Even though they're just tabloids, just rags, it's still a cause of concern," former American Media staffer Maxine Page told Farrow. "In theory, you would think that Trump has all the power in that relationship, but in fact Pecker has the power -- he has the power to run these stories. He knows where the bodies are buried."
In the tabloid world, knowing "where the bodies are buried" can be a compliment. Other publications and gossip columns sometimes engage in similar behavior -- scrapping an unflattering story about a celebrity in exchange for a cover photo shoot or other favors, for example. But the Enquirer's tactics are legendary within the wider media world.
The Enquirer's alleged "catch and kill" technique has been exposed by other news outlets in the past.
The Wall Street Journal first wrote about the Enquirer's agreement with McDougal a few days before the election in 2016. At the time, the Enquirer claimed that "AMI has not paid people to kill damaging stories about Mr. Trump."
Back then, and again on Friday, Trump representatives denied that an affair happened.
But McDougal's claims are pretty clear. The Journal, citing anonymous sources, depicted an intense disagreement between McDougal's camp and the tabloid's camp: "McDougal expected her story about Mr. Trump to be published, people familiar with the matter said. American Media didn't intend to run it, said another person familiar with the matter."
Farrow's report on Friday added many new details, including McDougal's hand-written account of the affair.
In the past, Trump has been open about his backscratching relationship with Pecker and the Enquirer.
At one of his campaign rallies, he wondered aloud, "Why didn't the National Enquirer get the Pulitzer surprise for Edwards? And O.J. Simpson?"
Trump was referring to real scoops in the tabloid's past. But the publication -- known for its sensational headlines, designed to stick out in the supermarket checkout line -- has a questionable reputation.
Analysts have noticed a more political bent to the Enquirer's coverage in recent years, particularly when it comes to Trump and Trump's opponents.
The publication is unapologetically pro-Trump in its coverage, which may be a reflection of the president's relationship with Pecker.
Last June the MSNBC hosts Joe Scarborough and Mika Brzezinski alleged that Trump and his aides used the possibility of a hit piece in the Enquirer to threaten them and change their news coverage. The two hosts essentially alleged a form of blackmail.
"We got a call that, 'Hey, the National Enquirer is going to run a negative story against you guys...' And they said, 'If you call the president up, and you apologize for your coverage, then he will pick up the phone and basically spike this story," Scarborough said.
Scarborough said the calls kept coming -- from "three people at the very top of the administration" -- telling him to call Trump and grovel, just to make the Enquirer story go away.
Trump called the claim "fake news."
The Enquirer did, in fact, publish a negative story about the couple's past marriages. Howard said the story was accurate, and "at no time did we threaten either Joe or Mika or their children in connection with our reporting on the story."