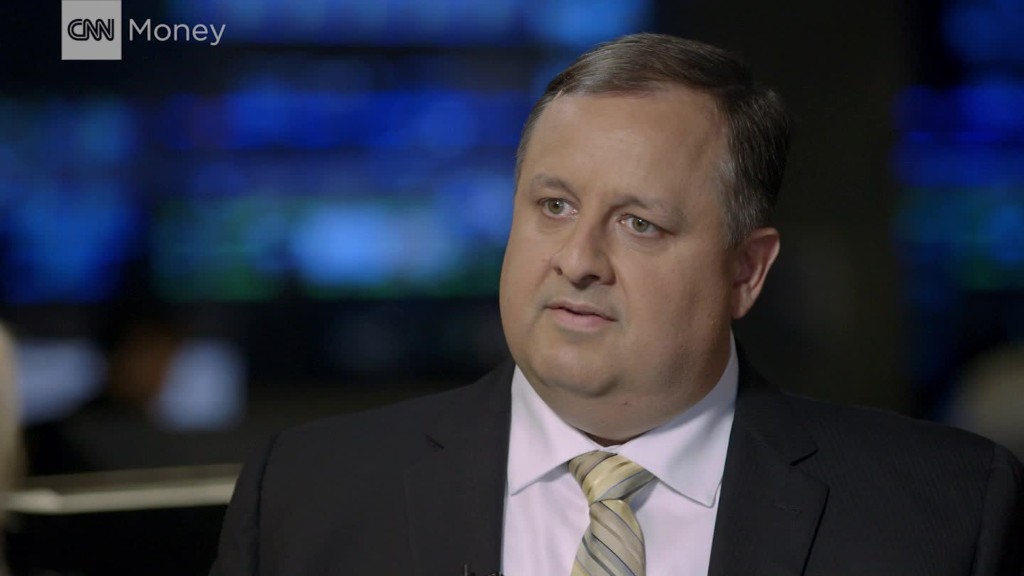 Donald Trump Jr. is pulling out all the stops on a visit to his company's biggest international market.
President Trump's eldest son is set to arrive in India on Tuesday. His schedule includes dinners in at least two cities with buyers of Trump-branded apartments, which could fuel ethical concerns about the links between the president and his family business.
One of the dinners, for people who have pre-booked condos in Trump Towers near New Delhi, was heralded by a series of front-page ads in two of the country's biggest newspapers over the past few days.
"Trump has arrived. Have you?" says one ad. Another reads, "Trump is here. Are you invited?"
Some of the ads, which were taken out by one of the Indian developers working on the project, bear a photo of Trump Jr. They offer "a conversation and dinner" with him on Friday if you reserve an apartment at the Trump Towers in Gurgaon -- about 20 miles outside New Delhi -- by this week.
Pankaj Bansal, director of Gurgaon-based developer M3M India, confirmed to CNNMoney that the dinner was taking place. M3M is building the Gurgaon towers in a partnership with the Trump Organization's main India representative, Tribeca Developers.
Trump Jr. will host a similar dinner in Kolkata, where 65% of the Trump Tower apartments have already been sold, according to an invitation seen by CNN. Bansal said that in addition to the Gurgaon and Kolkata events, Trump Jr would also visit Pune and Mumbai, home to the country's first and second Trump Tower projects respectively.
Unimark Group, which is building the Trump Tower Kolkata along with Tribeca Developers and local real estate firm RDB Group, referred questions about the event to Tribeca.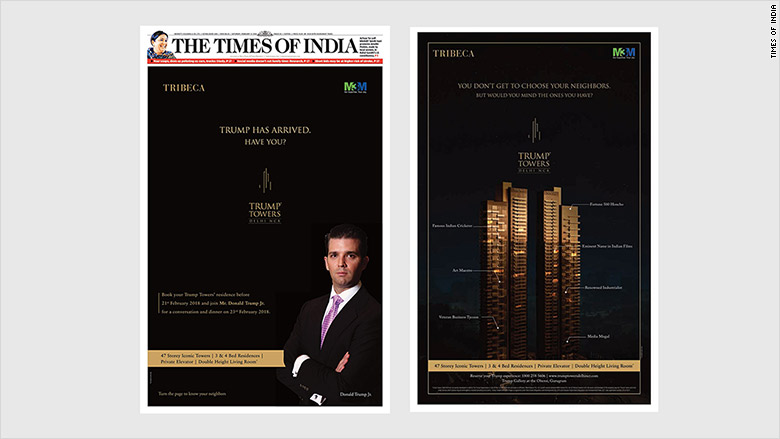 The Trump Organization declined to comment. Tribeca Developers and RDB Group did not respond to requests for comment.
The president's son, who took over the company's operations with his brother Eric when their father took office, is scheduled to address a business summit in New Delhi on Friday. Other high-profile guests expected to attend the summit include Indian Prime Minister Narendra Modi and the CEOs of Netflix (NFLX) and Uber.
Early buyers of apartments at the Trump Towers in Gurgaon were last month offered the chance to dine with Trump Jr. in New York.
"The Trump Organization has hosted events for its residential owners in the past," a spokesperson for the Trump Organization said at the time, in a statement shared by Tribeca Developers. "The plan is to host a similar event for our potential owners" of apartments in the Trump Towers in Gurgaon and Kolkata, the statement said.
Related: Donald Trump Jr. to host Trump Tower buyers from India
Bansal on Monday declined to comment on whether this week's dinners in India will replace the New York event. It wasn't clear when the New York dinner was scheduled to take place.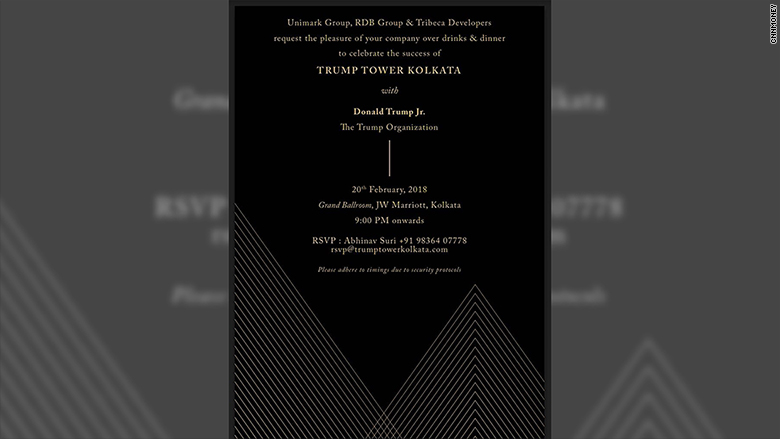 The Trump Organization has five projects in India, including an office building development in Gurgaon, making the country the brand's biggest market outside the United States.
Construction of the Gurgaon apartment complex outside New Delhi is expected to be completed by 2023. The Trump Towers in the cities of Kolkata, Mumbai and Pune are at various stages of development.
The Trump family does not own or build any of the properties. Instead, it licenses its name out to local developers.
Related: What we know about Trump's business in India
Ethics experts have questioned President Trump's efforts to separate himself from his businesses, saying a pledge that the Trump Organization will not sign any new deals while he is in office is not enough to avoid potential conflicts of interest.
"They are auctioning off access to the first family in a foreign land," said Norman Eisen, a Brookings Institution senior fellow and chair of Citizens for Responsibility and Ethics in Washington (CREW).
"What is to stop a foreign national with interests before the U.S. government from asking Don Junior to raise some issue or concern with his father? We know that father and son talk all the time, and discuss business," he added.
Bansal and other developers say, meanwhile, that the Trump name allows them to add a premium of as much as 40% to the apartments compared with the price of similar luxury properties in India.
Panchshil Realty and the Lodha Group, the developers behind the Trump Towers in Pune and Mumbai respectively, did not immediately respond to requests for comment on Trump Jr.'s visit.