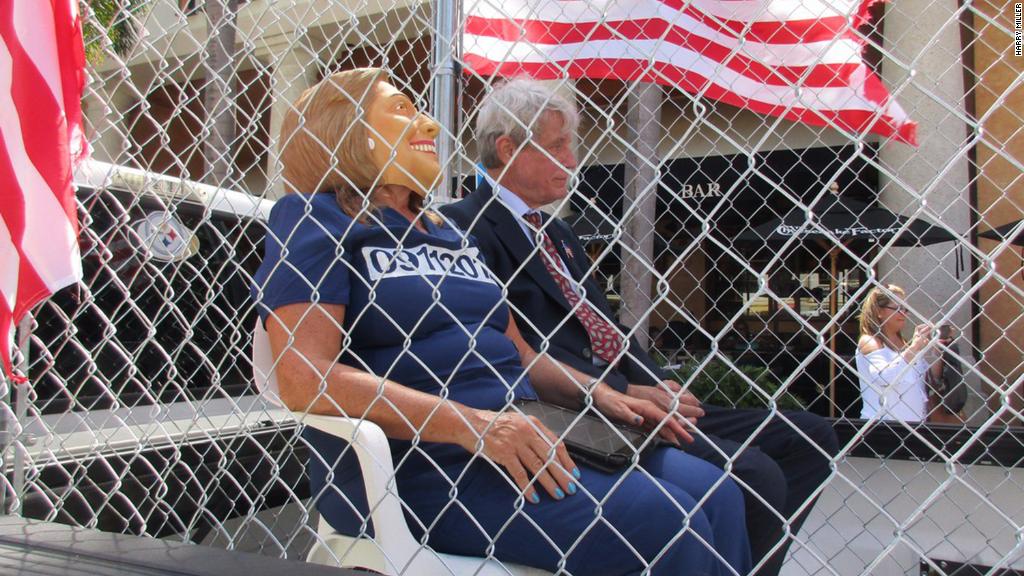 A Donald Trump supporter who unwittingly helped a Kremlin-linked operation to meddle in American politics says he only learned of his part in the Russian plot when the FBI showed up at his doorstep months later.
Harry Miller was paid as much as $1,000 by the Russians to build a cage that was used to depict a person dressed as Hillary Clinton in a prison cell at a rally in West Palm Beach, Florida in August 2016.
The stunt was part of an elaborate scheme run by the Internet Research Agency, a troll group in St Petersburg, Russia with links to the Kremlin, that was designed to undermine the American political system, according to a new federal indictment. The agency and thirteen Russian nationals associated with it were named in the indictment, which was made public by Special Counsel Robert Mueller's office on Friday.
In early August 2016, the indictment says, the Internet Research Agency began reaching out to Trump supporters in Florida to organize a statewide "flashmob" that it dubbed "Florida goes Trump."
Related: How the Russians did it
The group used its "Being Patriotic" Facebook page, which was designed to look like it was run by real Americans, along with Instagram and Twitter accounts, to organize and publicize the event.
The people behind the "Being Patriotic" page reached out to Miller, a vocal Trump supporter who lived in Florida at the time. Miller agreed to build a cage on the back of his flatbed truck and was paid somewhere between $500 and $1,000 to cover the cost of materials, he told CNN.
Miller said he had multiple phone calls with people from the group. He noticed that a man with whom he spoke did not speak English fluently, he told CNN, but assumed he was speaking to a first-generation immigrant who supported Trump.
Miller posted pictures on social media that show the cage, and a man and woman dressed as Bill and Hillary Clinton in it, during the August 2016 West Palm Beach event.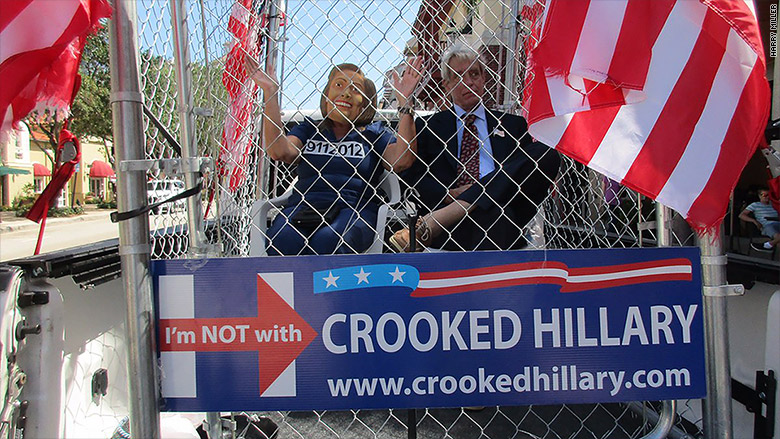 He never suspected he was speaking to Russians, he told CNN on Tuesday. "Not one clue. What would you think? A guy calls you and you talk to him and you build up a rapport over a period of time, you're nice to him because you understand he has a dialect and his language is a little hard to understand, but you think he's probably an immigrant here."
"They had that beautiful website, were very supportive of the candidate and there was nothing, nothing at all that lends you to think it was anything other that people trying to support a candidate," he said.
Months later, soon after Miller moved to Pennsylvania, the FBI arrived at his doorstep, he said. He told CNN that the agents who came to his home spoke to him for almost six hours.
The Russians appear to have been happy with the West Palm Beach event. Miller says they offered to pay him to travel to New York with the cage for another event. He declined. But according to the indictment, the woman who dressed as Clinton at the West Palm Beach event took the Russians up on the offer and traveled to New York for a demonstration in September. The woman said Tuesday that she was not available to speak with CNN.
Miller was not the only Trump supporter unwittingly co-opted by the Russians for the "Florida Goes Trump" flash mob that took place in multiple parts of the state.
Team Trump Broward County, a Facebook page run by real Trump supporters, publicized the flashmob in the days leading up to the event, and posted pictures and videos from the event after it took place.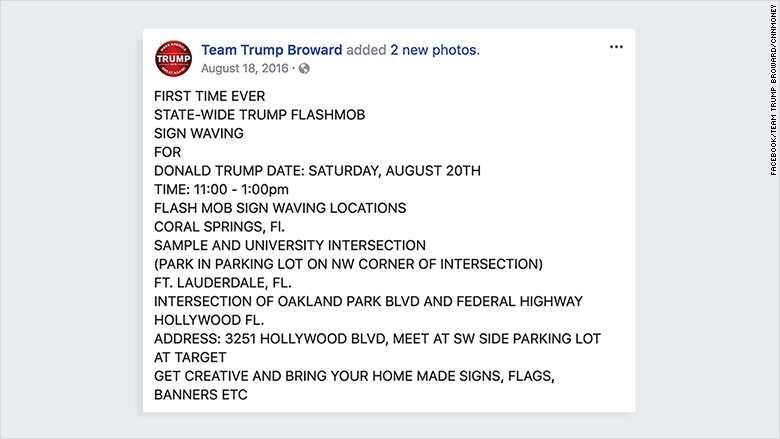 Florine Gruen Goldfarb runs the Team Trump Broward County Facebook page, which posted numerous times about events that were promoted and encouraged by the Russians. Speaking to CNN on Sunday, she said she didn't believe she was influenced by the Russians and said she thought that Friday's indictment was a ploy to distract from the FBI's mishandling of tip-offs it had received about the Parkland, Florida school shooter.
Goldfarb's comments echo a strain of thought on parts of the right that has extended up to the president himself. President Trump tweeted on Saturday night, "Very sad that the FBI missed all of the many signals sent out by the Florida school shooter. This is not acceptable. They are spending too much time trying to prove Russian collusion with the Trump campaign - there is no collusion. Get back to the basics and make us all proud!"
One reason Goldfarb was skeptical about the claim of Russian involvement goes back to the Russians' tactics: They were not faking rallies or supporters, but trying to prompt real Americans who already backed a cause to turn out in support of it. Goldfarb attended the Fort Lauderdale "Florida Goes Trump" event. She told CNN that she knew all of the people there, "they were at my meetings. They're all Trump supporters."
"I don't go with Russians, c'mon, give me a break," she said.
Trump supporters were not the only people duped by the Internet Research Agency. As CNN has previously reported, Black Lives Matter activists and Muslim groups were also targeted.
Micah White, a co-founder of the Occupy Wall Street movement, also fell victim to the Internet Research Agency. In June 2016, he gave a telephone interview to the website Black Matters US, which was run by the group.
He told CNN last fall that Russia's ability to successfully mimic American grassroot movements was concerning.
"If it is true that a Russian-based activist group is indistinguishable from an American-created activist group, that will have negative impacts on our ability to create social movements that are positive, that actually benefit ourselves and not some sort of foreign power."