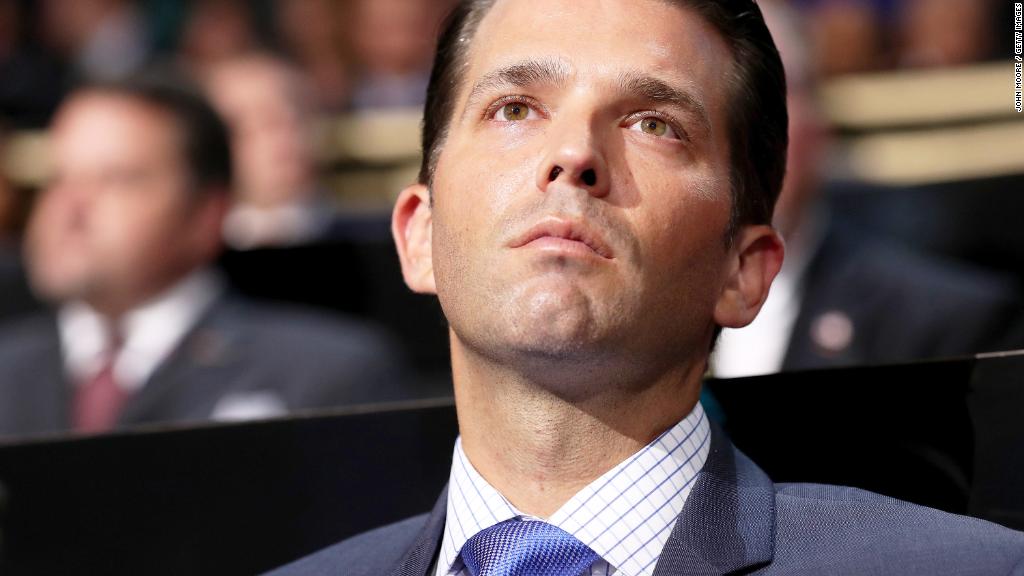 Donald Trump Jr. dismissed suggestions that his family is profiting from his father's presidency on the first day of a tour of India to promote luxury apartments.
The top executive at the Trump Organization described such claims as "nonsense," adding that the company was missing out on deals in its biggest international market because of a commitment not to sign new business while President Trump is in office.
"We have five incredible deals [in India] that are all active," he said in an interview with Indian news channel CNBC-TV18. "We can do so many more [but] we're not doing those, but no one wants to talk about those kinds of deals. It's sort of a shame because we put these impositions on ourselves, but essentially got no credit for actually doing that and doing the right thing."
Trump Jr., who has no meetings scheduled with Indian government officials, downplayed a possible conversation with Indian Prime Minister Narendra Modi on the sidelines of a business summit they are set to address on Friday.
President Trump's eldest son will speak on "Reshaping Indo-Pacific Ties: The New Era of Cooperation" according to the event schedule.
"I'm here as a businessman," he told the news channel. "Way before we were ever in politics, [India was] a place that we were looking to do deals and to invest in."
Trump Jr. praised Modi's policies earlier on Tuesday.
The Indian leader's reforms "will be very positive for the country," he told local journalists shortly after landing in New Delhi, according to the Press Trust of India. "It will open up the country to much more outside investment from places like the United States," he was quoted as saying.
But he did not respond to a question from CNN outside the New Delhi meeting about whether his visit would fuel concerns about mixing business and politics.
On Trump's schedule is a dinner to mark the official launch of the Trump Towers development in Kolkata on Tuesday, and another with buyers of apartments in the Trump Towers in Gurgaon, outside New Delhi on Friday.
The dinners -- and a massive advertising campaign before the trip by one of Trump's Indian business partners -- had reignited criticism from ethics experts.
National newspaper ads encouraged buyers to sign up for Trump-branded condos in Gurgaon early with the promise of "a conversation and dinner" with Trump Jr.
Related: Donald Trump Jr. will dine with apartment buyers in India
"They are auctioning off access to the first family in a foreign land," Norman Eisen, a Brookings Institution senior fellow and chair of Citizens for Responsibility and Ethics in Washington (CREW), told CNNMoney on Monday.
"What is to stop a foreign national with interests before the U.S. government from asking Don Junior to raise some issue or concern with his father?"
Trump Jr. took over day-to-day operations of the business along with his brother when their father took office.
In addition to meeting Indian journalists, Trump Jr. addressed a group of local stakeholders in the Trump Towers project in Gurgaon. The complex -- where apartments cost between $800,000 and $1.6 million -- is being built by M3M India in partnership with Tribeca Developers, the Trump Organization's main representative in India.
The Trump Organization and its India partners did not respond to requests for comment.
This week's itinerary also includes visits to Trump-branded properties in Mumbai and Pune. It's not clear whether Trump Jr. will visit the fifth project -- an office building development, also in Gurgaon. The Trump Organization is not building any of the projects in India, but has licensed the name to local developers.
Trump Jr. made clear that he is keen to do more business in India as soon as possible.
"I said a few years ago it would become our largest [market] because I really believed in the market, I believed in the people and the relationships that I was able to form," he told CNBC-TV18. "And I think it will continue to be when I'm able to ... get back in the market and focus on the business side, on new deals again in the future. Again, once my father's out of office."
-- CNN's Nikhil Kumar, Sugam Pokharel and Charles Capel contributed to this report