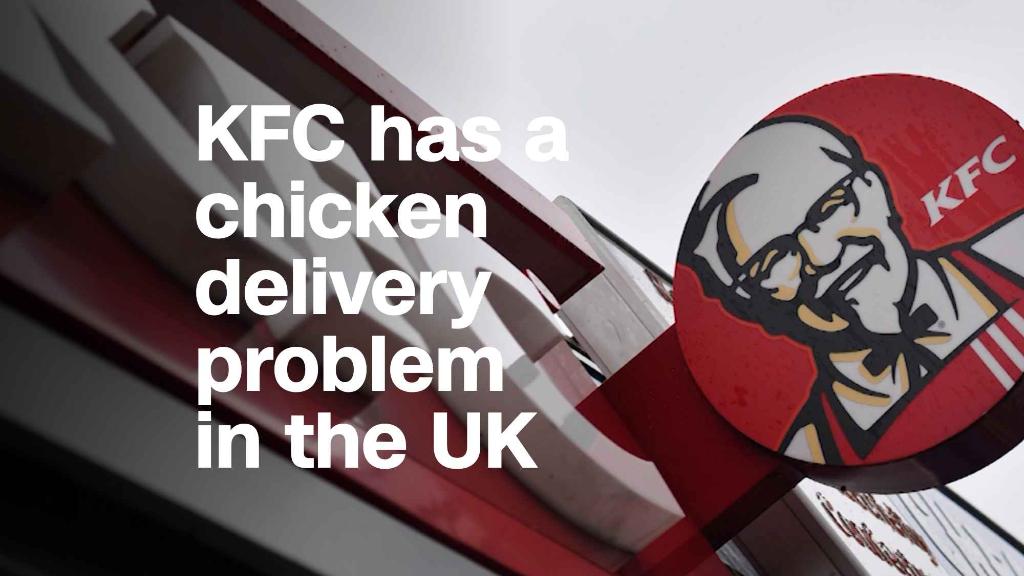 More bad news for KFC fans: A chicken shortage that has closed hundreds of stores in the UK could last all week.
The fast food chain was forced to shut restaurants across the country after a logistics snafu hit chicken deliveries.
As many as 800 of about 900 KFC locations were closed on Monday. About 450 remained closed by late afternoon local time on Tuesday.
"Each day more deliveries are being made, however, we expect the disruption to some restaurants to continue over the remainder of the week, meaning some will be closed and others operating with a reduced menu or shortened hours," a KFC spokesperson said in a statement emailed to CNN.
In a message posted on its UK Twitter account, KFC said "our teams are working round the cluck" to reopen all restaurants.
KFC, which is owned by Taco Bell and Pizza Hut parent Yum! (YUM), said the chicken shortage had been caused by a "couple of teething problems" after it switched to a new delivery partner, DHL (DPW), last week.
DHL said Monday that a number of deliveries had been "incomplete or delayed" because of "operational issues." The German company apologized again on Tuesday but added that it was "not the only party responsible for the supply chain to KFC."
"With the help of our partner QSL, we are committed to step by step improvements to allow KFC to re-open its stores over the coming days," DHL said in a statement.
QSL is a food logistics provider that has been working with KFC since 2011. It did not immediately respond to a request for comment.
The UK is KFC's largest market in Europe, and one of its top five globally.
Franchisees operate 95% of KFC's outlets in the country. The company said Monday that it would pay its staff as normal, and it was encouraging franchisees to do the same.
KFC did not say whether it would compensate its franchisee operators for lost business.
KFC fans have used social media to complain and express their amusement this week over a chicken restaurant running out of its signature product.
-- CNN's Ivana Kottasová contributed to this report.