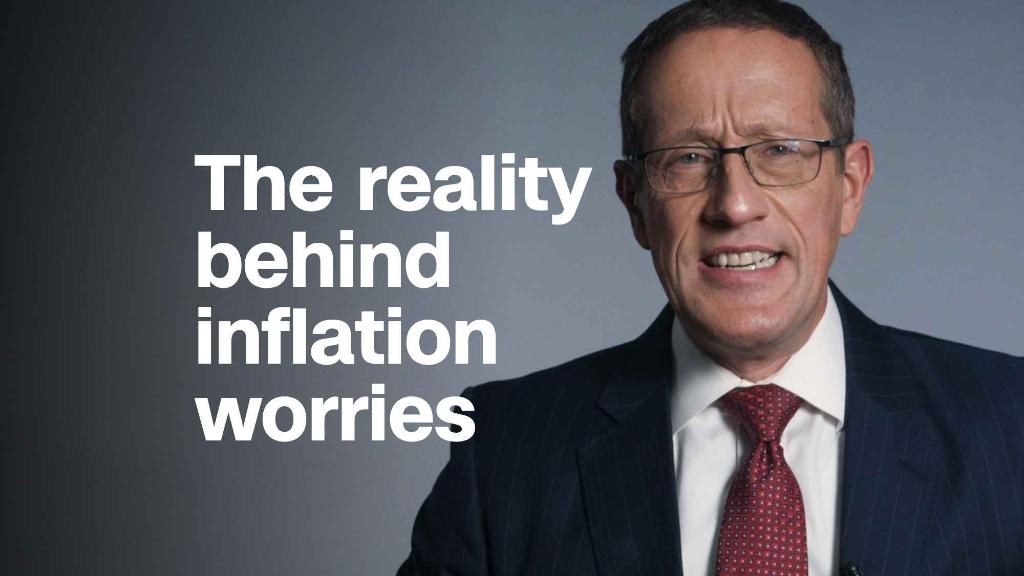 Federal Reserve officials are increasingly optimistic about U.S. economic growth this year, leaving them on course to lift interest rates further.
The minutes of the Fed's late January meeting, made public Wednesday, showed an even rosier view of the economy than officials held at the end of last year. Some members upgraded their forecasts.
The economy is building steam after years of anemic growth. It's grown at a strong pace in the last three quarters. Consumer confidence has returned to pre-crisis levels. And businesses are investing at the fastest rate since 2011.
At its latest meeting, Fed officials took into account the $1.5 trillion tax cut passed by Congress in December and record highs in the stock market in January. The two-week market sell-off that rattled investors came later.
Fed officials noted the economic impact of the new tax law "might be somewhat larger in the near term than previously thought," according to the minutes.
Since that meeting, even more evidence has shown a strengthening economy, most notably the fastest wage growth in nine years.
Investors will be closely watching Fed Chairman Jerome Powell's first appearance on Capitol Hill next week, and then the Fed's March meeting, for clues about whether even faster interest-rate hikes are in the works.
For now, the central bank has penciled in three rate hikes this year, and two more in 2019. The minutes of the January meeting didn't indicate plans for additional moves, and analysts who read the minutes suggested the Fed would stay the course.
"The Fed is sticking to their path of three hikes, and the balance sheet will continue to get smaller," said Peter Boockvar, chief investment office at Bleakley Advisory Group, in a note.
The Fed has also been unloading trillions of dollars of assets that it purchased to lift the economy after the financial crisis a decade ago.
Stocks gained ground after the minutes were released, then reversed course. The Dow finished down 167 points.
And the 10-year Treasury yield crept to a four-year high of 2.95%. Bond yields have been rising as investors grapple with the possibility that the stronger economy, a growing federal deficit and accelerating inflation will force faster interest rate hikes.
Related: Fed's Powell will head to Capitol Hill later this month
While policymakers accounted for the impact of tax cuts in their economic forecasts in December, several officials said they upwardly revised their growth projections in January, according to the minutes.
In their January discussion, Fed officials pointed to a stronger labor market, a steady employment rate of 4.1%, a rise in household spending and solid investment by businesses as factors in bolstering their confidence to move forward with at least three rate hikes this year.
"A majority noted that a stronger economic outlook for economic growth raised the likelihood that further gradual policy firming would be appropriate," according to the minutes.
Nearly all FOMC members said they expect inflation to gradually move to the Fed's 2% target, the level it considers healthy for the economy. Fed staff projected they expect to meet that goal by 2020.
Still, Fed officials noted "considerable uncertainty" remained around a number of federal government policies that could affect the economy.
Related: Yellen's historic legacy: Wise caution and a successful recovery
While FOMC participants said businesses they spoke to were "generally upbeat" about the economy because of tax cuts and an improving global economy, some Fed officials conveyed "considerable uncertainty" over how corporate tax cuts would spur business investment.
"Firms may be only just beginning to determine how they might allocate their tax savings among investment, worker compensation, mergers and acquisitions, returns to shareholders, or other uses," according to the minutes.
Participants said some businesses indicated they might use part of their tax savings as a one-time bonus for workers as opposed to a permanent wage increase, according to the minutes.
Analysts expect many more companies to use most of their tax savings to buy back their own stock or to increase their dividends.
Related: Prices are going up. But it's good news for you
Fed officials said they don't expect wage growth to grow significantly if productivity remains low. A number of participants said a tighter labor market would likely translate to faster wage growth "at some point," according to the minutes.
Participants also noted that employers across the United States had difficulty filling openings or retaining workers with the unemployment rate at a 17-year low.
The meeting was the last chaired by Janet Yellen, who carefully guided the Fed through its first interest rate hikes after the crisis.
Markets widely expect the Fed to raise rates for the first time this year at its March meeting.