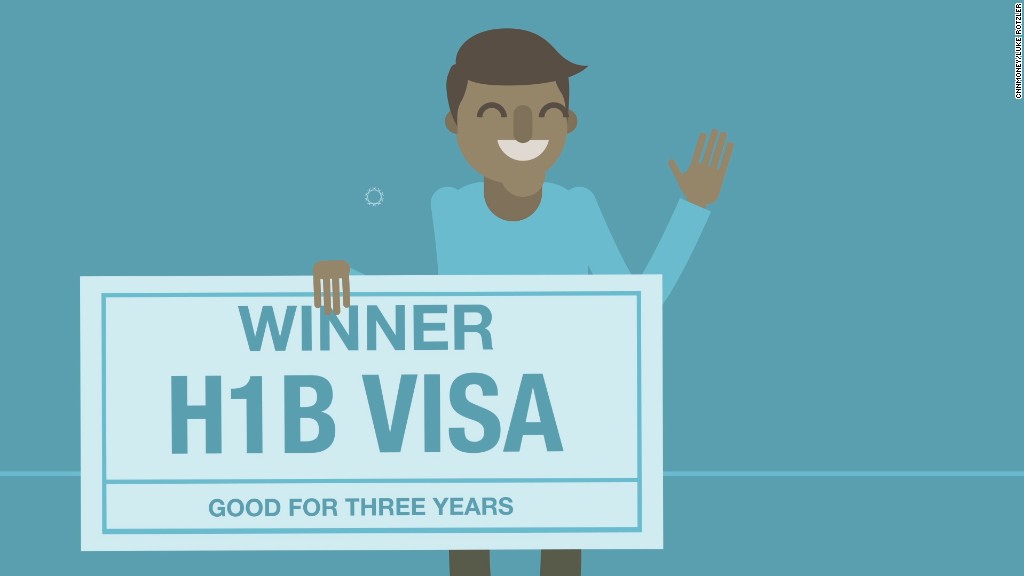 The Trump administration is cracking down on companies that get visas for foreign workers and farm them out to employers.
Some staffing agencies seek hard-to-get H-1B visas for high-skilled workers, only to contract them out to other companies. There's nothing inherently illegal about contracting out visa recipients, but the workers are supposed to maintain a relationship with their employers, among other requirements.
In some cases, outsourcing firms flood the system with applicants. The U.S. Citizenship and Immigration Services agency said in a new policy memo released Thursday it will require more information about H-1B workers' employment to ensure the workers are doing what they were hired for.
Companies will have to provide specific work assignments, including dates and locations, to verify the "employer-employee" relationship between the company applying for an H-1B and its visa recipient.
H-1B visas are valid for three years and can be renewed for another three years. It is a visa that is near and dear to the tech community, with many engineers vying for one of the program's 85,000 visas each year. (20,000 of that quota are reserved for advanced degree holders.) Demand for the visa often exceeds the supply -- in that case, a lottery system is activated.
"Since there is a limited number of H-1B visas it is important that those visa workers go where they are legitimately needed," attorney Sara Blackwell told CNN. Blackwell advocates for American workers replaced by foreigner visa holders.
The government's crackdown is in line with Trump's direction to federal agencies to implement a "Buy American, Hire American" strategy. The administration proposed new rules and guidance for preventing fraud and abuse of work visas -- particularly the H-1B program.
The USCIS says it may limit the length of the visa to shorter than three years based the information an employer provides. For example, if an employer can't prove the H-1B holder is "more likely than not" needed for the full three years, the government might issue the visa for fewer than three years.
The memo also says the administration wants to prevent employee "benching." That's when firms bring on H-1B visa holders but don't give them work and don't pay them the required wages while they wait for jobs. Most projects don't need foreign workers for the full term, according to Monty Hamilton, CEO of IT contractor Rural Sourcing.
Although most agree that some employers abuse H-1B visas, how pervasive the abuse -- and how to prevent it -- remains a sensitive and divisive issue.
Robert Cormier, a retired criminal investigator for federal law enforcement, says that asking for more information from third party companies could help the government crack down on bad actors. The threat of prosecution if companies are caught lying could be enough to deter fraud.
"That could change the game completely," he told CNN.
Others say it could have an unintended consequence: Hurting those who are using the H-1B properly, according to Betsy Lawrence, the American Immigration Lawyers Association's director of government relations.
Immigration attorney Tahmina Watson said the government has already been much stricter about H-1B enforcement since Trump took office.
"Much of what is said in the memo has been carried out in the last 12 months leading to record number of denials," Watson said.
Indian outsourcing firms will be the hardest hit. Indian workers receive more than 70% of all H-1B visas.
Companies and immigration lawyers are preparing for the new H-1B lottery season. Applications must be filed on April 1st.