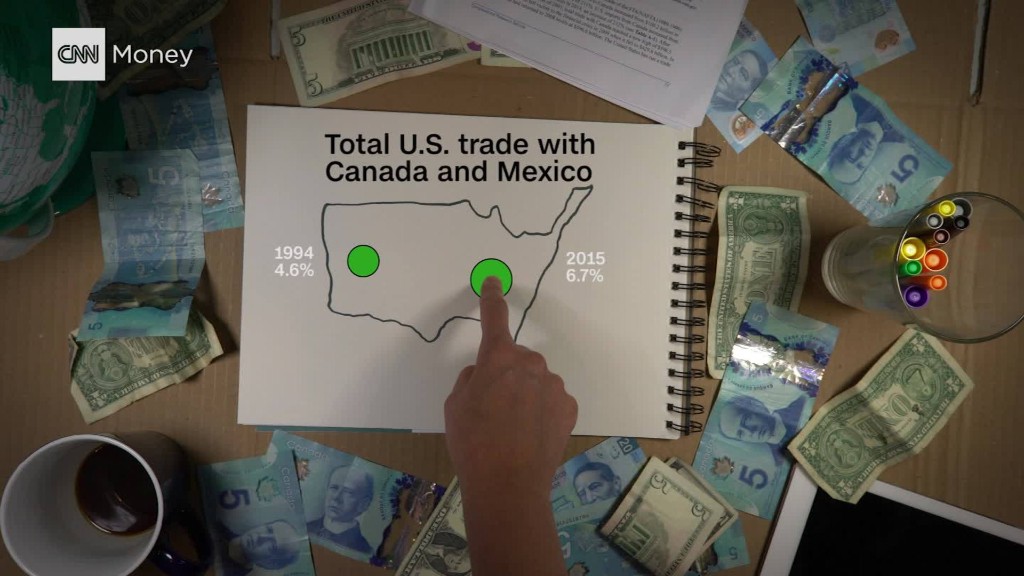 President Trump called it the worst trade deal in American history and has threatened repeatedly to blow it up.
Yet more than a year into his presidency, NAFTA is alive. And it's poised to survive.
Representatives from the United States, Mexico and Canada are meeting in Mexico City this week for Round 7 of negotiations to rewrite the three-nation trade deal. The talks, which began in August, have not gone well. But a growing number of trade watchers think the deal will live.
"The chances of an outright withdrawal have decreased significantly," says Matthew Rooney, director of economic growth at the Bush Institute in Dallas, a wing of the George W. Bush Presidential Library. Bank of America (BAC) economist Carlos Capistran says the most likely scenario is that talks stretch into 2019.
That optimism did not exist a year ago. Trump made NAFTA a punching bag during the presidential campaign, and he signaled last April that he was going to pull out of the deal because, he argues, it puts American workers at a disadvantage.
Related: NAFTA Round 6: Talks make some progress but huge differences remain
Negotiators first hoped to conclude talks by the end of last year. By Round 4, in October, the top negotiators from Canada and Mexico were lambasting the top U.S. negotiator right in front of him at a press conference. He returned the fiery rhetoric.
The talks have gone on longer than expected, even though negotiators haven't made much progress on divisive issues. Auto manufacturing is the thorniest: Trump's team wants to force car companies to produce more vehicles in the United States than in Mexico or Canada. That proposal has been rejected.
So why hasn't Trump pulled out? He nixed U.S. participation in the Trans-Pacific Partnership, a trade pact with 11 other nations. He also withdrew the United States from the Paris climate agreement. His rhetoric on NAFTA was much harsher than for either of those.
Trade experts have a few ideas why Trump hasn't pressed the red button.
First, NAFTA has no deadline. In theory, the talks can go on forever. In the meantime, NAFTA itself remains the same. In fact, the U.S. trade deficit with Mexico got bigger last year. (Trump wants to cut it.)
Roughly 14 million American jobs still depend on trade with Canada and Mexico, according to the U.S. Chamber of Commerce. A few car companies have shifted production, not jobs, from Mexico to the United States. Otherwise the trade scene hasn't changed much.
Related: No, Mr. President. Chrysler isn't leaving Mexico
Second, uncertainty might be Trump's best option right now, says Edward Alden, a senior fellow at the Council of Foreign Relations.
If Trump pulls out of NAFTA, he will anger a swath of congressional Republicans and Corporate America, both of whom have pressed him to remain in the agreement. Millions of jobs in red states like Texas and Arizona depend heavily on free trade. Trump could also trigger a panic in financial markets. Investors don't like uncertainty, nor trade wars.
But if Trump's negotiators strike a deal soon, "he will have to pivot from being NAFTA's biggest critic to being a cheerleader," Alden notes.
"A long negotiation in which he can continue to claim he is fighting for a better deal looks by far the best bet," Alden wrote in an analysis published Monday by Politico.
Third, other factors are making American manufacturing more attractive — and arguably alleviating the need to pull out of NAFTA.
Republicans just cut the corporate tax rate to 21% from 35%. And companies can now deduct new equipment from their taxes. The Trump administration is peeling back regulations. And the U.S. dollar is down 11% from a year ago, making American products cheaper and more attractive to foreign buyers.
Related: What is a 'reciprocal tax' and why is Trump talking about it
Trump himself seems to be thawing a bit on NAFTA. He still routinely threatens to withdraw. But he knows negotiators probably won't reach a deal soon.
After this round, the talks will get more difficult. Campaigns for Mexico's presidential election begin March 30. The vote is July 1. President Enrique Peña Nieto is term-limited, and Mexican officials say they can't ratify a new trade pact with an election on the horizon.
"I'm leaving it a little flexible because they have an election coming up. So I understand a lot of things are hard to negotiate prior to an election," Trump told The Wall Street Journal in January. "There's no rush."