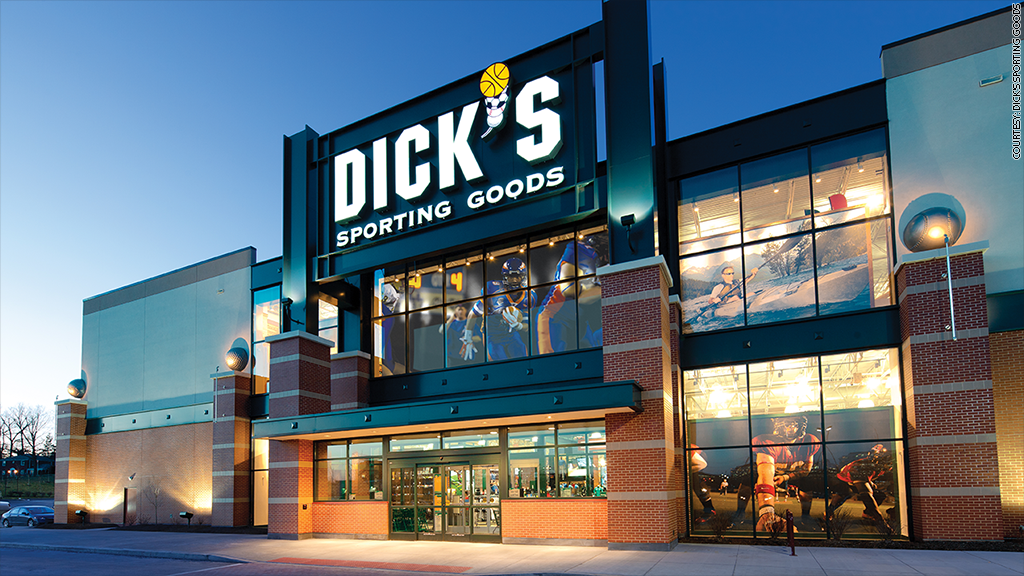 Over the past two weeks, major players across corporate America have publicly distanced themselves from gun makers and their lobbyists.
The National Rifle Association, the country's most powerful gun group, has dismissed calls for tighter gun control following last month's shooting at a high school in Parkland, Florida that left 17 dead.
Since then, many brands have announced they are ending special discounts for NRA members. And several businesses that sell guns have raised the minimum age for firearm and ammunition purchases.
Many were responding to social media campaigns, but not every company buckled under the pressure.
The NRA in a statement last week said companies severing ties with it were trying to "punish" NRA members in a "shameful display of political and civic cowardice."
But the number of companies that have distanced themselves from the NRA or enacted new policies on guns continues to grow by the day.
Here's a roundup of who has taken action.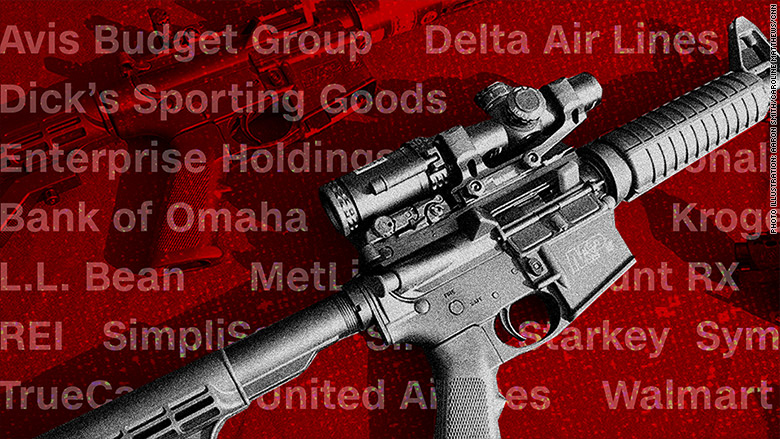 Avis Budget Group: Avis and Budget Rent a Car, which are owned by Avis Budget Group (CAR), said that both brands will stop offering discounts on car rentals to NRA members beginning March 26.
Delta Air Lines: Delta (DAL) said it's ending discounted flights for NRA members. The airline said the decision reflected "the airline's neutral status in the current debate over gun control." Since then, Delta has faced a backlash from Georgia Republicans, who have responded by saying blocking a state tax break that would benefit the carrier.
Dick's Sporting Goods: The outdoor retailer said it will stop selling assault-style weapons and raise the minimum age for all gun and ammunition sales to 21. The shooting in Parkland spurred the move, the company said. "These kids talk about enough is enough. We concluded if these kids are brave enough to organize and do what they're doing, we should be brave enough to take this stand," CEO Edward Stack told CNN.
Enterprise Holdings: Enterprise Rent-A-Car, Alamo Rent a Car and National Car Rental, which are all owned by Enterprise Holdings, announced that all three brands would stop offering NRA membership discounts on March 26.
First National Bank of Omaha: The bank said it will stop issuing an NRA-branded Visa card. A bank spokesperson said "customer feedback" prompted a review of its partnership with the NRA, and it chose not to renew its current contract.
Hertz: Hertz said in a tweet it "notified the NRA" that it will end its discount program for NRA members.
Kroger: The nation's largest grocery chain said it will raise the minimum age for buying guns and ammunition to 21. Kroger sells weapons and ammunition at 45 Fred Meyer stores located in four Western states. Those stores sell general merchandise, including outdoor and housing goods. The Kroger grocery stores do not sell weapons.
L.L. Bean: The retailer, which sells firearms only at its flagship store in Maine, said it would stop selling guns and ammunition to anyone under 21. The company also cited the Parkland shooting. "In the wake of this shooting we have reviewed our policy on firearm sales," the company said.
Lockton: The insurance company said it will "discontinue providing brokerage services for NRA-endorsed insurance programs." Lockton was listed on the NRA's website as a partner providing liability insurance that covers policyholders involved in shooting incidents.
MetLife: The insurance giant said it's ending discounts on home and auto insurance for NRA members.
Paramount RX: The company, which worked with a third-party vendor to provide a prescription drug discount program to NRA members, said that it's "working with that vendor to discontinue the program and remove the offering."
REI: The outdoor retailer said it's not going to place any more orders from Vista Outdoor -- a gun maker -- after the company failed to issue "a public statement that outlines a clear plan of action" following the mass shooting in Florida.
SimpliSafe: The maker of home security systems "discontinued our existing relationship with the NRA," CEO Chad Laurans said in a statement. The NRA's website used to say members were eligible for two free months of around-the-clock security monitoring from SimpliSafe.
Sirva: Allied and North American, two moving-van lines that are both owned by Sirva, said the brands "no longer have an affiliate relationship with the NRA effective immediately."
Starkey: The hearing aid manufacturer said it will not renew its discount program with the NRA, and has asked the NRA to remove Starkey's information from its website.
Symantec: The maker of Norton anti-virus software and owner of the identity theft protection company LifeLock, announced it has "stopped its discount program" with the NRA.
TrueCar: The car buying service said its partnership with the NRA would end February 28.
United Airlines: United (UAL) will no longer offer discounts on flights to the NRA's annual meeting.
Walmart: The retail giant is raising the minimum age to purchase guns or ammunition to 21 and it would remove "items from our website resembling assault-style rifles, including nonlethal airsoft guns and toys." Walmart has not sold assault-style weapons since 2015.
-- CNNMoney's Chris Isidore contributed to this report.