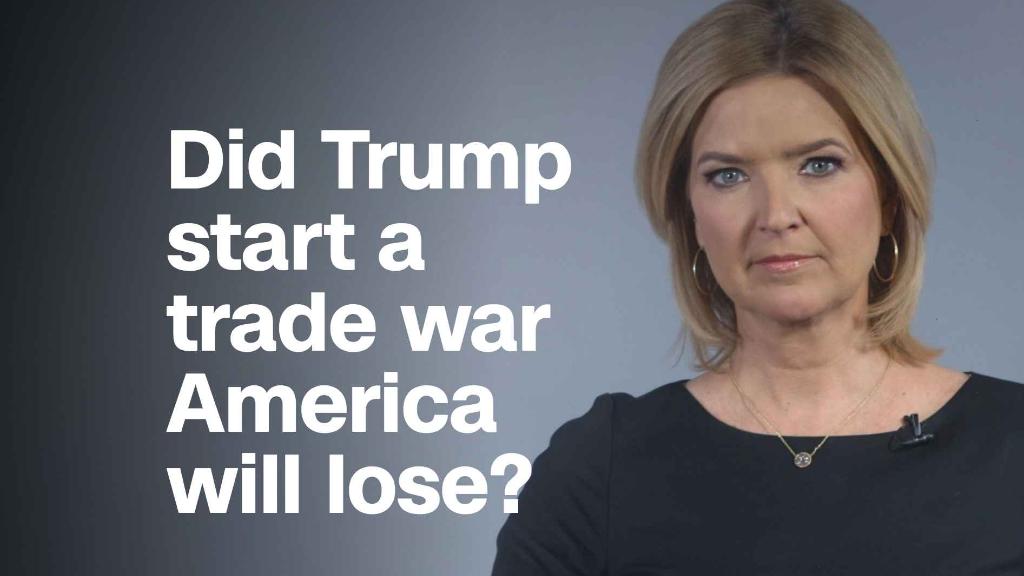 President Trump's announcement of steep steel and aluminum tariffs has triggered international fears about a trade war.
So just what is a trade war, and what exactly would it entail?
In a tweet on Friday, Trump said that "when a country (USA) is losing many billions of dollars on trade with virtually every country it does business with, trade wars are good, and easy to win."
But it's not that simple. Here's what you need to know about the situation at hand.
What is a trade war, anyway?
A trade war is one potential result of protectionism. It describes a situation in which countries retaliate against a country that imposes trade barriers such as tariffs and quotas. This could kick off a string of tit-for-tat responses that escalate global tensions.
Why is everyone talking about a trade war?
On Thursday, President Trump said that his administration will impose a 25% tariff on steel imports and a 10% tariff on aluminum imports as early as next week. That's a big deal, considering the United States is the world's biggest steel importer.
It's not yet clear if the president intends to exempt allies like Canada and the European Union. But countries are already warning that they'll slap retaliatory tariffs on US exports if they're affected.
What are tariffs?
A tariff is a tax or duty that the government places on a class of imported goods (tariffs on exports are very rare). In theory, this make the foreign products more expensive, and therefore less desirable to consumers — boosting domestic makers of the product, which don't have to pay the tax. The tariff is collected by customs officials and goes to the government.
Why does the United States want to put tariffs on steel and aluminum?
The goal is to protect domestic industry by propping up American steel and aluminum manufacturers. The hope is that as steel and aluminum from other countries gets more expensive due to the new taxes, more businesses will turn to American steel and aluminum makers to fill demand. Theoretically, that would breathe new life into industries that have been struggling for years.
Will these tariffs actually help American manufacturers?
Yes and no. American steel and aluminum manufacturers would certainly get a boost, but it's not clear that they actually have the capacity to meet a huge surge in demand.
Other sectors of American manufacturing would be hurt by rising steel and aluminum prices. The tariffs would raise the cost of raw materials for automakers like Ford (F) and General Motors (GM), as well as Boeing (BA). That could be bad for jobs in factories owned by those companies.
Will the tariffs cause prices go up?
The cost of products like beer, baseball bats and cars could go up due to the tariffs, if the companies that make these products decide to pass the increased cost of steel and aluminum on to consumers.
Commerce Secretary Wilbur Ross has insisted that any related price increases would be very, very small. He said on Friday that the price of a can of Campbell's soup would go up only six-tenths of one cent.
Why don't other countries like these tariffs?
First and foremost, they care about the negative impact they'll have on their domestic steel and aluminum industries, hurting sales and jobs.
"An imposition of a tariff like this will do nothing other than distort trade, and ultimately ... will lead to a loss of jobs," Australia's trade minister said in a statement.
Other countries are also worried about the mechanism the United States is using the impose the tariffs. Trump intends use a little-known trade law to claim that steel and aluminum imports are a threat to national security. Critics claim that undermines the rules of the World Trade Organization, and will ultimately disrupt the whole global trading system.
How will they respond?
Many affected countries have been very clear that if they're hit with tariffs, they intend to hit back.
The European Union, for example, is ready to impose tariffs on Harley-Davidson (HOG) motorcycles, bourbon whiskey and Levi's jeans as retaliation.
What does China have to do with all this?
A lot. In the past, the president's rhetoric on steel has targeted China, the world's largest steel exporter. He's laid into China for sending cheap, excess steel into the global market, which he says makes it impossible for American steel companies to compete.
Whether a trade war will erupt now depends in large part on China's reaction. So far, it's been muted. But China has threatened to be tough in response to steel and aluminum tariffs in the past. There are a number of US industries against which China could retaliate, if it chooses to do so.
The Trump administration is also investigating intellectual property theft by China. The outcome of that probe could play into Beijing's response.
Which US industries could be hit with tariffs from other countries?
US agricultural exports like soybeans are thought to be particularly vulnerable. Other nations could also choose to buy planes from Airbus instead of Boeing.
If China retaliates, it could focus on consumer electronics — which would hurt Apple (AAPL) — or semiconductors, which would harm US chipmakers like Qualcomm (QCOM) and Intel (INTC).
What's happening with the stock market?
News of Trump's tariffs decision immediately spooked stocks. The Dow closed down 420 points on Thursday. Shares of Boeing fell 3%, General Motors dropped 4% and Ford stumbled 3% — while U.S. Steel (X) soared 6% and Century Aluminum (CENX) spiked 7%.
The Dow fell as much as 391 points on Friday, but it recouped most of those losses and finished down only 71 points.
What happens next?
Trump's announcement on Thursday was offhand and short on details — so a lot is still up in the air.
Much hinges on whether Trump decides to institute across-the-board tariffs, or whether he hands out exemptions to select allies and trading partners.
As of Friday, the president had not indicated which way he was leaning.
"We must protect our country and our workers," he tweeted. "Our steel industry is in bad shape. IF YOU DON'T HAVE STEEL, YOU DON'T HAVE A COUNTRY!"