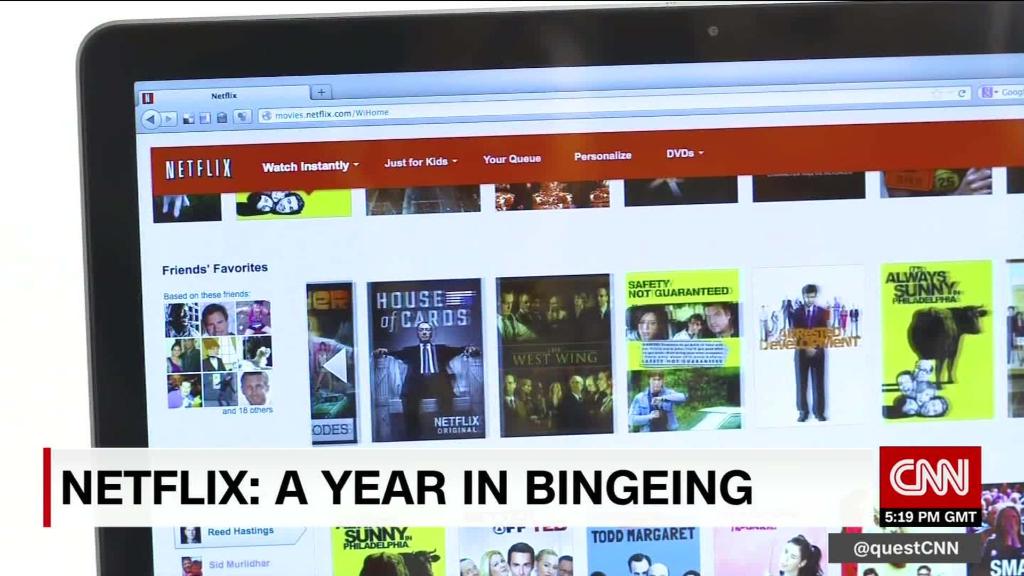 Netflix is arguably the king of media now.
After it took home its first Academy Award for the documentary "Icarus," Netflix's stock surged nearly 5% on Monday and another 2% Tuesday to an all-time high.
But Fox, Disney, Time Warner and Comcast's Universal each took home multiple statues -- and they didn't get the same Oscars bump. Their shares lagged the broader market's gains -- most gained less than 1% Monday while the Dow rose by nearly 1.5%.
Meanwhile, Netflix is worth $140 billion -- about the same as Time Warner and Fox combined and only $16 billion less than Disney. (CNNMoney is owned by Time Warner (TWX). Disney is in the process of buying much of Fox's (FOXA) entertainment assets.)
Netflix (NFLX) is producing tons of its own hit TV shows that its more than 117.5 million streaming subscribers around the world can't wait to binge watch. (I've got a date with my wife to start Season 2 of "Jessica Jones" this Friday!)
Related: Netflix looks all over the world to feed a growing audience
Movies are almost an afterthought for Netflix subscribers given the plethora of the company's original content. ("Stranger Things." "The Crown." "13 Reasons Why.")
There's even going to be a final season of "House of Cards" without Kevin Spacey that will focus on the presidency of Robin Wright's Claire Underwood. And an ad for it premiered during Sunday's Oscars telecast.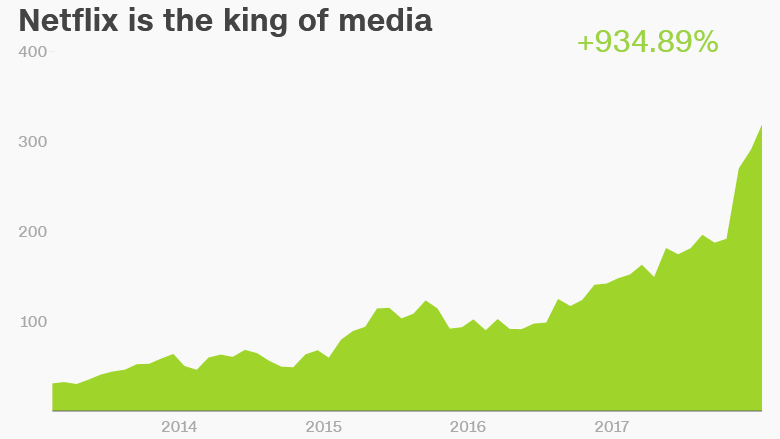 You can't watch any of the major Oscar winners on Netflix yet. "Coco" is on Apple's (AAPL) iTunes. So are "Three Billboards Outside Ebbing, Missouri," "Darkest Hour" and "Dunkirk" -- which are also available on Amazon (AMZN).
But it doesn't matter. This the "golden age of TV," which is a problem for both big studios as well as major movie theater chains AMC (AMC) and Cinemark (CNK).
Still, it seems that Wall Street is actually underestimating Netflix.
Sure, the stock is now up nearly 70% this year and trades at a sky-high valuation of 117 times 2018 earnings estimates. But the highest price target for Netflix is now just $330 a share -- only slightly higher than the current price of around $320.
Macquarie analyst Tim Nollen raised his target to $330 on Monday while BTIG's Rich Greenfield placed a $330 target on the stock in late January.
Related: Netflix targets Arabic market with new original series
The rest of Wall Street has price targets that are at or below the current price.
That seems curious when you consider that analysts have boosted their 2018 earnings estimates for Netflix by 20% over the past three months and raised their earnings targets for 2019 by more than 10% as well.
What's more, analysts are predicting more impressive growth on the subscriber front as well. Wall Street expects Netflix to end this year with 141.8 million streaming subscribers, an increase of 20% from last year.
Netflix certainly faces tough competition from Amazon, Apple, the Big Media-backed Hulu and a looming threat from Disney once it creates its own streaming movie service next year and completes the Fox deal. (Disney, Fox and Time Warner are also investors in Hulu.)
But BTIG's Greenfield thinks Netflix can stay on top of the streaming world. When he upgraded the stock in January, he noted that Netflix is "in aggressive investment mode to grab market share."
Netflix is spending billions of dollars to launch new shows around the world. And the company is having more hits than misses. The subscriber growth is proof of that. So the stock's impressive run may not be over just yet.
"Our confidence in Netflix 'winning' is growing given the increasing consumer appeal of their content," Greenfield wrote.