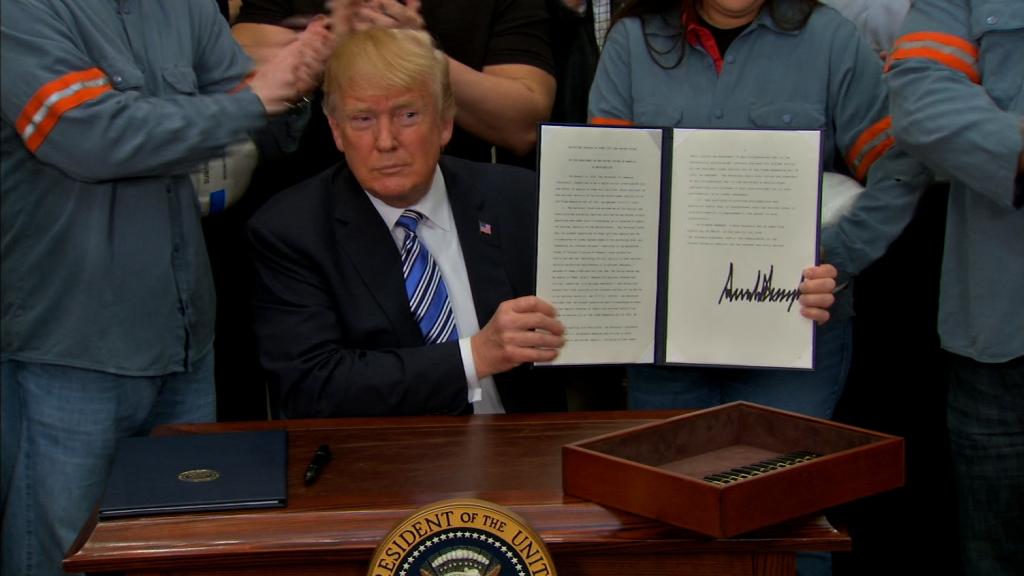 Trade jitters continue to weigh on Wall Street.
The Dow slid 249 points on Wednesday as President Trump escalated threats to clamp down on China. Earlier in the day, the Dow was down as much as 338. The S&P 500 dropped 0.5%, and the Nasdaq shed 0.1%.
Reuters reported on Tuesday that Trump was considering tariffs of up to $60 billion on Chinese imports in response to its alleged theft of US intellectual property. The US Trade Representative's office declined to comment on possible tariffs.
The report came after Trump blocked a $117 billion deal between chipmakers Broadcom and Qualcomm — an attempt to curb China's growing progress in the global technology race.
Related: Trump blocks Broadcom's $117 billion Qualcomm bid over national security
"The market is hyper-vigilant on potential action from the White House," Quincy Krosby, chief market strategist at Prudential Financial, said.
Boeing (BA), the United States' largest exporter, lost 2.5%, shaving about 60 points off the Dow. Investors are worried that Boeing would be caught in the crosshairs of a trade fight between the two countries. China is Boeing's second-largest market behind the United States.
"Boeing is the poster child for international sales," said Brad McMillan, chief investment officer at Commonwealth Financial Network. "They're competing against Airbus and a handful of companies around the world. They are more directly impacted than anybody else would be."
The market has been under pressure since Trump announced plans to impose 25% tariffs on imported steel and 10% on aluminum. Trump signed off on the tariffs last week, granting exemptions to Mexico and Canada. Other countries could still be granted exemptions.
Related: Trump's tariff bombshell: Catch up here
Wall Street breathed a sigh of relief Wednesday when Trump tapped conservative media analyst Larry Kudlow to become his next chief economic adviser.
Kudlow is a free trade advocate and has opposed Trump's tariffs. Investors hope he can counter the protectionist wing of Trump's administration, including Commerce Secretary Wilbur Ross, US Trade Representative Robert Lighthizer and trade adviser Peter Navarro.
The Federal Reserve's plans for raising interest rates also loom in the background.
The Fed has signaled three rate hikes this year, but rising wage growth and creeping inflation could force it to act faster than investors have projected.
On Wednesday, retail sales data came in weaker than economists estimated, a signal the Fed may not need a fourth hike to keep inflation in check. New Fed chair Jerome Powell will preside over his first Fed meeting next week.
The yield on the 10-year Treasury note, which has climbed as expectations of additional rates have risen, fell Wednesday to 2.81%.
— CNNMoney's Matt Egan contributed to this report.