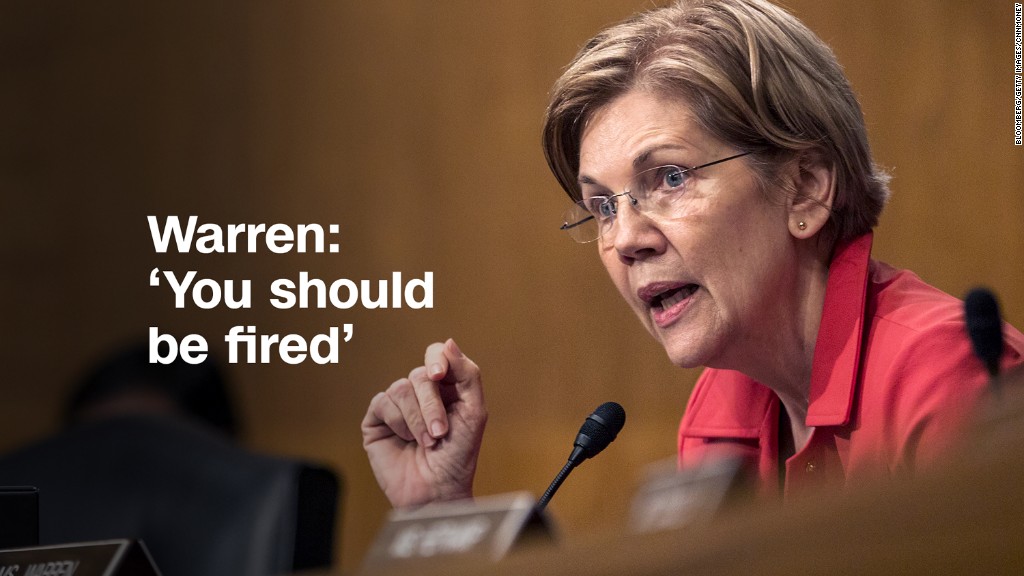 Wells Fargo CEO Tim Sloan got a 36% raise after one of the darkest years in the bank's history.
At his own recommendation, Sloan isn't receiving a cash bonus, according to filings late Wednesday. The CEO cited "significant but incomplete progress on addressing compliance and operational risk-management issues."
That's one way to describe the series of scandals that have rocked Wells Fargo (WFC) for the past year and a half, prompting unprecedented sanctions in February from the Federal Reserve.
In fact, just hours after Wells Fargo revealed its pay figures, Reuters reported that the bank could face more penalties related to forcing customers into auto insurance they didn't need. Wells Fargo and the regulator, the Office of the Comptroller of the Currency, declined to comment on the report.
Sloan's total compensation climbed to $17.4 million, compared with almost $13 million in 2016. While the CEO missed the cash bonus that other top Wells execs received, he still made a base salary of $2.4 million. Sloan also received $87,203 worth of installation and upgrades to his home security system.
Crucially, Wells Fargo awarded Sloan stock bonuses in February 2017 that are currently valued at $15 million. That's up 50% from his 2016 stock awards.
Wells Fargo's board of directors cited the bank's "solid financial performance," including low credit losses, strong capital and a slight increase in annual profits to $22.2 billion. The board also noted Sloan's "continued leadership" on the "top priority of rebuilding trust and building a better bank."
Related: Wells Fargo accused of preying on black, Latino homebuyers
Wells Fargo notes that its execs receive a high proportion of their pay in stock awards, a way to link pay to the long-term performance of the company. For Sloan, about 86% of his total pay in 2017 was in stock awards. Wells Fargo has the right to claw back the pay in the event of another scandal. Sloan's stock awards don't vest until the first quarter of 2020.
Wells Fargo stock rose 10% last year, lagging the S&P 500 and rivals like Bank of America (BAC) and Citigroup (C).
Sloan's $17.6 million is far less than what the CEOs of other big banks made last year. Citi CEO Michael Corbat made $23 million last year, while Goldman Sachs (GS) chief Lloyd Blankfein made $24 million. Bank of America boss Brian Moynihan received about $22 million.
Wells Fargo said Sloan's pay was about 291 times what the median Wells Fargo worker made last year, according to new disclosures that American companies are required to make. The median salary at Wells Fargo was $60,446.
After the passage of the Republican tax law in December, Wells Fargo announced plans to raise its minimum wage to $15 per hour. The bank also recently gave eligible employees stock that could vest in two years.
Wells Fargo said an annual pay analysis found that women who work at the company earn more than 99 cents for every dollar earned by their male peers. Likewise, employees of color 99 cents for every dollar earned by their white peers. Wells Fargo said the study accounted for factors such as role, tenure and geography.
Related: Wells Fargo's 17-month nightmare
Wells Fargo continues to face pressure from shareholders, lawmakers and federal regulators after the scandals. The bank has admitted to creating up to 3.5 million fake accounts, forcing customers into unneeded auto insurance and charging mortgage borrowers undue fees.
Last month, the Fed handed down heavy penalties for Wells Fargo's "widespread consumer abuses." The sanctions will prevent Wells Fargo from getting any bigger than it was last year until the Fed is satisfied it has cleaned up its act.