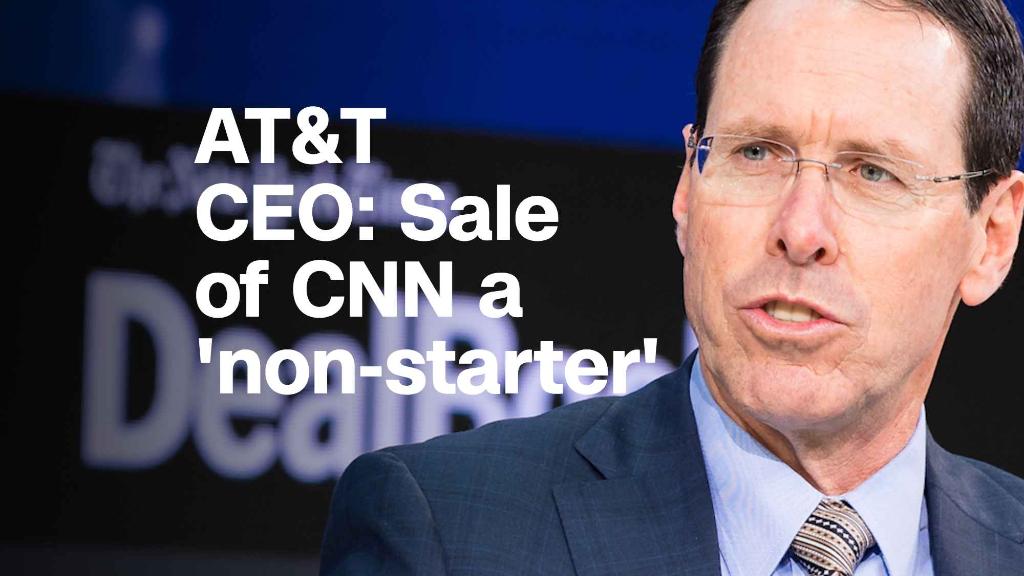 The Justice Department's landmark lawsuit to block AT&T from buying Time Warner goes to trial next week.
Corporate America will be watching closely.
It's the first time in four decades that the Justice Department has sued to block a merger between companies in different lines of business. It signaled a stark change in how the government enforces antitrust law — and an unusual tack under a Republican president who says he promotes business and opposes regulation.
The Justice Department sued to block AT&T from buying CNN parent company Time Warner in November. Since then, other companies haven't behaved like they're worried about an antitrust crackdown.
CVS announced it was buying Aetna, Disney said it would buy Fox, and Cigna sought to buy Express Scripts. All those deals are massive in scale and could pose antitrust problems.
CVS (CVS) already controls the sale and insurance of prescription drugs, and buying Aetna would give it power over how they are prescribed by a network of doctors. Disney, the largest movie studio, would control 20th Century Fox, the fourth-largest. The fourth-largest health insurer, Cigna, would own the largest prescription benefits manager, Express Scripts.
Opening statements in the AT&T-Time Warner case are scheduled for Wednesday in Washington.
The Justice Department argues that the deal would give AT&T the power to charge its competitors more for Time Warner's content, or to block the content entirely from the likes of Comcast, Verizon, and Charter.
Judge Richard Leon says the trial could last two months, twice as long as the companies expected.
How he decides the case could shape the future of the media industry, which is struggling to adapt to rapidly changing customer and advertiser behavior.
Companies like Time Warner, which make movies and TV shows, are combining with companies like AT&T, which deliver that content to customers. And everybody is trying to contend with Netflix (NFLX), Amazon (AMZN) and other digital brands.
Related: Trump's Justice Department puts Corporate America on notice
Despite the Justice Department's tough stance, the rest of Corporate America isn't exactly running scared from mergers.
For one, AT&T (T) and Time Warner could be a special case. It remains unclear whether the Justice Department's action was politically motivated. Trump has spoken out against the deal both as president and as a candidate, and he has frequently criticized CNN.
Even if the Justice Department's complaint is bona fide, one case doesn't make a trend.
"AT&T-Time Warner is significant, but there are other mergers that the industry is watching closely, too," said Maurice Stucke, antitrust law professor at the University of Tennessee and a former Justice Department prosecutor in the Clinton and George W. Bush administrations.
In particular, lawyers at merging companies are watching Bayer's $66 billion bid for Monsanto, which would reduce the number of farm seed, fertilizer and pesticide companies from five to four. Bayer and Monsanto expect the regulatory review to end in the next couple months.
To settle potential antitrust concerns, Bayer has already said it would divest some of its assets, agreeing to sell a business unit to rival BASF once the deal closes.
Those kinds of concessions have typically won over regulators. Yet Bayer wants to buy Monsanto at a desperate time for American farmers. US farm profit fell to $61 billion in 2016, the lowest since 2006, and less than half the income farms earned in 2013, according to the USDA.
There's no indication one way or another how the Justice Department will act on Bayer-Monsanto. A spokesman declined to comment. But if the Justice Department decides that the Bayer and Monsanto's merger would hurt farmers and consolidate the seed industry too much — despite Bayer's promise of concessions — that could indicate a significant change for antitrust enforcement.
"If the Justice Department blocks Bayer-Monsanto, that would mark a new dawn for antitrust," Stucke said.
Bayer bid for Monsanto (MON) in September 2016, a month before AT&T said it wanted to buy Time Warner (TWX). The Justice Department may not be ready to rule on the other recently announced mega-mergers for a year or more. So only time will tell whether the Justice Department is really cracking down on antitrust or whether AT&T-Time Warner was a red herring.
The antitrust shockwave could still come. But it hasn't come yet.
— CNNMoney's Hadas Gold contributed to this report.