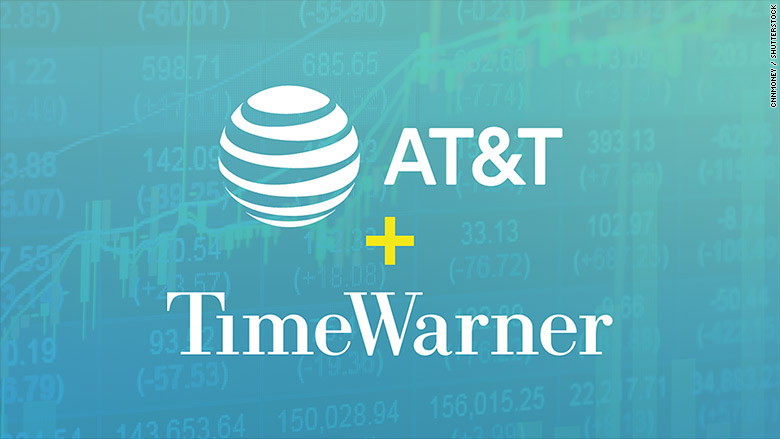 Attorneys for AT&T tried to convince a judge on Monday to throw out several pieces of evidence that the Justice Department wants to submit in its lawsuit to stop the telecom company's purchase of Time Warner.
The Justice Department wishes to submit what AT&T said are thousands of pages of emails and PowerPoint presentations sent by AT&T employees and executives. Government lawyers say some of these communications prove that AT&T's purchase of Time Warner will stifle competition.
With four large file boxes full of documents in tow, AT&T and Time Warner's lead attorney Dan Petrocelli said the emails are not all relevant and that some of the people writing them may not be major decision-makers at the company.
Judge Richard Leon said he is not inclined to let an email or a PowerPoint in as evidence unless a witness is able to provide the proper context, but he did not issue any ruling on the emails.
"The mere fact something is in an email made on a business computer does not mean it is a business record," Leon said on Monday, adding that it's important to make the distinction between "water cooler conversations" that now take place on email instead of in person.
Monday was the first day of evidentiary hearings in what is expected to be a six to eight week trial for a lawsuit the Justice Department brought to stop AT&T's $85 billion purchase of Time Warner, CNN's parent company. The Justice Department argues that the deal will harm consumers by raising prices, stifling competition and by giving AT&T too much leverage with its "must-have" content like Time Warner's sports and news offerings.
AT&T says the deal is necessary for it to become more efficient and to compete with the new giants in the media scene like Netflix and Amazon. It also disputes that prices would rise and says it is willing to put forth behavioral remedies such as arbitration for price disputes.
The Justice Department also wishes to submit as evidence comments made by DirecTV, which was bought by AT&T in 2015, to the Federal Communications Commission while the commission was evaluating the Comcast-NBCUniversal merger in 2010. At that time, DirecTV argued that such a vertically integrated company could threaten to withhold programming and demand higher prices.
DirecTV's argument then is similar to the Justice Department's reason for the lawsuit, the government's lawyers said. But Petrocelli protested saying that the eight-year-old statements were not relevant since they were made before AT&T acquired the company, and noted that he would work to have DirecTV dismissed as a defendant in the case. He also argued that the media industry landscape has changed at "warp speed" and looks drastically different now than it did in 2010.
Leon questioned whether a statement made by DirectTV in 2010, years before it was acquired by AT&T, was relevant for the case. He said he was "inclined" to allow old regulatory advocacy statements but only as they pertained to DirecTV and not AT&T.
Leon also noted that additional witnesses may be necessary (above and beyond the 30 witnesses both sides have already agreed to) because the case is "too important to both sides and the future of this industry" to not see the full view of the evidence. "The stakes are too high," Leon said.
Leon also indicated that it may be necessary to call a Google executive to the stand as a third-party witness. The executive (whose name was not provided in court proceedings) gave a deposition pertaining to why Google had added Turner channels to its YouTube-TV offering last month. The Turner channels were not available in YouTube-TV's initial offering. The government contends this addition supports its argument that Time Warner content is extremely valuable and would encourage AT&T to withhold Time Warner programming from other distributors in future negotiations should the merger go through.
Opening arguments are scheduled start on Wednesday.