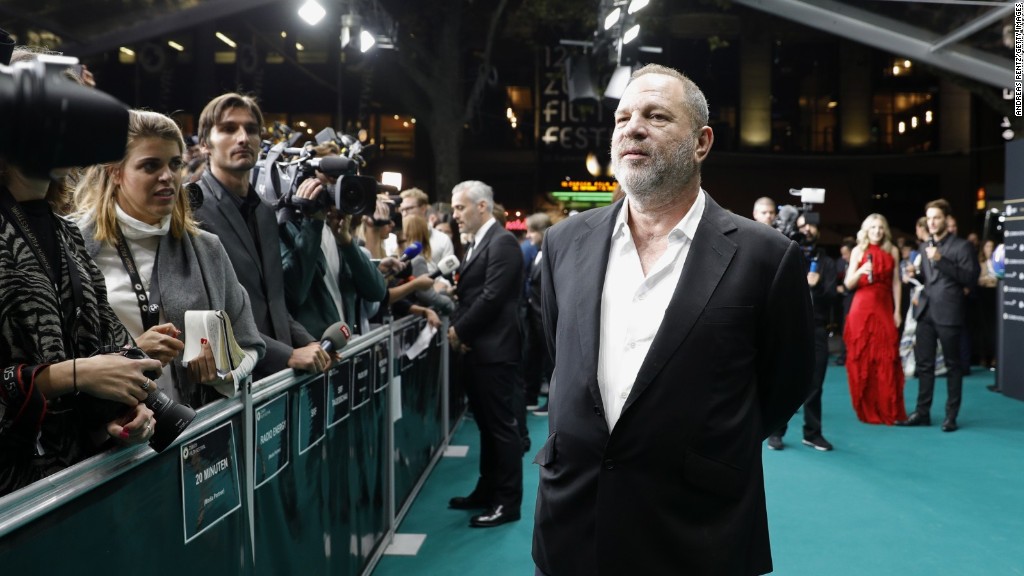 The Weinstein Company, the studio co-founded by disgraced movie mogul Harvey Weinstein, has filed for bankruptcy and torn up legal contracts that kept sexual harassment victims from speaking out.
The company said late Monday that it will release victims of, and witnesses to, Weinstein's alleged misconduct from any non-disclosure agreements.
"Effective immediately, those 'agreements' end," the company said in a statement. "No one should be afraid to speak out or coerced to stay quiet," it added.
The Weinstein Company was crippled by the sexual harassment and assault allegations first made against Weinstein last year.
Now the studio has reached a deal with the private equity firm Lantern Capital Partners. Lantern is looking to acquire Weinstein Co. through the bankruptcy process.
The initial bankruptcy paperwork was filed on Monday night.
"While we had hoped to reach a sale out of court, the Board is pleased to have a plan for maximizing the value of its assets, preserving as many jobs as possible and pursuing justice for any victims," Bob Weinstein, Harvey Weinstein's brother and chairman of the company, said in a statement provided to CNNMoney.
Other bidders could come forward and try to top Lantern's bid for the Weinstein Co. assets.
The filing estimates the Weinstein Co. businesses are valued between $500 million and $1 billion.
New York Attorney General Eric T. Schneiderman had been pushing for this outcome for several months.
"This is a watershed moment for efforts to address the corrosive effects of sexual misconduct in the workplace," Schneiderman said Monday night. "The Weinstein Company's agreement to release victims of and witnesses to sexual misconduct from non-disclosure agreements -- which my office has sought throughout this investigation and litigation -- will finally enable voices that have for too long been muzzled to be heard."
To date, dozens of women have accused Weinstein of abuse, following reports in the New York Times and the New Yorker last year about his treatment of women, including some of those with whom he's worked. Weinstein has been accused of rape, assault and other forms of sexual misconduct.
He sought treatment after the allegations were made public. Through a representative he has repeatedly denied allegations of "non-consensual sex."
Monday night's press release from the company said Weinstein Co. "regrets that it cannot undo the damage Harvey Weinstein caused, but hopes that today's events will mark a new beginning."
The bankruptcy filing came after a deal to sell the studio's assets fell apart earlier this month.
An investment group led by Maria Contreras-Sweet, the former head of the U.S. Small Business Administration, had been close to acquiring all of the company's assets for $500 million but negotiations fell apart at the last minute.
Schneiderman's office had been helping to mediate the deal talks.
Schneiderman's civil suit against Weinstein Co., Bob Weinstein, and Harvey Weinstein remains active and the investigation is ongoing, his office said Monday.
The bankruptcy was announced on the same day New York Gov. Andrew Cuomo directed Schneiderman to review the Manhattan district attorney's handling of a 2015 sexual abuse case involving Weinstein.
This week's New York magazine features a story questioning why D.A. Cyrus Vance Jr. hasn't prosecuted Weinstein.
Time's Up, the female-led organization formed in the aftermath of the Weinstein scandal, responded to the story by calling for a probe into Vance and his office "to determine the facts related to the decision not to prosecute Harvey Weinstein for sexual abuse crimes against one of his accusers, Ambra Battilana."
Back in October, The New Yorker released an audio recording of Weinstein speaking with young model Ambra Battilana Gutierrez as part of a 2015 sting operation. The NYPD set up the sting after Gutierrez told authorities that Weinstein groped her the day before.
In the recording, Weinstein makes potentially incriminating comments to Gutierrez, but he was not arrested or charged with a crime at the time.
After the tape's release, the New York Police Department and the Manhattan DA's office traded public finger-pointing. But on Monday, Vance and the NYPD released a joint statement reiterating their shared commitment to investigate and prosecute sexual assault cases.
Vance has also faced criticism for accepting a $10,000 donation from David Boies, an attorney who has represented Weinstein, in August 2015, according to campaign financial disclosure forms from the New York State Board of Elections.
Vance's office said Monday that "our investigation of Mr. Weinstein is active and ongoing."
That response didn't seem to satisfy Cuomo. He answered Time's Up's call and referred the matter to Schneiderman's office, instructing the A.G. to review Vance's handling of the Battilana case "in a way that does not interfere with the current investigation..."
Schneiderman welcomed the opportunity, saying, "We are committed to pursuing a full, fair, and independent review of this matter."