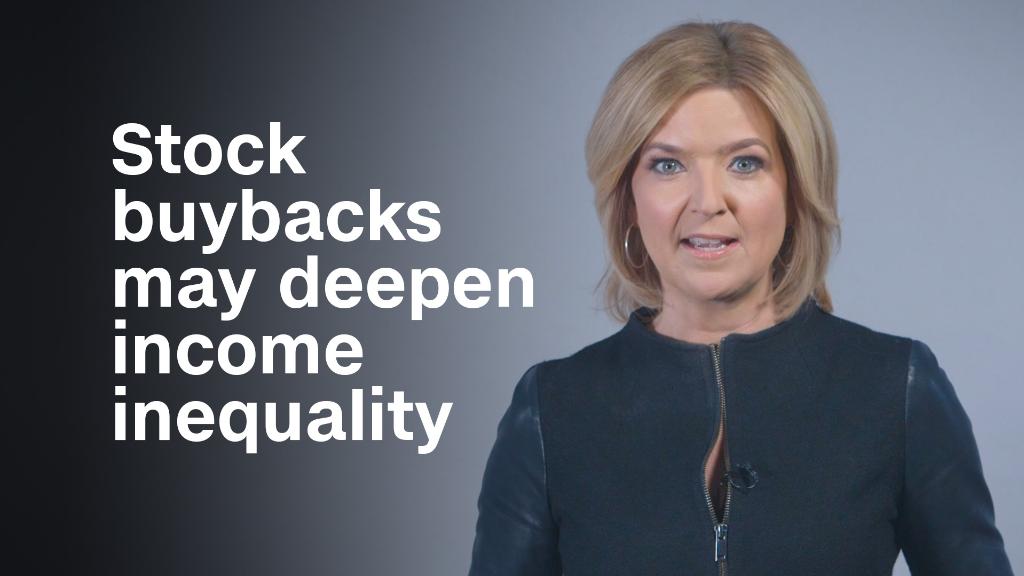 Democrats in Congress want to rain on Wall Street's buyback parade.
Senator Tammy Baldwin plans to introduce a bill on Thursday that would prohibit companies from repurchasing their shares on the open market, Baldwin told CNNMoney.
While the legislation faces an uphill battle getting through Republican-controlled Congress, it demonstrates a growing backlash against companies using extra cash to reward shareholders instead of sharing it with workers.
Buybacks, which boost stock prices by making shares scarcer, have exploded in 2018 thanks to the huge windfall created by President Trump's new tax law. American companies like Pepsi (PEP) and Cisco (CSCO) have announced a total of $229 billion of buybacks so far this year, according to research firm TrimTabs. Companies are on track to buy back the largest number of shares in at least a decade.
Critics say this trend is deepening the chasm between America's rich and poor because affluent families own the vast majority of the stocks. They argue the money would be better spent by investing in the future, paying workers more or offering better benefits and retraining programs.
"I fear that if we don't act, the impact on our economy and growth is going to be horrendous," Baldwin told CNNMoney Wednesday. "This very partisan corporate tax bill has fueled a surge in stock buybacks that is hurting economic growth and shared prosperity for workers."
Related: Are buybacks deepening income inequality?
The bill, which is co-sponsored by Democrats Elizabeth Warren and Brian Schatz, would explicitly "prohibit public companies from repurchasing their shares on the open market."
It would also repeal a 1982 SEC rule that gave companies the green light to buy back vast amounts of their own stock. Prior to that regulation, buybacks lived in a murky area.
Buybacks are a bit of a financial engineering trick. By eliminating shares, buybacks inflate a critical measure of profitability.
Nobel Prize-winning economist Robert Shiller recently told CNNMoney buybacks are "smoke and mirrors."
If Baldwin's legislation becomes law, companies would still be permitted to conduct tender offers, which are stock purchases offered to all shareholders at a precise price (typically a premium) and a set date. Buybacks are considered less transparent because they take place over a longer time period at whatever price the stock is trading.
Another provision of the bill would amend current rules to require all US public company boards to have at least one-third of their directors elected by employees.
The White House did not respond to a request for comment on Baldwin's bill, which has the support of the AFL-CIO.
Related: Tax cut scorecard: Workers versus shareholders
Since 2008, US companies have spent $5.1 trillion to buy back their own stock, according to Birinyi Associates.
Between 2007 and 2016, companies in the S&P 500 devoted 54% of their profits to stock buybacks, according to research by University of Massachusetts Lowell professor William Lazonick, who advised Baldwin's office on the legislation.
"This was not good for the US economy," said Lazonick.
He called Baldwin's proposed crackdown "hugely positive," even for long-term shareholders who will benefit from companies investing in something "instead of simply propping up the stock price."
But Wall Street and the business community would surely oppose federal legislation that handcuffs how companies can spend their profits.
Defenders of buybacks argue that returning extra cash to shareholders is better than simply hoarding the cash in overseas bank accounts. And buybacks have long played a key role in signaling financial strength.
"Even for Washington, this strikes me as incredibly stupid," said Jonathan Macey, a corporate law and finance professor at Yale Law School.
"The idea that banning stock buybacks is going to help the economy ignores the fact that this money doesn't disappear. It's returned to shareholders who can spend it," Macey said.
About 52% of all families owned stocks directly or indirectly through retirement plans in 2016, according to the Federal Reserve.
However, the rich own the vast majority of the stock market. The top 10% of households owned 84% of all stocks in 2016, according to research from NYU professor Edward Wolff.
Charles Whitehead, a Cornell Law School professor, said that if companies aren't investing enough in the future, that's a problem for corporate boards to solve, not Congress.
"You're putting up an artificial barrier to try to block what is more of a fundamental systemic issue," Whitehead said.
Related: For most workers, the tax cut windfall will disappear
It's clear that Trump's tax law, which was pitched as a way to create jobs, is playing a key role behind the buyback debate.
The White House estimates that 3 million workers have received one-time bonuses like the ones announced by Comcast (CCZ), Disney (DIS) and dozens of other major companies. Other companies like Wells Fargo (WFC) have raised wages for workers.
However, companies are spending far more on buybacks than on improvements for employees. Analysts polled by Morgan Stanley expect that just 13% of the corporate windfall from the tax cuts will go directly to workers, while 43% will go to shareholders.
Baldwin called out Kimberly-Clark (KMB)for repurchasing $900 million worth of stock in 2017 and then announcing plans in January to slash up to 5,500 jobs. The maker of Huggies and Kleenex plans to shut 10 factories, including in two in Baldwin's home state of Wisconsin.
Kimberly-Clark did not respond to a request for comment.
"This exposes the false promise of trickle-down economics in this tax law," Baldwin said.