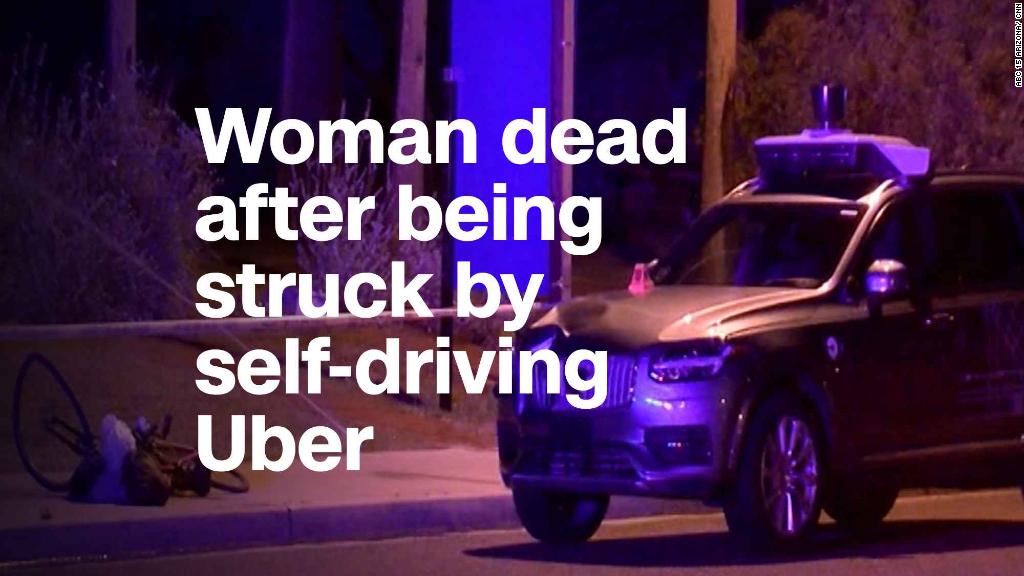 A test driver was behind the wheel of a self-driving Uber vehicle when it struck and killed a woman in Tempe, Arizona on Sunday night.
Autonomous car companies have test drivers on board so they can take over in case of emergencies.
But that safeguard wasn't enough to prevent the death 49-year-old Elaine Herzberg. Tempe police say Herzberg was walking her bicycle across a street when Uber's Volvo XC90 SUV hit her.
It's unclear as of now what exactly happened. The test driver, Rafaela Vasquez, has not been charged in the incident.
But it's thrown the role of test drivers into the spotlight.
Test drivers can't share too many details about their roles because companies typically require them to sign non-disclosure agreement. But here's what we do know about the job:
Why would a self-driving car have a human behind the wheel?
Automakers, tech companies and startups are all developing self-driving cars, but the tech is far from perfect. Companies hire human test drivers to sit behind the wheel of self-driving vehicles and take over when necessary, say, if a car's sensors fail to recognize a bicyclist, pedestrian or other vehicle -- or if the software system crashes.
What does a self-driving car test driver do?
Generally, a test driver sits behind the wheel and "ghost drives" the vehicle for six to eight hours a day. Some test drivers hover their foot above the brake pedal, so they're ready to intervene quickly if needed. The test driver also monitors the vehicle's progress. If the car or truck finds itself in a tough spot, he or she will take manual control of the vehicle.
According to Michael Ramsey, a research director at Gartner's CIO Research Group, safety drivers are typically deployed to get the vehicles out of "weird situations," such as getting stuck behind a parked food truck.
"It's extremely hard, in an emergency situation, to hand it over to a human reliably," he said. "It begs the question whether anyone -- human or robot -- could have prevented Sunday's accident?"
The exact responsibilities of a test driver vary depending on the company they work for.
Test drivers provide feedback to the engineering team, which develops the software powering the car. They also monitor how the vehicle is performing -- for instance, if it's accelerating and braking in a timely fashion.
At some companies, test drivers work in teams, with one person in the passenger seat, taking notes on a laptop and monitoring data feeds from the car's sensors.
How many test drivers are there?
Uber employs about 400 human safety drivers like Vasquez. They sit behind the wheel of its 200 autonomous vehicles spanning across Pittsburgh, Phoenix, Toronto, Tempe and San Francisco. There are no industry wide figures available.
How much is a test driver paid?
Exact wages vary at different companies. Cruise, the self-driving arm of General Motors (GENERAL MOTORS), has advertised positions that pay $23 an hour. Meanwhile, Waymo, the self-driving entity of Google's parent company, has posted jobs offering $20 an hour.
Uber declined to disclose how much it pays its safety drivers.
Test drivers do not require advanced degrees in engineering or computer science. The engineers who build software and hardware for self-driving cars are in short supply. Their salaries are high -- often more than $150,000 a year.
From a business perspective, it makes more sense to delegate test driving work to employees who don't command such high salaries.
"For the most part, the people doing the rides have just been trained -- they're not engineers, they're not vehicle engineers," said Jeffrey Wishart, Ph.D., a clinical assistant professor of automotive systems at Arizona State University.
What qualifications do I need to be a self-driving test driver?
That varies depending on the state and company.
Generally, a driver's license and a good driving record are all that's required. California requires that self-driving companies maintain a training program for its test drivers.
Some job postings reviewed by CNN look for drivers with previous delivery experience, the ability to type over 50 words per minute and conduct basic vehicle checks. Military experience is considered a plus -- a large subset of Uber's test drivers have military backgrounds, a spokesperson for the company told CNN.
Uber, for example, requires individuals to undergo three weeks of training, including a manual driver test, written assessment, as well as classroom and public road training.
The program must also include defensive driver training, such as experience recovering from hazardous driving situations.
Some companies go as far as to test a driver's reaction time before hiring them, since test drivers need to respond quickly if the vehicle makes a mistake.
What about people with criminal records?
According to a filing from the Arizona Department of Corrections viewed by CNN, Vasquez -- the driver in the recent Uber crash -- was a convicted felon.
Vasquez was in prison for nearly four years for unsworn falsification, the legal term for making a false written statement known to be true, and attempted armed robbery. Vasquez was released in 2005.
Uber complies with local laws, but in general, its standard ridesharing drivers can't have a criminal record that includes a conviction for a felony, violent crime or sexual offenses in the last seven years.
There were no signs that Vasquez was impaired after the collision, Tempe police spokesman Sgt. Ronald Elcock said at a press conference.