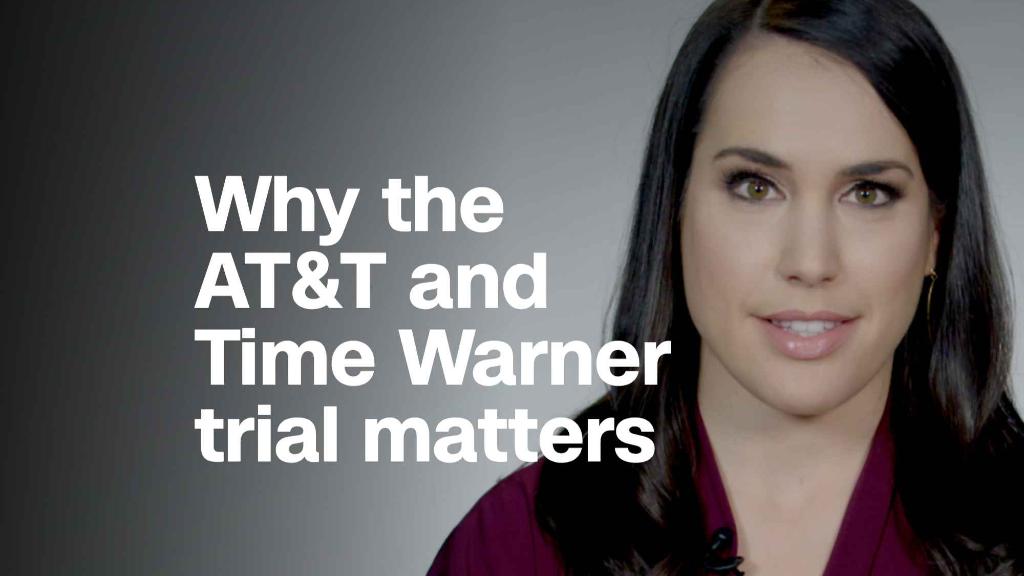 The most pivotal antitrust trial in a generation is about to get under way.
Opening statements are Thursday in US v. AT&T, and the result could reshape the media, telecom and tech industries for years.
The Justice Department is suing to stop AT&T's $85 billion acquisition of Time Warner, the parent company of CNN. The case is about money, power and the distribution of TV programming in the new digital age.
The deal would create a media behemoth. It would combine Time Warner's TV shows and movies — including HBO, TNT, TBS and the Warner Bros. studio — with AT&T's satellite and broadband services, the pipes that deliver all that content to you.
AT&T (T) set out to buy Time Warner (TWX) almost a year and a half ago. The Justice Department says the deal could raise prices for customers, stifle competition, limit where content can be seen, and slow the development of technology.
AT&T disputes that prices will go up and says the deal is necessary in an ever-evolving marketplace. The company's executives believe that AT&T needs to grow to compete with tech giants like Google, Apple and Facebook.
Related: AT&T-Time Warner trial: Why Corporate America is watching it so closely
It's the first time in four decades that the Justice Department has sued to block a merger between companies in different lines of business.
Given President Trump's constant criticism of CNN, there has been widespread speculation that the suit was politically motivated.
But the arguments in court are expected to focus on marketplace competition. Judge Richard Leon of US District Court in Washington, DC, will spend six to eight weeks hearing evidence. Then he will make a decision.
So what does this all mean for you?
If you are a typical cable subscriber, paying for a big bundle of TV and broadband, the government argues your cable bill could go up about 45 cents per month if AT&T is allowed to buy Time Warner.
Specifically for Turner content — meaning CNN, TNT, TBS and other channels — the government says would be paying for 13 months of Turner content every year and getting only 12.
AT&T disputes that modeling. The company's representatives say that even if the estimated cost increase is accurate, it's the equivalent of a fancy cup of coffee from Starbucks every year.
Even then, bills might go down for AT&T customers, said Daniel Lyons, a professor at Boston College's law school who specializes in telecom and internet law and a visiting fellow at the American Enterprise Institute.
"A person's Comcast bill might go up, and then DirecTV, which is owned by AT&T, could sound more interesting as an alternative," Lyons said.
During the trial, AT&T is likely to bring up the rapid growth of new rivals like Netflix and Amazon, which provide alternatives to the traditional cable bundle.
Media companies like Time Warner seem big — until they're standing next to the tech companies.
Facebook, Amazon, Apple, Netflix and Google have "completely transformed the industry overnight," AT&T and Time Warner's lead litigator, Dan Petrocelli, told the judge on Tuesday. "They are running away with the industry."
Comcast bought NBCUniversal in 2011 for some of the same reasons that AT&T is attempting to buy Time Warner now. The Obama-era Justice Department blessed that deal with some conditions. But the antitrust chief at the Trump Justice Department, Makan Delrahim, has a different view of these deals.
Rather than applying conditions, also known as "behavioral remedies," which require years of followup, Delrahim has argued in favor of "structural remedies." In this case, that would mean AT&T's selling its DirecTV division or spinning off Time Warner's Turner division.
But AT&T rejected that. The company wants both sides of the TV business, programming and distribution, under its roof. Why? Deeper connections with consumers, more data about viewing habits, and better opportunities to target ads and products.
The government says that AT&T, by owning Time Warner, would have a business incentive to limit the content to AT&T's platforms and devices — or to make it work better on their devices.
Jeffrey Blumenfeld, a former senior Justice Department antitrust attorney, said the companies could become a kind of "walled garden" where you have to be an AT&T customer to watch Time Warner content.
"If I own content a lot of people want and I have that content appear only on my distribution system, or have it work much better on my system, then I can use that to bring people to my distribution system away from others," said Blumenfeld, now a partner at the law firm Lowenstein Sandler.
"For consumers who are trying to get content that's not owned by AT&T but have AT&T distribution, (like a cable plan), that will be harder to do," he said. "And it means when new content companies come along they're going to have a harder time getting distribution with AT&T because they're not part of the family."
AT&T says the company has no plans to limit Time Warner content. The company says that would be counterproductive because it would mean less exposure and lower revenue for AT&T.
What's good for the broader marketplace is good for AT&T, the company asserted in a pre-trial brief, "because more online video viewership increases usage of its wireless broadband network."
AT&T and Time Warner have also committed to enter arbitration with distributors to work out any disputes over prices.
Blumenfeld said if the deal is not approved, "life continues as we know it for consumers."