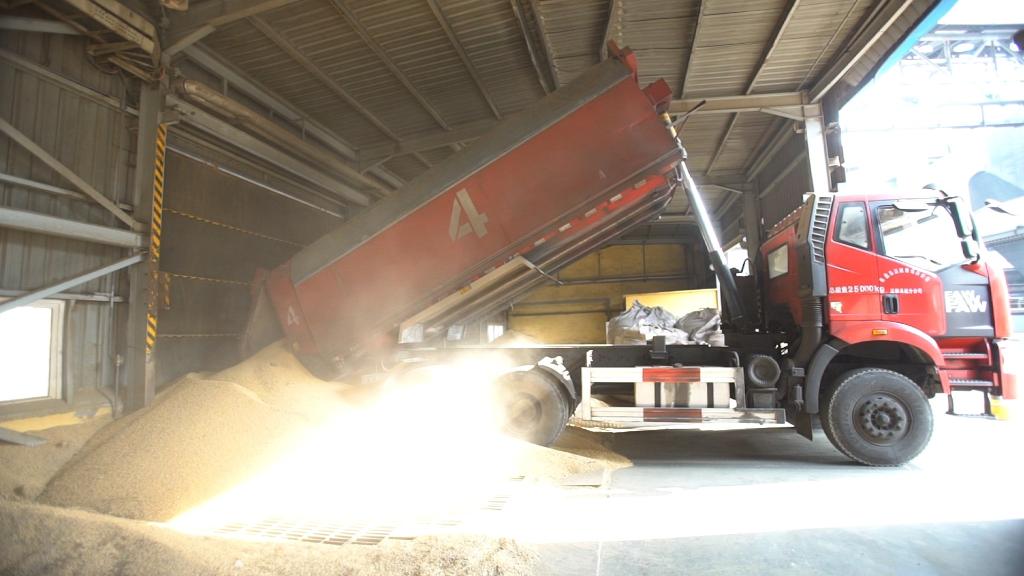 Trade war fears wiped more than 1,100 points off the Dow in just two days. It was Wall Street's worst week in more than two years.
Investors are increasingly worried that President Trump's crackdown on China will trigger a fierce response that darkens the otherwise bright economic outlook.
The Dow dropped 425 points, or 1.8%, on Friday, sinking back into a "correction" — a decline of 10% from the all-time high in January. The Dow finished at its lowest point since November.
All three major indexes took their biggest weekly tumbles since January 2016.
The market failed to stage a rebound from Thursday's plunge, which erased 734 points from the Dow.
China vowed on Thursday that it would fight a potential trade war "until the end."
"We have this general freak-out. We don't know the next shoe to drop on trade," said Michael Block, chief strategist at Rhino Trading Partners.
Investors were further rattled when China's ambassador to the United States signaled that China could ease purchases of US bonds in response to Trump's tariffs. "We are looking at all options," Ambassador Cui Tiankai told Bloomberg News.
China is America's biggest creditor, with more than $1 trillion of Treasury bonds.
"We've been told for our entire careers that trade wars made the Great Depression worse. And we believe it," said Bruce McCain, chief investment strategist at Key Private Bank.
Related: Trade fears add to concern of a downturn
Asian markets were rocked overnight after China vowed not to back down in a potential trade war with the United States. Japan's Nikkei 225 plummeted 4.5%, and the Hang Seng in Hong Kong lost 2.5%.
On Thursday, the market sold off after Trump announced plans to impose tariffs on about $50 billion of Chinese imports to retaliate for theft of intellectual property.
China said hours later that it "is not afraid of and will not recoil from a trade war." Officials in China detailed a plan to retaliate to Trump's aluminum and steel tariffs by imposing their own tariffs on about $3 billion worth of imports of US goods.
Trump, who often uses the stock market as a barometer for his success, shrugged off the market turmoil.
"I think the stock market is going to be great," he said Friday at the White House after a reporter asked about the sell-off. "The stock market is way up. When I came into office, the stock market was from a different planet."
Despite the recent struggles, the Dow remains up about 30% since Trump's election.
Related: China: We would fight a trade war 'to the end'
The worry is that a tit-for-tat escalation between the two largest economies in the world will ruin the solid economic backdrop. Investors had been banking on strong growth this year, but a slowdown in trade and dented business and consumer confidence could change that outlook drastically.
Barclays warned in a report that a trade war would drown out the benefits of Trump's tax cuts, which helped power Wall Street's euphoric rally.
"The administration is moving forcefully into the anti-trade portion of its policy agenda," Barclays economist Michael Gapen wrote in a report on Friday.
But it's too early to assess the impact. Bullish investors hope that the administration will soften its tough stance with China, similar to how tariffs on steel and aluminum imports were later scaled back significantly.
"The threat of a misstep remains high," Raymond James Washington policy analyst Ed Mills wrote in a report, but there is an expectation that "these actions will be watered down or mitigated" in the coming weeks.
Key Bank's McCain thinks it's more likely the market is going through a correction than entering a bear market. He pointed to robust corporate profits and the strong economy, which enjoyed robust job growth in February.
"If anything, a few weeks ago we worried about the economy overheating and inflation picking up," McCain said.