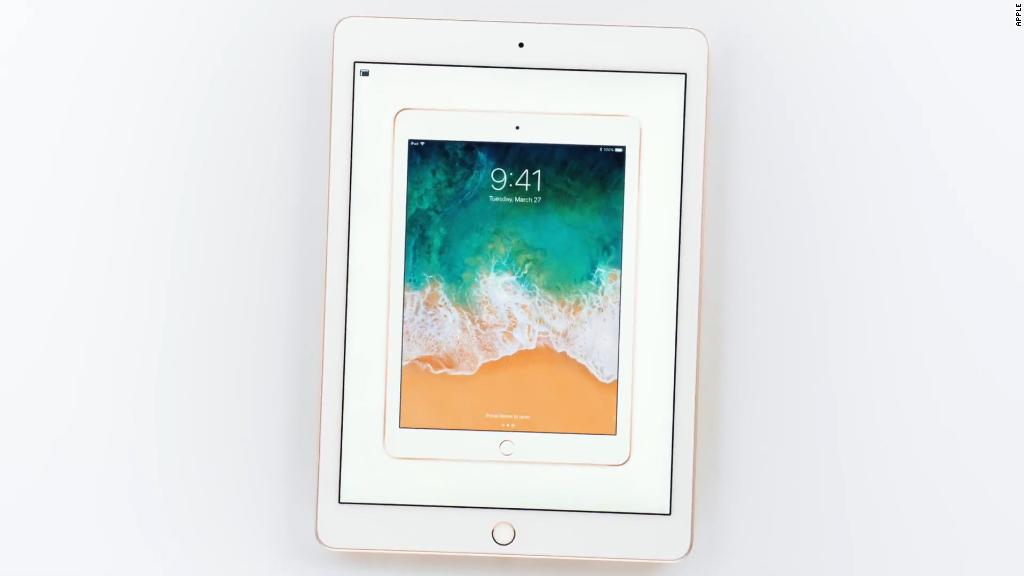 Apple is fighting to take back the classroom from Google.
The company revealed on Tuesday an updated, faster iPad that works with the Apple Pencil. CEO Tim Cook and his executive team took the stage at Lane Tech High School in Chicago to discuss the tablet, Apple's education plans, and "creative new ideas for teachers and students."
New iPad works with Apple Pencil
The new iPad is an updated version of the lowest end iPad in Apple's lineup. The 9.7-inch device -- the same size as the traditional iPad -- will cost $299 for schools and $329 for consumers. (Schools could get the previous iPad for the same $299 discounted price.) Pre-orders start on Tuesday
Storage for student models will include 200 GB of storage to help save bigger projects. Standard models come with 50 GB..
The biggest selling point is that the new iPad works with the Apple Pencil, which previously only worked with the higher-end iPad Pro tablets. Apple imagines it being used by kids for educational purposes like art projects. For school use, the $99 Apple Pencil is $10 cheaper.
The iPad, available in silver, space gray and a new, gold finish, features Apple's new A10 Fusion chip with a 40% faster processor for graphics performance. Like Apple's other iPad models, it comes with front- and rear-facing cameras, HD video recording and support for FaceTime calls.
Apple's adding tools for teachers
Apple (AAPL) also teased software features such as smart annotations to help teachers mark up papers, and augmented reality support which will "enable new ways to learn."
"Instead of dissecting frogs ... students can dissect frogs with Apple Pencil," Apple executive Greg "Joz" Joswiak told attendees.
Related: From service dogs to a prosthetic arm, Apple proposes 13 disability emojis
Apple also revealed a series of apps for the classroom, such as a progress tool called Classroom that allows users to what students are working on in the classroom. A new, free curriculum called Everyone Can Create focuses on the kinds of creative projects Apple imagines kids doing on the iPads. Meanwhile, its new ClassKit platform allows developers to create puzzles, tests, and lesson plans for students.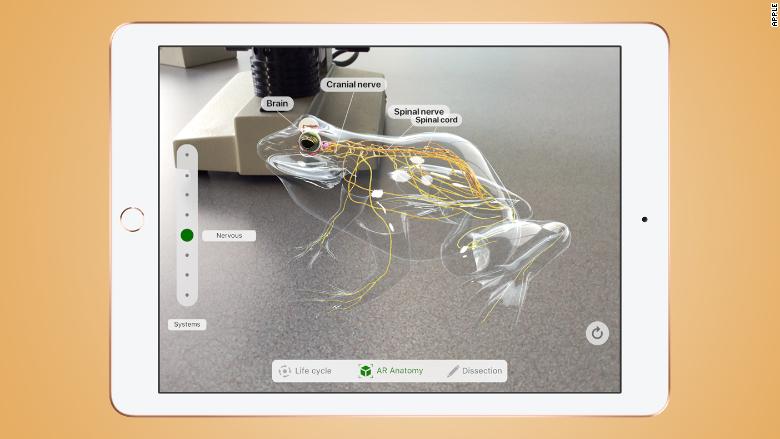 The new iPad is for everyone
While education was the theme of its launch, the new iPad is for anyone. Apple is rolling out an update for iWork, its work productivity suite, for adults who want to use Apple Pencil on the new device.
The company said all student and teacher data will remain private.
"Privacy is integral to everything we do at Apple, not just for students and teachers, but for everyone -- it's something we are very happy about," another executive added.
Apple's going up against Google
Apple's education business has had its ups and downs. iPads and Mac computers were once the primary devices used in American schools. But in recent years, Apple's dominance has slipped. Now, Google's budget-friendly Chromebook laptops occupy nearly 60% of all devices in the classroom, according to research firm Futuresource. Apple devices make up just 17% of the education marketshare.
Perhaps it has learned from its mistakes. In 2015, a Los Angeles school district planned to give every student in the city an iPad with preloaded curriculums. Wired reported that the program, which was expected to become a $1 billion deal, fell apart.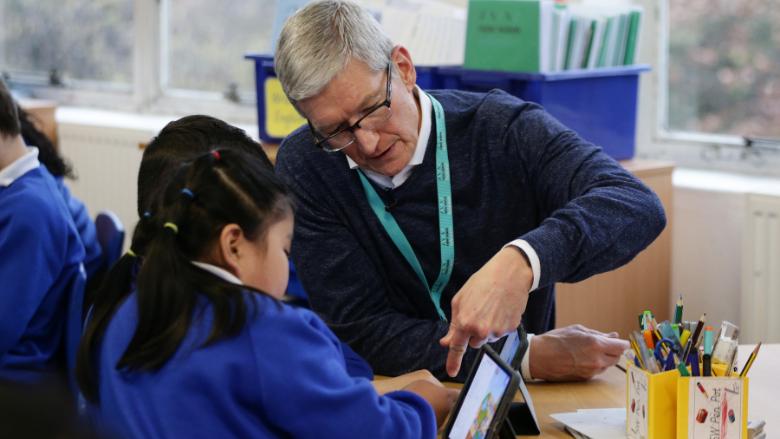 After a volatile few years, Apple said in 2017 that iPad sales for the classroom ticked up 32% after dropping the price for its entry level iPad to $329. Apple also made small tweaks to make it easier for students to share in the classroom, such as removing its Apple ID requirement.
To get ahead of Apple's news, Google announced on Monday its first tablet running Chrome 10: Acer's Tab 10. At $329 — the same price as the cheapest iPad — Google and Acer hope to bring the flexibility and versatility of the Chrome operating system to an even more portable device.
An unusual Apple event
This is Apple's first education-focused keynote in six years — and its second ever. The company hosted a digital textbook launch in New York City in 2012.
Related: I downloaded 14 years of my Facebook data and here's what happened
Chicago is a fitting backdrop for its latest event. The city is home to one of the largest school systems in the United States, and Apple expanded its "Everyone Can Code program" late last year to teach more students its Swift programming language.
Apple did not reveal details about its next generation iPhone on Tuesday. But with its annual World Wide Developer Conference only three months away, we may hear some subtle software teases of what will land on iOS and OS soon.