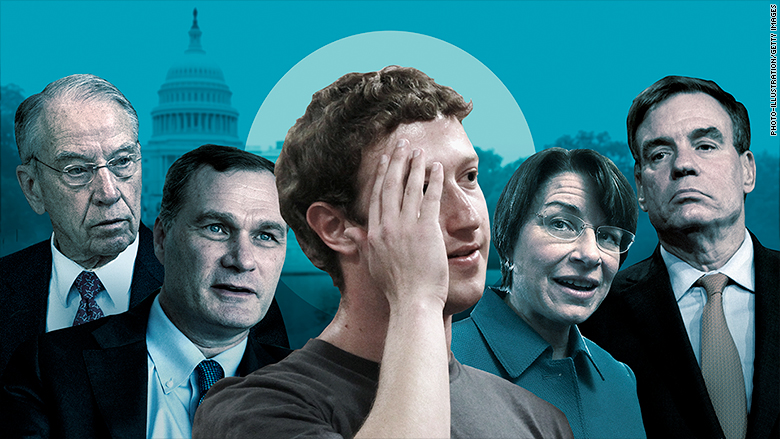 What's Next: Mark Zuckerberg under oath. Facebook sources tell me the 33-year-old CEO has come to terms with the fact that he will have to testify before Congress within a matter of weeks, and Facebook is currently planning the strategy for his testimony. The pressure from lawmakers, the media and the public has become too intense to justify anything less.
What's More: The Facebook sources believe Zuckerberg's willingness to testify will put pressure on Google CEO Sundar Pichai and Twitter CEO Jack Dorsey to do the same. Senate Judiciary Chairman Chuck Grassley has officially invited all three CEOs to a hearing on data privacy on April 10.
Washington, not London, will be the stage for the trial of big tech. Zuckerberg today turned down a request from British lawmakers to answer questions on the social network's privacy practices and will send two deputies instead.
The Big Picture: The forthcoming Capitol Hill drama is the culmination of the tech backlash that went mainstream last year. The perfect storm of political intrigue and media hype surrounding the hearings has the potential to radically change the way Americans view big tech.
---
Today's PACIFIC
What Washington is talking about: The FTC's Facebook investigation ... What Silicon Valley is talking about: Apple's education event, and Uber's driverless future ... What Hollywood is talking about: Amazon's new Spielberg series, and the future of ESPN ...
Good morning. Jordan Valinsky, PACIFIC's ace writer/researcher in New York, turns 29 today. He'll be celebrating tonight over prime rib at The Grill.
---
The Trust Crisis: The FTC effect
Facebook's public trial will play out in Congress, but the biggest threat to the company could come from the Federal Trade Commission:
• The FTC has confirmed that it is investigating Facebook's privacy practices.
• The commission could enforce new privacy standards and place fines on Facebook.
• Axios' Sara Fischer: The FTC inquiry puts "pressure on Facebook and its competitors to be transparent about any past data privacy abuses and to comply with Europe's sweeping privacy regulations that take effect in May."
New this morning, via CNBC: "Bank of America cuts Facebook stock forecast for second time in 5 days, this time for FTC data probe"
Like clockwork, via Bloomberg: "Facebook Goes on a Hiring Spree for Washington Lobbyists"
---
What we're reading
"Facebook Has Had Countless Privacy Scandals. But This One Is Different," by BuzzFeed's Charlie Warzel. "It's a moment that forces us, collectively, to step back and think about what we sacrificed for a more convenient and connected world."
---
Apple A Day: Tim Cook's next: Education
Today in Chicago: Apple will unveil new hardware and software products designed for teachers and students. The move is part of Apple's effort to emphasize education and reclaim the education market.
• "The curriculum may include a lower-priced iPad and a variety of services tailored for students ranging from kindergarten through high school."
• "Apple is trying to regain ground lost to rivals Google and Microsoft during the past few years."
Context from CNNMoney's Samantha Kelly in Chicago:
• "Apple's education business has had its ups and downs. iPads and Mac computers were once the primary devices used in American schools. But in recent years, Apple's dominance has slipped."
• "Google's budget-friendly Chromebook laptops occupy nearly 60% of all devices in the classroom, according to research firm Futuresource. Apple devices make up just 17% of the education marketshare."
Bonus: Cook remembers Linda Brown: "'In the field of public education the doctrine of 'separate but equal' has no place.' Thank you to Linda Brown for what you stood up for, and the impact it had on this nation. Rest In Peace."
---
Driverless Future: Uber on hold
Birthday boy Valinsky emails:
Last week's fatality has prompted Arizona to suspend tests of Uber's self-driving cars:
• Gov. Doug Ducey said footage of the incident has triggered "questions about the ability of Uber to continue testing in Arizona."
• Uber's response: "We continue to help investigators in any way we can, and we'll keep a dialogue open with the governor's office to address any concerns they have."
• CNN's Selena Larson reports that the accident is having repercussions beyond Arizona, including in Boston.
Oops: Business Insider: "An Uber in San Francisco got stuck on stairs Monday after driving down a pedestrian walkway outside a Safeway store on Market Street":
• The driver, who was shuttling two passengers, blamed Uber's map app for leading him down the stairs.
---
Talk of Tinseltown: Amazon greenlights "Cortes"
Amazon Studios has green-lit "Cortes," via Deadline's Nellie Andreeva:
• Steven Spielberg's "four-hour miniseries based on the epic saga of Hernan Cortes [will star] Oscar winner Javier Bardem."
• "The series [is] written by his Oscar-winning Schindler's List writer Steven Zaillian based on a 50-year old script by blacklisted writer Dalton Trumbo."
The Big Picture: Amazon, Apple and Netflix are spending big on ambitious TV projects, driving up the price of talent and radically changing business in Hollywood. After Amazon's staggering $250-million play for "Lord of the Rings" rights, "Cortes" offers the clearest sign yet of where Amazon is headed.
A Hollywood insider emails:
• "The talk around town is that Amazon and Apple have now unseated Netflix as the biggest tent pole series spender. Netflix is still churning the high volume... but Apple and Amazon are both aiming for multiple mega-hits a la Game of Thrones, Big Little Lies and Homeland."
#ICYMI: John Koblin in Sunday's NYT: "Apple Goes to Hollywood. Will Its Story Have a Happy Ending?"
---
FX, Netflix win bio-pic case
Hollywood is still allowed to make movies about real people.
The AP's Andrew Dalton:
• "A California appeals court on Monday threw out a lawsuit by 101-year-old actress Olivia de Havilland against the creators of the FX Networks show 'Feud: Bette and Joan,' bringing an abrupt end to a closely-watched case that pitted an individual's rights to their life and likeness against the rights of artists to depict them."
• "The judges agreed with FX along with entities like the Motion Picture Association of America and Netflix, which supported the network, that the logic behind de Havilland's suit would make legal action possible against 'all books, films, plays and television programs that accurately portray real people.'"
A source close to the case emails:
• "This is a pretty big win for free speech... It would have had a profound impact on documentaries, real-life biopics, etc."
---
What Burbank is reading
"Can a New President and Streaming Service Help ESPN Win Again?" by Variety's Brian Steinberg:
• "The network's newly installed president, Jimmy Pitaro, will be put to the test immediately in April with the launch of an app, ESPN+, that will charge fans a monthly fee for even more events coverage."
---
What Burbank is really reading...
"Clayton Kershaw faces a year unlike any other in his Dodgers career" by the LAT's Andy McCullough.
Yes, we know Opening Day is Thursday. And yes, we'll have you covered.
---
Have a phenomenal day, folks. We'll see you tomorrow.