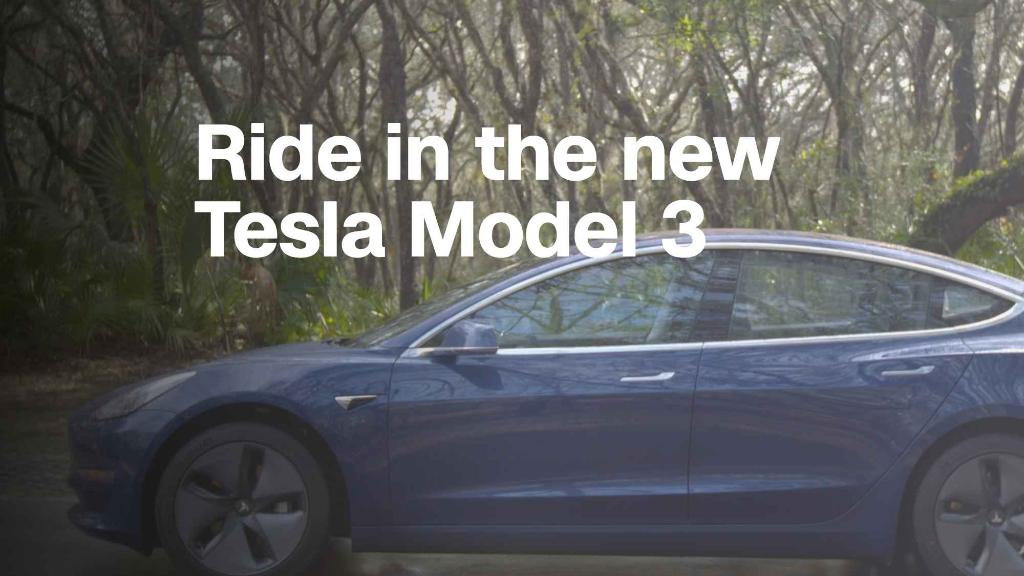 Time is running out for Tesla's unmet promises.
The leading electric car maker's struggles to ramp up production of its first mass-market car, the Model 3, could mean a cash crunch for the upstart automaker.
Tesla (TSLA) has thousands of customers lined up ready to buy a Model 3, which has a $35,000 starting price. But it keeps badly missing its production targets, and it is burning through cash as it does so. And it faces deadlines to pay more than $1 billion in bonds due over the the next year - $230 million due in November and $920 million next March.
Concerns about its cash positions could grow worse when it reports actual first quarter numbers next week. Moody's downgraded its debt deeper into junk bond status on Tuesday and warned more downgrades could be coming. Standard & Poor's also has warned of the possibility of a downgrade.
Bloomberg has been tracking production by continuously monitoring the issuance of vehicle identification numbers issued by the NTSB. It estimates that production stands at 1,026 a week, a big jump from the fourth quarter but less than half the 2,500 a week target that Tesla has set for the end of the third quarter, which concludes Saturday.
"That would be a pretty significant miss," said Bruce Clark, the credit analyst at Moody's. "We're not drawing a line in the sand by any means. But part of the issue is reestablishing credibility with constituents. At the end of the day, the company's credibility will be significantly impacted by how close they are to that 2,500 run rate."
The company had originally promised it would be making 5,000 Model 3's every week by the end of last year, but delivered only 222 in the third quarter, and another 1,542 throughout the entire fourth quarter. It has now pushed the 5,000 a week target back to the end of June.
Related: Tesla stock falls after NTSB announces it will investigate fatal crash
Tesla has never made a full-year profit as its grown into a major force in the auto industry. But investors, lenders and customers have been big believers in its charismatic CEO Elon Musk, at least to this point. They've provided him with the cash he needed to challenge the established players in the industry.
They've bought additional shares sold by the company in secondary offerings. They've driven up stock price to give the company nearly the market value of established automakers like Ford (F) or General Motors (GM), which both produce billions in annual profits and sell millions of vehicles. Customers have paid deposits of $1,000 each for cars they wouldn't see for years, giving Tesla nearly $1 billion worth of deposits. And, of course, it has also been able to sell bonds to raise cash.
Clark said he doesn't believe the company is facing any imminent cash crunch, but that if it continues to struggle to ramp up production of the Model 3 its "liquidity position is going to get tight in the next several quarters. That's why we see the need for them to go back to the financial markets."
And it will become more difficult, and more expensive, to raise that money if there are further doubts about it meeting its production goals.
Related: New Tesla pay package could make Elon Musk richest man in the world
It could also cause problems with the company's supplier base. Tesla reported it owed $2.4 billion in accounts payable at the end of last year. That's not a huge number as long suppliers continue to bill for the parts and raw materials.
But the credit agency downgrade could prompt suppliers to start demanding cash at the time of delivery, according to John Thompson, CEO of hedge fund Vilas Capital Management, which has its largest position shorting Tesla shares, betting big that the stock will fall sharply in value.
"Why did Toys 'R' Us go bankrupt? Its suppliers cut it off. You can have altruistic equity holders, you can have altruistic bond holders, altruistic customers. But suppliers are cold and calculating from my experience," he said.
In an email to his clients this week he again predicted a looming cash crunch for Tesla could even lead to bankruptcy later this year.
A company spokesman would not comment on the downgrade or Thompson's commentary.