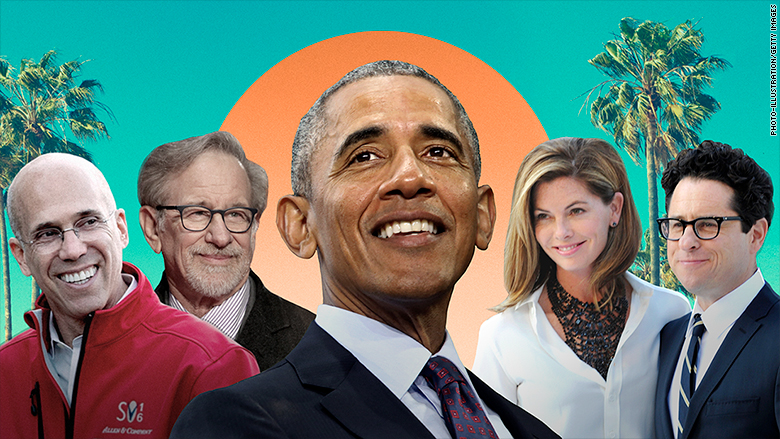 The Hottest Ticket in Tinseltown: May 6 in Beverly Hills: President Barack Obama will appear at a private fundraiser for Sen. Claire McCaskill co-hosted by Hollywood power couple J.J. Abrams and Katie McGrath, Jeffrey Katzenberg and Steven Spielberg, sources familiar with the event tell me. This is Obama's first fundraising appearance for an individual candidate ahead of the 2018 midterms. (h/t David Siders).
Last night in the Bird Streets: Snap VP Ben Schwerin opened his Hollywood Hills home for a fundraiser for Democratic Senate candidates Jacky Rosen (Nevada) and Kyrsten Sinema (Arizona). The event was hosted by CAA's Darnell Strom, K5 Global's Michael Kives and SB Projects' Jordan Christopher Brown. The trio plans to host a number of Hollywood fundraisers this cycle for Senate and House candidates
---
Today's PACIFIC
What Silicon Valley is talking about: Facebook's never-ending nightmare, the great tech sell-off, and driverless on pause ... What Hollywood is talking about: AT&T vs. DOJ, and Turner's new sports offering ... What Sacramento is talking about: Xavier Becerra against Trump ...
Good morning. The Best 50 Restaurants in Asia list for 2018 is live: Number one for the fourth straight year is Gaggan, the modern Indian restaurant in Bangkok where the 25-course menu is written entirely in emoji ... The rest: 2. Den, Tokyo ... 3. Florilege, Tokyo ... 4. Suhring, Bangkok ... 5. Odette, Singapore ... 6. Narisawa, Tokyo ... 7. Amber, Hong Kong ... 8. Ultraviolet by Paul Pairet, Shanghai ... 9. Nihonryori RyuGin, Tokyo ... 10. Nahm, Bangkok ... and so on.
---
The Trust Crisis: Facebook's nightmare, con't.
What we know: Mark Zuckerberg will testify before Congress in April.
What we don't: The exact dates and the exact committees. They're still figuring that out.
Shots Fired:
Mozilla has created a new feature on its Firefox web browser that allows users to block Facebook from tracking them online. The Facebook Container Extension isolates Facebook in a separate browser that can't see the other websites you visit. It's currently the most buzzed-about thing on Reddit.
New this morning:
"Facebook is rolling out a series of privacy changes..."
• "The redesigned security settings let people control what personal information the social network and third-party apps keeps."
• Facebook statement: "Last week showed how much more work we need to do to enforce our policies and help people understand how Facebook works and the choices they have over their data."
"Facebook Delays Home-Speaker Unveil Amid Data Crisis"
• "Facebook has decided not to unveil new home products at its major developer conference in May, in part because the public is currently so outraged about the social network's data-privacy practices."
• "The company's new hardware products, connected speakers with digital-assistant and video-chat capabilities, are undergoing a deeper review to ensure that they make the right trade-offs regarding user data."
Headlines from Hell: "Facebook has lost $80 billion in market value since its data scandal" by CNNMoney's Paul R. La Monica.
---
Apple vs. Facebook
Must-Watch Video: The late Steve Jobs on stage with Kara Swisher and Walt Mossberg talking about data privacy with Mark Zuckerberg in the audience.
---
Taking Flight: The Great Tech Sell-Off
"Dow drops 345 points as tech stocks get crushed" by CNNMoney's Matt Egan:
• "The Dow dropped 345 points, or 1.4%, on Tuesday... The Nasdaq plunged nearly 3%"
• "Facebook (FB), Twitter (TWTR), Tesla (TSLA) and Nvidia (NVDA) all fell sharply. Netflix (NFLX) tumbled 6%, its biggest decline in two years."
The Big Picture, via Andrew Ross Sorkin: "Companies like Facebook, Amazon and Alphabet have delivered some of the best returns to investors in recent years, powered by the achievements and the promise of social media and artificial intelligence. But that confidence is evaporating, as investors brace for intensified regulatory scrutiny across the industry."
The latest: Amazon shares fell more than 3.5% in early trading after Axios reported that President Trump wants to "go after" Jeff Bezos' company.
---
Driverless Future: Uber, Nvidia hit pause
Uber and Nvidia's driverless car testing is on pause in light of the recent incident in which a self-driving Uber car with Nvidia technology struck and killed a woman in Arizona:
• Uber: "We decided to not reapply for a California DMV permit with the understanding that our self-driving vehicles would not operate on public roads in the immediate future."
• Nvidia: "Ultimately [autonomous vehicles] will be far safer than human drivers, so this important work needs to continue. We are temporarily suspending the testing of our self-driving cars on public roads to learn from the Uber incident."
Bonus: Tesla stock fell more than 8% on Tuesday on doubts about Model 3 production and an announcement from the U.S. National Transportation Safety Board that it is conducting another investigation into a Tesla car crash.
---
What Adam Neumann is reading
"Exclusive: Britain's Co-Living King Has Raised $400m To Take On WeWork In America" by Forbes' Oliver Smith: "British co-living property startup The Collective has revealed its bold plans to more than double the size of its portfolio with a huge expansion into the US and Germany -- a move that could place it among the largest co-living providers in the world."
---
Talk of Tinseltown: The DOJ-AT&T latest
Points on the board for AT&T: "AT&T's lawyer uses past comments from Dish chairman Charlie Ergen to undercut a key premise on why the merger needs to be blocked," by THR's Eriq Gardner:
• "Dish Network programming executive Warren Schlichting testified how the merger would put Dish in a poor position in the negotiating room and lead to higher prices and less innovation like 'skinny bundles'..."
• "Schlichting had to defend his positions on cross-examination from Daniel Petrocelli, the attorney for the merging parties, [who] began by attacking the premise that Turner channels were really 'must-haves.'"
• "Petrocelli also asked Schlichting how many Top 500 shows are on Turner channels. ... Schlichting didn't know, as Petrocelli followed this up by asking, 'Would you agree that NBC has as more of an audience than all the Turner networks combined?'"
The Big Picture: There's some irony here. In order to convince the judge that it should be allowed to acquire Time Warner, AT&T is arguing that its Time Warner isn't really all that great.
My colleagues Hadas Gold and Jessica Schneider have more on that.
What's next: Turner CEO John Martin is back on the stand today.
---
In-Progress: Bleacher Report Live
Turner will launch a new Bleacher Report Live sports streaming service in April that includes NBA League Pass and UEFA Champions League.
The big innovation: Fans will be able to buy access to games that are in-progress at reduced pricing, via Variety's Todd Spangler:
• "B/R Live will let users buy only a portion of NBA games that are already in progress, instead of (as with the existing model) a full subscription to a package of games."
• "Under the 'micro-transaction' model, fans will be able to pay perhaps 99 cents for five minutes of live action, NBA commissioner Adam Silver said at the Turner event."
---
California vs. Trump: Xavier Becerra files suit
California Attorney General Xavier Becerra says the state will sue the Trump administration over its decision to add a new citizenship question to the 2020 census:
• The Commerce Department announced earlier this week that the 2020 census will ask respondents whether they are United States citizens.
• Becerra and other opponents believe the question will lead immigrants who are in the country illegally to avoid the census, resulting in lower population counts that will affect voter redistricting.
• Becerra: "The census numbers provide the backbone for planning how our communities can grow and thrive in the coming decade. What the Trump administration is requesting is not just alarming, it is an unconstitutional attempt to discourage an accurate census count."
• At least 12 states now plan to sue the Trump administration.
The Big Picture, from CNN's Gregory Krieg: "The census has always been a weapon of political power"
---
Have a fantastic day, everyone. Tomorrow is Opening Day.