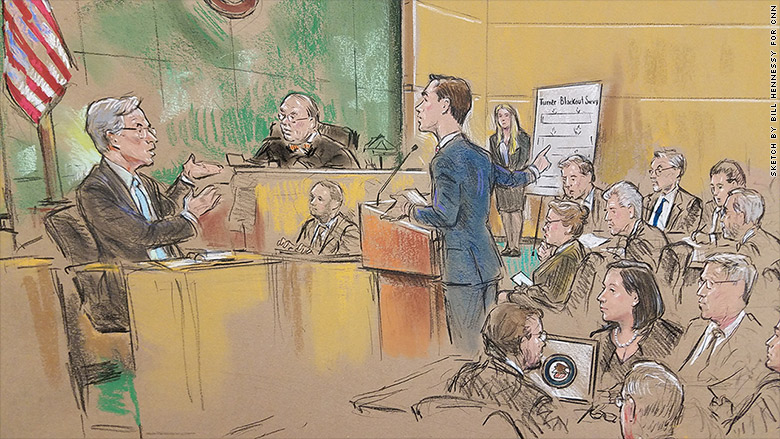 One of the Justice Department's own witnesses in its lawsuit to stop AT&T's $85 billion purchase of Time Warner may have done some damage to its case on Thursday, as the witness testified the merger would likely not have an effect on negotiations with distributors to carry Time Warner content.
The testimony of Greg Rigdon, executive vice president of content acquisition for Comcast Cable, seemed to undercut one of the Justice Department's main arguments against AT&T owning Time Warner. The government has argued that the two together could unfairly leverage Time Warner content, like Turner networks CNN, HBO and TNT, in negotiations with carriers.It argues that the merger could lead to higher prices or even "blackouts" in which carriers drop Time Warner content as a result of negotiating impasses over the fees distributors would pay to carry the content.
"I don't know how they're going to operate the company, but I have no reason to believe it would impact my negotiations with Time Warner or HBO," Rigdon said in the cross examination by Kevin Orsini, an attorney for Time Warner.
Earlier on Thursday, the government called to the stand Professor John Hauser of MIT, who conducted a survey to determine how many pay-TV subscribers would switch providers if they lost access to Time Warner's Turner networks.
The survey, conducted through an internet panel of 1,600 paid participants, found around 12% of pay-TV subscribers would switch if there was a permanent blackout of the Turner networks.
Upon cross examination, Time Warner attorney Peter Barbur attempted to undermine the credibility of the study. Barber said Hauser knew the Justice Department wanted the study to show a higher drop rate, an accusation that Hauser rejected, saying his academic integrity rests on this type of work and that if the Justice Department "didn't like the numbers, they wouldn't have called me to the stand."
Barbur also questioned the survey's "priming questions,"a standard survey technique designed in this case to prompt respondents to think about whether they would actually consider switching providers during a blackout, instead of being randomly asked if they would.
Judge Richard Leon expressed some skepticism about Hauser's survey, asking "You have no way of knowing if the answers on the survey are what they actually believe?" And "What if [the survey respondents are] not sure they have enough information but feel like they have to move forward to get the survey done?"
"Those are all issues that you have to worry about," Hauser said.
When he was on the stand, Leon asked Rigdon if the 8% subscriber loss during a one-month blackout and 12% loss during a permanent blackout predicted by Hauser's survey results were reasonable rates. He responded that they were "really high."
The trial will continue on Monday, when the government is expected to call Turner executive Coleman Breland, who is the former head of distribution for Turner, negotiating with carriers on behalf of Turner and its networks.